News Archive for Sep 2019
---
18 Sep 2019
Moth Trap. Another moth trap evening last night and again the nights are getting very cool and consequently there is very little in the trap to get excited over. Barred Sallow, Heart and Dark, Broad Bordered Yellow Underwing, Burnished Brass, Frosted Orange, Light Green Emerald, and several Halesus radiatus which were nice to see. [Posted by Ashley Whitlock]
Frosted Orange Moth
Photo © Ashley Whitlock
Burnished Brass Moth
Photo © Ashley Whitlock
Barred Sallow Moth
Photo © Ashley Whitlock
---
17 Sep 2019
Chalton Down. Returning from Old Winchester Hill, I visited Chalton Down in the early afternoon, where the temperature was a few degrees higher reaching 19. Numbers of butterflies here have now dropped with only 5 species recorded. A few Meadow Browns still flying and a single female Common Blue. totals: Large White 3, Small White 3, Common Blue 1F, Meadow Brown 3, Red Admiral 1. [Posted by Roy Symonds]
Old Winchester Hill. Today I visited Old Winchester Hill for probably the last time this year. I walked down the car park slope through the woods to the hill fort and returned by the top path. The temperature was 16 degrees with a strong wind on the Southern side of the hill fort with only a few butterflies seen there. No Adonis Blues or Silver Spotted Skippers were seen, with the Common Blues also now seemed to have died out. A few Meadow Browns were seen lingering on. Totals: Large White 2, Small White 10, Meadow Brown 3, Small Heath 9, Speckled Wood 1, Comma 2, Red Admiral 1. [Posted by Roy Symonds]
---
15 Sep 2019
Vanessid census Longstock. A brief call at Longstock Park buddleja collection this afternoon confirmed the closing season. Despite idyllic weather, the vanessids totalled just 8 Painted Lady and 4 Red Admiral. Several Large White, a Hummingbird Hawkmoth and, most surprising of all, a very tardy Gatekeeper, completed the tally. [Posted by Andrew Brookes]
---
13 Sep 2019
Noar Hill. My total count at Noar Hill was: Large White 3, Small White 8, Brown Hairstreak 1, Common Blue 2M 2F, Gatekeeper 1, Meadow Brown 9, Small Heath 5, Speckled Wood 5, Comma 2, Red Admiral 2. [Posted by Roy Symonds]
Noar Hill. Today I visited Noar Hill where the temperature was 20 degrees. This was my third visit to locate a Brown Hairstreak this year, following one unsuccessful visit and another day when cloud prevented anything from flying. I arrived at 10:30 am and spent 3 hours walking most areas. A few worn Meadow Browns were still flying along with a single Gatekeeper. Fresh Speckled Woods and Small Heaths were in flight. Walking near to the Triangle I spotted something at rest on a leaf low down and to my delight discovered a resting female Brown Hairstreak. I have attached my photo which was photographed from my camera and sent by phone to my son who has posted this report, so apologies for the image quality! [Posted by Roy Symonds]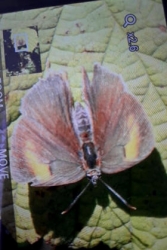 Brown Hairstreak female.
Photo © Roy Symonds
---
12 Sep 2019
Portsdown Hill (East). Today I made a short visit to the East end of Portsdown Hill walking directly above Queen Alexandra Hospital where despite only three different species were recorded over 20 Small Whites were seen. Totals Large White 4, Small White 21 and Meadow Brown 4. [Posted by Roy Symonds]
north baddesley sightings. Peacock caterpillar seen on my butterfly reserve at North Baddesley today. According to my book they should not be seen after early July! also humming bird hawk moth,1 fresh Small Copper,2 very fresh Red Admiral,1 Small Tortoiseshell,1 Speckled Wood,3 Green-veined White,5 Large White 17 Small White,2 Painted Lady.7 wasp sider. [Posted by Kevin Ross]
| | | |
| --- | --- | --- |
| | | |
| Photo © Kevin Ross | Photo © Kevin Ross | Photo © Kevin Ross |
Moth Trap. Again today the moth trap was very disappointing due to some over night rain which wasn't forecast, anyway I shall be putting it out again next week as it's going to be an Indian summer by all counts!The Moths seen today were September Thorn, Setaceous Hebrew Character, Light Emerald, Large Yellow Underwing, Heart and Dart by far the most common of moths in the trap, Oak Hook Tip, Green Carpet,Tipula Maxima,T oleracea, Sloe Bug, Gorse Shield Bug and a few spiders. [Posted by Ashley Whitlock]
September Thorn
Photo © Ashley Whitlock
Setaceous Hebrew Character
Photo © Ashley Whitlock
Tipula Maxima
Photo © Ashley Whitlock
---
10 Sep 2019
Garden Buddleia. I didn't have to go far to see butterflies today the buddleia in the back garden was covered in butterflies and bees, and hoverflies. There were numerous Red Admirals several recently emerged, and several Painted Lady which have come back again in the garden after a week away. Bucket loads of Small Whites and Large Whites, but I'm disappointed with the lack of Small Tortoiseshells, certainly see them on the downs, and neither any Peacocks, but numerous hover flies and Bees added to the buzzing in the air...... [Posted by Ashley Whitlock]
Hummingbird Hawk moth at rest on my fence in the back garden
Photo © Ashley Whitlock
Red Admiral feeding on Buddleia
Photo © Ashley Whitlock
Painted Lady in closeup showing proboscis with nectar
Photo © Ashley Whitlock
---
09 Sep 2019
Eastney Beach and Fort Cumberland. Looked around these two sites yesterday hoping for a Long Tailed Blue or Wall Brown, and I've noticed that everything is burnt to a crisp all the wildflowers have practically disappeared from my area where I see a few Small Coppers. Butterflies on the wing were Painted Lady, Small Copper just one, Many Common Blue, including one that was a very light blue colour and flying in a unfamiliar fashion, it may well have been a Long Tailed Blue but it was out of reach and I certainly couldn't photograph it, so that could have been a maybe. Other count's were many Small White and Large Whites, and on Fort Cumberland which looks like a desert, Small Heaths were frolicking in the grasses. I also saw a Humming Bird Hawk Moth and as yet no Clouded Yellows, although there would seem nothing here to attract them this year. [Posted by Ashley Whitlock]
Large Whites mating
Photo © Ashley Whitlock
Small Heath
Photo © Ashley Whitlock
Painted Lady
Photo © Ashley Whitlock
---
08 Sep 2019
Noar Hill. I finally caught up with the Brown Hairstreak at Noar hill today. 7 females seen across the site just took record shots only [Posted by Nick lawrence]
| | | |
| --- | --- | --- |
| | | |
| Photo © Nick lawrence | Photo © Nick lawrence | Photo © Nick lawrence |
Brown Hairstreak, Soberton. It's been a disappointing season for adult Brown Hairstreaks at my home site, near Soberton - although I was away for most of the second half of August, which probably didn't help my chances. Having logged over 100 eggs here last winter, I was hoping for plenty of adult sightings. However, this year I have seen no activity at the canopy of a large sycamore (not ash) that had apparently been used as an assembly tree last year, based on observations of adults through binoculars. From the news posts from Noar Hill and Shipton Bellinger, it seems to have been hard work finding this species in 2019. I at last caught up with an adult today - a rather worn female. I watched her for about 40 minutes from 13.50 to 14.30, working her way along the hedge, egg laying and basking. During that time about 6 or 7 eggs were laid in a stretch of about 50 metres, with 4-5 minutes basking interspersed with 1-2 minute bouts of egg-laying, apparently one at a time,creeping inconspicuously along blackthorn twigs 30cm to 1m off the ground. I wonder if adult sightings are increased in summers with extended hot spells (which perhaps force the adults down to nectar, when treetop honeydew becomes dried up and inaccessible). The number of adults might not correlate with the size or strength of the population. A few random inspections of twigs today revealed 3 eggs very easily - excluding ones laid by the female I was watching - so I'm hoping that they are still doing well here, despite being so elusive. Time and winter egg counts will tell. Apart from Brown Hairstreak, present today were Small Copper, Large White, Small White, Brimstone, Red Admiral and Speckled Wood. [Posted by Angus McCullough]
Female Brown Hairstreak - resting between egg laying
Photo © Angus McCullough
Female Brown Hairstreak
Photo © Angus McCullough
Female Brown Hairstreak
Photo © Angus McCullough
---
07 Sep 2019
Titchfield Haven. A walk around the west side of Titchfield Haven provided some excellent views of early autumn butterflies. In total 10 species seen with the whites being the most dominant. These were Red Admiral; Painted Lady; Peacock; Comma; Large White; Small White; Green-veined White; Speckled Wood; Small Copper and Holly Blue.
https://awayfromfourmarks.blogspot.com/ [Posted by Chris Rose]
Comma
Photo © Chris Rose
Small Copper
Photo © Chris Rose
Peacock
Photo © Chris Rose
---
06 Sep 2019
North Baddesley. For anyone following the entries here you might have noticed I've been trying to find a Wasp Spider on my butterfly trips this year - with no luck. That is until Kevin Ross very kindly invited me to visit his butterfly reserve at North Baddesley which I did today. Weather was awful to start - wind, rain and full cloud but by the time I'd negotiated the dreaded M27 it was at least dry. I wasn't expecting a guided tour - but I got one and to be honest, without Kevin's help I doubt if I would have found what I was looking for. But we found three - so mission accomplished. They are simply amazing! As for butterflies, the sun shone briefly for a minute or two when a fresh Large White and equally fresh Green-veined White turned up on the buddleia, along with the inevitable Painted Lady. For anyone who hasn't visited this reserve - it's a wonderful area. The sort that you just know is going to be full of wildlife. I'm looking forward to visiting again next year in more appropriate butterfly weather and at a more appropriate time. Many thanks again to Kevin for the kind offer on here and an excellent morning. Some photos attached - I have done the 'honourable' thing and put a butterfly in the middle! [Posted by Mark Wagstaff]
Wasp Spider - North Baddesley
Photo © Mark Wagstaff
Painted Lady - North Baddesley
Photo © Mark Wagstaff
Wasp Spider - North Baddesley
Photo © Mark Wagstaff
---
05 Sep 2019
Moth Trap. Another night with the moth trap although the weather was very cool and it also rained so I could have done better I feel, still the species count wasn't bad considering.....Moth names as follows: Broad Bordered Yellow Underwing,Large Yellow Underwing,Lesser Yellow Underwing, Mother of Pearl, September Thorn, Swallow Prominant, Small Emerald, White Point, Snout (second generation) Popular Kitten, Setacious Hebrew Character,and the prize was the Clifden nonpariel which was a magnificent beast, showing its lilac skirt and its exquisite patterning on its large wings. [Posted by Ashley Whitlock]
Clifden nonpareil
Photo © Ashley Whitlock
Mother of Pearl
Photo © Ashley Whitlock
September Thorn
Photo © Ashley Whitlock
Unusual Clouded Yellow. Well here is something unusual that my wife found in the garden - a Clouded Yellow. It then landed on her and wouldn't leave so she took these pictures in the kitchen and bizarrely it opened its wings - it flew off strongly and revisited the rudbeckia where she found it - quite amazing and a fantastic garden tick [Posted by Mark Tutton]
| | | |
| --- | --- | --- |
| | | |
| Photo © Mark Tutton | Photo © Mark Tutton | Photo © Mark Tutton |
---
04 Sep 2019
Gosport sites x 2. My last UK butterfly wander for September took me to:
Haslar Sea-Wall Car Park Scrub. Here from 1100-1120 despite the strong winds five species put in a welcome appearance, namely: Small White (4); Holly Blue (1)(M); Comma (1); Small Heath (1); Painted Lady (1). Still plenty of flowers but no sign of Clouded Yellow.
Monks Walk. 1145-1310 in the protected fields and glades of my local haunts with the temperature 20 degrees in the sunshine, eleven butterfly types were on the wing. The buddleia bush was, as ever, very popular with the larger species and it was apparent that many fresh butterflies had emerged since my last check on 1st September. So the numbers: Small White (26); Comma (6); Painted Lady (5); Meadow Brown (1); Red Admiral (4); Green-veined White (2); Speckled Wood (10); Common Blue (4)(M); Small Copper (2); Holly Blue (1); Large White (2). [Posted by Francis Plowman]
Small Heath at Haslar
Photo © Francis Plowman
Comma at Monks Walk
Photo © Francis Plowman
Common Blue male on the shore line at Monks Walk
Photo © Francis Plowman
wasp spider invitation north baddesley. i noticed on here that someone was attempting to find wasp spiders.i have a lot here on my butterfly reserve,8 individuals at the last count.if that person or anybody else would like to come and have a look here you are all more than welcome.hopefully you would also see some butterflies,reptiles etc.my contact details email spark.ky@hotmail.co.uk telephone 02380 733995. [Posted by Kevin Ross]
| | |
| --- | --- |
| | |
| Photo © Kevin Ross | Photo © Kevin Ross |
---
03 Sep 2019
Moth trap Leigh Park. I had my moth trap on overnight in my garden at Leigh Park and caught 25 species also 2 Wasps and 8 Hornets. Light Emerald 3, Setaceous Hebrew Character 16, Heart and Dart 1, Willow Beauty 2, Square-spot Rustic 35, Lesser Yellow Underwing 6, Lesser Broad-bordered Yellow Underwing 2, Broad-bordered Yellow Underwing 2, Large Yellow Underwing 22, Vine's Rustic 24, Cabbage Moth 1, L-album Wainscot 5, White Point 4, Six-striped Rustic 6, Small Wainscot 2, Pale Mottled Willow 1, Brimstone Moth 1, Light Brown Apple 2, Snout 1, Mother of Pearl 2, Angle Shades 1, Black Rustic 1, Garden Pebble 1, Flounced Rustic 1, Canary-shouldered Thorn 1. [Posted by Barry Collins]
---
01 Sep 2019
Monks Walk, Frater Fields & Woods, Gosport. Warm sunny intervals (20-22 deg C) with pleasant breezes set the scene for my first wander around this area for September from 1130-1320. Eleven species were seen: Small White (25); Painted Lady (7); Red Admiral (3); Meadow Brown (3); Green-veined White (3); Holly Blue (2); Small Copper (3); Common Blue (2)(M); Brown Argus (1); Comma (2); Speckled Wood (6). [Posted by Francis Plowman]
Holly Blue male
Photo © Francis Plowman
Painted Lady
Photo © Francis Plowman
Green-veined White resting overnight in my back garden!
Photo © Francis Plowman
Beacon Hill NNR Field Trip. Today was the final field trip for the 2019 Programme and was a total triumph, the reason for this is that we espied our target species, with room to spare. The Silver-Spotted Skipper has been having a hard time at Beacon Hill over the last decade, and since the grazing has been started the main area of the south slope has become very short sward, making it ideal for any passing female Silver-spotted Skipper to investigate, and hopefully lay her eggs on Sheeps Fescue. This has obviously happened over the past couple of seasons, and today we counted well into double figures, at least (15), all these that I saw were females, hoping these have layed a good batch of eggs. Other triumphs today were my first Adonis Blues on this site, (4) males were seen, and two Clouded Yellows, alongside very good counts of Brown Argus, Common Blue, still good numbers of Chalk Hill Blues including some in very good condition.
I would like to thank all who came today and made it one of the best Field Trips of 2019, and hope to see some of you in 2020. [Posted by Ashley Whitlock]
Male Adonis Blue on Beacon Hill NNR
Photo © Ashley Whitlock
Female Silver-Spotted Skipper on Beacon Hill
Photo © Ashley Whitlock
Final Field Trippers for 2019!
Photo © Ashley Whitlock
Noar Hill. A late visit to Noar Hill today in the hope of finding Brown Hairstreak and perhaps a Wasp Spider (I've yet to find one)! Lovely day, lovely place - but I could hardly describe it as a roaring success. There were plenty of Small Heaths around as well as Common Blues and fresh looking Painted Lady - so always something on the move. One very worn Silver-washed Fritillary in the Triangle Area. As for Brown Hairstreak - well I managed a single female on the Hemp Agrimony just below the triangle. Had just enough time to get it in the binoculars to confirm id before it departed for the top of the trees! No picture sadly. Similarly no Wasp Spider (despite Ashley's excellent directions - thank you). A frustrating trip in a way - but I can't fault the day or the location. [Posted by Mark Wagstaff]
Painted Lady - Noar Hill
Photo © Mark Wagstaff
Common Blue - Noar Hill
Photo © Mark Wagstaff