News Archive for Mar 2023
---
28 Mar 2023
John Vetterlein Memorial Service. I am very sorry to say that branch stalwart, John Vetterlein, has recently passed away after a long illness. An obituary will appear in the August (printed) newsletter. John's family has asked that we let members know of John's memorial service, which is to be held on May 20th, 1400-1700 at St Denys church hall in Southampton. If you will be attending then can you please let Freya Brown know, since she is helping determined numbers: freyajanebrown91@gmail.com [Posted by Pete Eeles]
---
27 Mar 2023
Holly Blue - in Bitterne, Southampton. I was just going through a few photos of a Brimstone I saw this morning down at Peartree Green LNR when I spotted a fluttering in the front garden.
At first glance I thought it was a small Small White but when I popped out with the camera I was delighted to see my first Holly Blue of the year. [Posted by Nic Burns]
Brimstone
Photo © Nic Burns
Holly Blue
Photo © Nic Burns
---
25 Mar 2023
Breezy Brimstones. This mornings dog walk along Portsdown Hill turned up at least a dozen male Brimstones battling against the wind. They were all avidly searching for females investigating any pale yellow leaf, only one stopped to briefly nectar on some violets. A female Red Admiral was also egg laying on some young Nettles in a horse paddock. [Posted by Mark Tutton]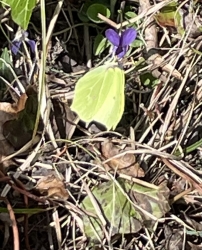 Brief stop
Photo © Mark Tutton
Small White - Bitterne. Another day - another first of the year!
On this morning's walk around Bitterne we saw a very tatty Red Admiral, had a fleeting glimpse of a Brimstone and then in one of our neighbours front garden there was a Small White. [Posted by Nic Burns]
Red Admiral
Photo © Nic Burns
Small White
Photo © Nic Burns
---
24 Mar 2023
Peacock at Miller's Pond LNR. Despite the chill winds and overcast skies I found my first Peacock of the year down at Miller's Pond LNR, Southampton this morning. [Posted by Nic Burns]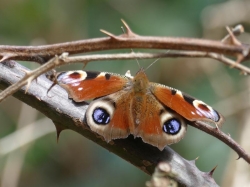 Peacock
Photo © Nic Burns
Hummingbird Hawk Moth. Just disturbed a Hummingbird Hawkmoth hibernating in my garage - an unexpected sighting. It buzzed around for a few minutes then settled back into a crevice in some stored seat cushions. [Posted by Paul Warren]
---
16 Mar 2023
Elizabeth Road, Waterlooville. While visiting my father, Roy Symonds, I was lucky during a few days of poor weather to record my first sighting of the year back in Hampshire in Elizabeth Road, Waterlooville, where a single male Brimstone was recorded. [Posted by Richard Symonds]
---
15 Mar 2023
Mystery moth in North Baddesley. Found this moth dead on my reserve at North Baddesley last week, cannot seem to identify it. Could anyone help please?? [Posted by Kevin Ross]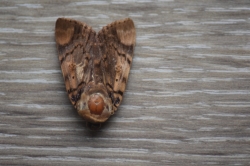 Photo © Kevin Ross
---
11 Mar 2023
More Hairstreaks on Portsdown. The Blackthorn buds are just starting to burst so I made what is probably my final search for Brown Hairstreak eggs on Portsdown Hill today. I was fortunate in being able to locate two new ones, and also one empty egg case from from last year - the cases are very resilient indeed. Not long now until the larvae, at just one millimetre or so long, emerges to begin what is likely to be a particularly hazardous stage of its life cycle. [Posted by Mark Tutton]
A new one
Photo © Mark Tutton
One from last year
Photo © Mark Tutton