News Archive for Aug 2022
---
13 Aug 2022
Browndown (South), Gosport. Given the prevailing conditions we were pleasantly surprised to be able to see seven species if not going strong, at least going! From 1250-1445 (30 deg C) we did a broad circuit of the main heath and northerly perimeter, once again restricted by the model aircraft club (one of whose aircraft had spectacularly crashed and was written off on the verge of the main Lee on the Solent road!). The heather is just about dried-out with just a patch here and there showing a little colour. Underfoot it sounded like walking on fresh snow so dry and crunchy the surface. The one Purple Hairstreak was clearly observed flying between two large oaks on the northerly perimeter path. Total: Small White (9); Meadow Brown (6); Small Heath (7); Grayling (1); Common Blue (M)(5); Purple Hairstreak (1); Holly Blue (2). [Posted by Francis Plowman]
Grayling
Photo © Francis Plowman
Small Heath
Photo © Francis Plowman
Strongly marked Holly Blue on blackberry blossom
Photo © Francis Plowman
Ackender Wood, Alton. Pretty quiet in Ackender Wood - for insects generally, not just butterflies. However two Spotted Flycatchers were notable.
There was a single well-worn Silver-washed Fritillary, but the only other vanessid was a single Red Admiral.
While trying to get to grips with hoverflies on a patch of umbellifers by the main ride, I chanced on this Brown Hairstreak.
SU7038 [Posted by Steve Mansfield]
Brown Hairstreak, Ackender Wood
Photo © Steve Mansfield
Brown Hairstreak, Ackender Wood
Photo © Steve Mansfield
A scorching visit to Noar Hill!. Despite soaring temperatures already by 10:30 this morning, we decided to visit Noar Hill - if all else failed, there remained the prospect of a decent pub lunch in Selborne! It was 34C by the time we reached the scrapes at the top, but despite that, there were abundant signs of activity, with several fly-bys by at least 5 stunning Clouded Yellows, none of whom seemed inclined to rest up for more than a fleeting moment (hence the less than perfect photo below), whilst the Brown Hairstreaks were sensibly keeping to cover on the descending track from the road below. This one obliged by staying put for several minutes whilst nectaring. [Posted by Michael Jameson]
Clouded Yellow at Noar Hill
Photo © Michael Jameson
Brown Hairstreak (1)
Photo © Michael Jameson
Brown Hairstreak (2)
Photo © Michael Jameson
Thirty up in City of Portsmouth. It might be ONLY a Small Heath but it is the thirtieth species I have seen within the boundaries of the City of Portsmouth. Not a bad tally for the most densely populated city outside of inner London? I targeted a number of missing species this year and this was the final one, of which I spotted a number on Farlington Marshes. Quite appropriate really as my interest in the natural world was fostered by my junior school teacher, Miss Geary, who gave up her time at weekends to take us on nature rambles to 'the marshes.' I owe her a deep debt of gratitude.
I have also been wandering the lanes around Southwick, Newtown and Soberton looking for Brown Hairstreak and turned up a female on this section of Blackthorn Rich hedgerow at Newtown but she was chased off by a Common Blue before I could take a snap. The Southwick estate has miles of Blackthorn hedging which seems to be reasonably sympathetically managed and I am sure these hairstreaks are fairly well distributed in this area if at low numbers. [Posted by Mark Tutton]
No 30
Photo © Mark Tutton
Brown Hairstreak territory
Photo © Mark Tutton
---
11 Aug 2022
Old Winchester Hill. Sixteen days ago on this site we found no sign of Silver-spotted Skipper nor Adonis Blue. Today both were easily found (though harder to photograph). From the top of the car park slope to the bottom, the SSS was present and the Adonis Blue located more towards the valley floor. From 1130-1310 with the temperature 27.5 degrees Celsius and rising some 13 species were recorded. Part of the valley side is now fenced for a few sheep to graze away although in today's heat they were making use of the wooded shade at the end of the valley path. Total: Chalk Hill Blue (M)(78)(F)(9); Meadow Brown (106); Common Blue (M)(20)(F)(7); Gatekeeper (5); Silver-spotted Skipper (13); Small Heath (6); Clouded Yellow (4); Adonis Blue (M)(14)(F)(1); Brown Argus (2); Dark Green Fritillary (1); Large White (1); Brimstone (M)(1)(F)(2); Small White (1). [Posted by Francis Plowman]
Silver-spotted Skipper possibly female in the shade
Photo © Francis Plowman
Heavily marked and fresh Adonis Blue female
Photo © Francis Plowman
Clouded Yellow male
Photo © Francis Plowman
Convolvulus Hawk Moth Sighting, IoW. Hi there, I didn't get a picture but I saw it on my Nicotiana bush last night at 10pm in my garden in Thorley, West Isle of Wight, hovering and drinking the nectar. I immediately recognised it as a Convolvulus Hawk Moth, really big, huge proboscis, the kitchen light was on and I was sitting outside, it had only just got dark. Beautiful :) Anyway, thought I should let someone know.
Kind regards
Jessica Streeter [Posted by Jessica Streeter]
---
10 Aug 2022
Selbourne Hill and Noar Hill. I visited today a site I know a lot of people do not visit, one because it is a bit of a hike from the car-park in Selborne, but from Noar Hill it really is a lot easier. Selborne Hill is a large woodland owned by the National trust. There is a lot of mature Oak and Beech trees with a few mature Ash trees which at the moment seem to be ok from Ash dieback. In the height of summer would produce some good sightings of the major butterflies like Purple Emperor and White Admiral and Silver-washed Fritillary. I saw one Silver-washed Fritillary today feeding on some very ripe Bramble berries. There's a lot of Blackthorn in the field margins, and on Selborne Common there is also good amounts as well along with Cowslip in the Spring. I didn't see the Brown Hairstreak here today but I know it is recorded here, so is the Duke of Burgundy in the spring. Worth bearing in mind if you want a change from Noar Hill anytime. On Noar Hill today in blazing hot sunshine I kept my head in the Hazel cover whenever I could, seeing Common Blue, Small Heath, Brown Argus, Clouded Yellow, Whites, a couple of Small Skippers, and my quarry turned up just as I was leaving the site, a lovely female Brown Hairstreak. She was a hot butterfly, as she was sheltering underneath Hazel leaves when she settled down. She was a beaut, probably only a day old. I don't hear of many sightings of this butterfly here of late, but it's still here, and I suspect she had just mated, and was going off to lay eggs on many 'new' areas of fresh Blackthorn which I had seen earlier. Good Luck girl! [Posted by Ashley Whitlock]
Hot Girl.. Female Brown Hairstreak sheltering under a Hazel leaf
Photo © Ashley Whitlock
Selbourne Common Oak, Ash, Beech, and Hazel
Photo © Ashley Whitlock
One of the pits where Common Blue and Small Heath were Common
Photo © Ashley Whitlock
At Last on Portsdown Hill. Over the last few winters I have searched for, and found, a handful of Brown Hairstreak eggs on Portsdown Hill so I know they are there. Consequently I have spent many hours trying to find an adult during their flight period. Today I came up trumps with a pristine female. She was found prospecting for egg laying locations on a long Blackthorn rich hedgerow some way away from where I have previously found eggs - a very nice surprise. Now to find the male lekking tree! [Posted by Mark Tutton]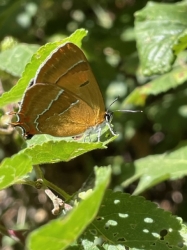 Perfect
Photo © Mark Tutton
---
09 Aug 2022
Scarce swallowtail in the New Forest. Only a month after watching Scarce Swallowtails at Monserat in Spain, I was amazed to see one fluttering across my garden in the New Forest, near Burley.
I've not seen any other migrants here this year yet, so was very surprised to get my first time ever British sighting. [Posted by Alan Hobbs]
---
08 Aug 2022
Shipton Bellinger & Broughton Down. A really good day out yesterday.
07:30-11:15 Shipton Bellinger for Brown Hairstreaks and Wall Browns.
I saw 6 or 7 BH's, presumably males, high up along the track up from Shipton Bellinger and this rather tatty female along the northern side of the triangular field which thankfully came down for a close up. 15-20 Walls but they were mainly settling with closed wings presumably due to the heat.
12:15-14:30 Broughton Down for Silver-spotted Skippers.
On arrival I sat down for lunch just inside the nature reserve and was immediately joined by a SSS. I saw 20+ SSS on my wanderings and was pleased to see good numbers of Common Blues (especially females), Brown Argus and Chalk Hill Blues along with a few Adonis Blues, Small Heath, Brimstone, Meadow Browns and two very worn Dark-green Fritillary. [Posted by Nic Burns]
Brown Hairstreak
Photo © Nic Burns
Wall
Photo © Nic Burns
Silver-spotted Skipper
Photo © Nic Burns
Meon Valley Hairstreaks. In searing temperatures I paid a visit to a site in the Meon valley where I saw a female Brown Hairstreak last year and it came up trumps. Five males were active in a large Ash 'master tree' which has, so far, thankfully avoided Ash die-back. In addition I watched at least three females actively seeking out egg laying opportunities in the plentiful Blackthorn suckers. There was also a very late Dark Green Fritillary, somewhat worse for wear, but he was still chasing off all comers! I visited a second site on the way home that also looks promising for Brown Hairstreak, but no luck so far. [Posted by Mark Tutton]
Hairstreak 1
Photo © Mark Tutton
Hairstreak 2
Photo © Mark Tutton
Tatty warrior
Photo © Mark Tutton
Fort Widley and garden. Looked around Fort Widley in very warm sunshine today to see if I could espy the Brown Hairstreak, however I was out of luck today, and I also remembered the area I walked was also good for the Wall Brown several decades ago so if the Wall is making come back it would be most welcome on my old transect route thankyou! The area is full of Blackthorn thickets and good meadows full of wildflowers albeit all dying off due to the drought. Common Blue was seen and Brown Argus, Meadow Brown and Gatekeeper, Whites, Commas and Red Admiral, but nothing to get the heart rate racing. Back in my garden I was visited by a lovely Jersey Tiger Moth feasting on the last of the Buddleia flowers. On my front door I believe was a wave moth. [Posted by Ashley Whitlock]
Brown Hairstreak area close to Fort Widley
Photo © Ashley Whitlock
Jersey Tiger Moth on Buddleia
Photo © Ashley Whitlock
Small Dusty Wave
Photo © Ashley Whitlock
Shipton Bellinger. It must be 3 years and definitely pre covid since I visited Shipton Bellinger. I went today as much for the Wall Browns reported there as the Brown Hairstreaks. The latter were playing hard to get - plenty high up but I couldn't find any low down. The former though were a revelation! The last Hampshire Walls I saw were on the Ancient Highway near Lymington many years ago and apart from the odd singleton wanderer (including in my own Lee on Solent garden) they seem to have been few and far between in recent years. There have though been reports of them at Shipton (and the surrounding area) for a couple of years now so it was great to see them really well established here. I saw them across much of the site - starting from where the path up from the village divides into two right across to the boundary hedge. I'm hopeless at counting (birds or butterflies) but must have seen 20+ minimum - and most in good condition. So, despite not seeing a Brown Hairstreak at eye level, a wonderful day. [Posted by Mark Wagstaff]
Gatekeeper - Shipton Bellinger
Photo © Mark Wagstaff
Wall Brown- Shipton Bellinger
Photo © Mark Wagstaff
Wall Brown - Shipton Bellinger
Photo © Mark Wagstaff
---
07 Aug 2022
St Catherine's Hill. Early evening is one of the best times to visit our south facing downland sites during this hot weather. The butterflies are often more ready to settle and the light can be better for photographs.
We managed to find a few Silver-spotted Skipper and a single Clouded Yellow, plus many Chalk Hill Blue and Meadow Brown, with smaller numbers of Brown Argus, Common Blue, Small Tortoiseshell, Gatekeeper and Small Heath. [Posted by Rupert & Sharron Broadway]
Silver-spotted Skipper at St Catherine's Hill
Photo © Rupert & Sharron Broadway
Silver-spotted Skipper at St Catherine's Hill
Photo © Rupert & Sharron Broadway
Clouded Yellow at St Catehrine's Hill
Photo © Rupert & Sharron Broadway
Unexpected sighting in North Baddesley. Seen today on my reserve at North Baddesley was Wall Brown, I saw one here 2 years ago but not a clue where they are coming from. Also seen today Clouded Yellow, Painted Lady, Chalk Hill Blue, Brown Argus, Small Heath, Silver-washed Fritillary, Peacock, Small Tortoiseshell, Red Admiral, 12 Common Blue, Brimstone, Holly Blue, Comma, Meadow Brown, Ringlet, Small White, Large White, many Gatekeeper. Does not seem too bad considering the conditions. Now seen 32 different butterfly species here so far this season. [Posted by Kevin Ross]
---
05 Aug 2022
Oxenbourne Down. A short trip up to one of my local chalk downland patches and the butterflies didn't disappoint. Up to 35 Silver-spotted Skippers were seen whizzing about and feeding up, laying eggs and also mating. The Chalk Hill Blue was also in enormous numbers, but everything looks very dry and barren in places. I looked in on some of 'my' Cowslip patches and they have shriveled up to almost nothing, I just hope this isn't detrimental to the Duke of Burgundy colonies on site, next year should could prove very interesting in regards to numbers. We've had dry summers before, and the Duke of Burgundy can survive on the north facing slopes better, due to the fact they are not facing towards the sun. Other species seen were one female Dark Green Fritillary, Gatekeeper, Common Blue, Small Heath, Meadow Brown, Ringlet. No Brimstones were seen and the Vanessids seem to have dived into hibernation really early. [Posted by Ashley Whitlock]
Male Chalkhill Blue
Photo © Ashley Whitlock
Love is in the air...............
Photo © Ashley Whitlock
Little fighter Jet
Photo © Ashley Whitlock
White Admiral larvae. I had several visits to Pamber Forest over the last few weeks, where I monitor White Admiral larvae - with 48 larvae now located. With the distinctive feeding damage and constructions created by the larvae, I'm able to confirm that another 10 larvae have already disappeared - presumed predated. However, all larvae are now in either their 2nd or 3rd instar and I have high hopes that most will make it to the point where they create a hibernaculum from a Honeysuckle leaf, in which they will overwinter. A few larvae are already in the process of doing this, indicating that this is a particularly early year for this butterfly. [Posted by Pete Eeles]
A 3rd instar larva at the end of its 'pier' created from silk and frass
Photo © Pete Eeles
A 3rd instar larva sitting next to its 'aerial latrine'
Photo © Pete Eeles
A larva in the process of creating its hibernaculum
Photo © Pete Eeles
---
04 Aug 2022
The Wrong Hairstreak. Having put in the hard yards searching for Brown Hairstreak eggs at Stockbridge Down back in the winter, we went back to search, unsuccessfully, for adults today.
We did, instead, encounter a White-letter Hairstreak in remarkably good shape. There were phenomenal numbers of Chalk Hill Blue on the wing, together with varying counts of Brimstone, Large White, Clouded Yellow, Common Blue, Gatekeeper, Meadow Brown, Small Heath and Speckled Wood: and singles of Small Copper, Comma, Small Tortoiseshell and Silver-washed Fritillary. [Posted by Rupert & Sharron Broadway]
White-letter Hairstreak at Stockbridge Down
Photo © Rupert & Sharron Broadway
Clouded Yellow at Stockbridge Down
Photo © Rupert & Sharron Broadway
Bedlam Plantation. A visit to a lesser known area on the Hampshire side of the large Army ranges in and around Tidworth close to Shipton Bellinger. The weather was warm but overcast most of the time with very little breeze which to me is perfect conditions for butterfly watching. Arriving just before midday the butterflies were in full swing and the first butterflies seen were two Wall Browns both chasing each other, a territory dispute I suspect, this put me in the mood to find more. There were plenty of Brimstones, Brown Argus, Common Blues, Gatekeepers, Meadow Browns and Small Heaths, also a couple of Silver-spotted Skippers. The Walls just kept on coming and on the edge of a farmers field where there were sufficient areas of wildflowers, these areas produced up to twenty odd Wall Brown's over a course of a couple of hours. On the way back to the car-park, I espied a female Brown Hairstreak which was fresh as a daisy, and also there were still Wall Browns to be seen and females were also seen being much larger than the males and were easy to Identify, feeding on Thistles. Probably one of the most satisfying 'mini' field trips I've ever done, a big plus for Military sites which are largely untouched by pesticides and other nasties and are full of hedgerows, with blackthorn and birds song plenty of Ravens were heard and Yellowhammers, and Long Tailed Tits, chattering in amongst the hedges. [Posted by Ashley Whitlock]
Female Brown Hairstreak
Photo © Ashley Whitlock
Wall Brown and Meadow Brown
Photo © Ashley Whitlock
Army range close to Tidworth
Photo © Ashley Whitlock
---
03 Aug 2022
Stockbridge Down Part 1. Thirteen species recorded on an extended walk (1140-1420) over the western and northern ranges of the down. Under grey skies, a drop or two of rain with the temperature around 21 degrees Celsius the butterflies were in abundance. We decided to keep a full count of the Chalk Hill Blue and Meadow Brown which species were very prominent indeed. Total: Meadow Brown (178); Chalk Hill Blue (M)(839)(F)(64); Gatekeeper (20); Speckled Wood (3); Small Heath (6); Marbled White (M)(1); Green-veined White (M)(1)(F)(1); Common Blue (M)(2); Large White (3); Small White (2); Dark Green Fritillary (3); Brimstone (M)(1); Holly Blue (1). [Posted by Francis Plowman]
Chalk Hill Blue (female lower)
Photo © Francis Plowman
Large White male
Photo © Francis Plowman
Meadow Brown female at left
Photo © Francis Plowman
Stockbridge Down Part 2. From 1455-1620 we covered the southern and eastern expanses of the down determining to put a 'cap' on the numbers of the predominant butterflies! There was initially some warm sunshine but it was soon replaced by grey clouds with a pleasant temperature around 23 degrees Celsius. Ten species were recorded. Total: Chalk Hill Blue (M)(60+)(F)(55+); Meadow Brown (55+); Common Blue (M)(11)(F)(1); Small White (6); Small Heath (4); Large White (3); Adonis Blue (M)(1); Gatekeeper (2); Silver-washed Fritillary (M)(1); Speckled Wood (M)(1). [Posted by Francis Plowman]
Chalk Hill Blue male
Photo © Francis Plowman
Adonis Blue male
Photo © Francis Plowman
Common Blue male
Photo © Francis Plowman
Moth trap in my garden at Leigh Park. I had my moth trap on overnight in my garden in Leigh Park. Some of the highlights included Jersey Tiger, 12 Garden Tiger, Gold Spot, 2 Tree-lichen Beauty, Marbled Green, a female Oak Eggar, 2 Rosy Rustic, Lesser Swallow Prominent, Spectacle etc. [Posted by Barry Collins]
Unusual butterfly??. This butterfly flew into and out of my conservatory door around 12.30 today and is now settled on small plant in the garden. Nearest thing on ID sites that I can find is a Scarce Swallowtail? [This has been identified as a Jersey Tiger moth - P. Eeles] [Posted by Phyllis Toms]
---
01 Aug 2022
North side of Portsdown. On my fifth attempt this year I managed to observe a brown hairstreak whizzing around the top of the trees shortly after 1300 before it settled about 10m up a tall ash tree. Hopefully there will be a few more in the weeks to come. A single purple hairstreak was also seen despite the lack of oaks. [Posted by Peter Gammage]