News Archive for Jun 2022
---
26 Jun 2022
North Baddesley. Seen today on my reserve in north baddesley, the first Purple Hairstreak of the season. On another note if anyone would like to set up their moth trap (as i do not have one and there is a lot of moths here) you will be able to hear nightjar when you are setting it up. My contact details are 02380733995 or spark.ky@hotmail.co.uk. All welcome to look round. [Posted by Kevin Ross]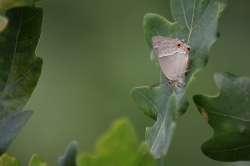 Photo © Kevin Ross
Broxhead Common Field Trip. Moving on from Straits Inclosure it was the field trip in the afternoon to see the Silver-Studded Blue. There were many about once we found a spot out of the windy conditions, and the males mostly were in good or even pristine condition. There were several females seen as well and these after a time seem to be mated, and we ended up with several mating pairs quite close to each other. There wasn't a lot else though, with Ringlet, Meadow Brown, Small Heath, Small white, Red Admiral, Comma but there didn't seem to be any moths about which was disappointing. A short field trip to a very interesting site, and a very important site nethertheless. Thank you everybody who came. [Posted by Ashley Whitlock]
Male Silver-Studded Blue
Photo © Ashley Whitlock
Broxhead Common
Photo © Ashley Whitlock
Mating pair of Silver-Studded Blues
Photo © Ashley Whitlock
Straits Inclosure. My first venture out to see the Purple Emperor in 2022 after a successful trip down to Devon to see the High Brown Fritillary (see my website) Unfortunately it was very windy and his majesty doesn't like wind. However he briefly took off from one of the magnificent Oaks at 10:50 close to the dip in the track near the first deer tower, but quickly regained his composure as the wind was just too much for flying, and there he seemed to stay. I must say the Silver-Washed Fritillary is looking splendid this year as are the White Admirals, it looks like a good year for both species. Mark Tutton managed to bag an Emperor on some doggy-doo but not a lot else was seen other than the usual butterflies in the rides like Ringlets, Large Skippers, Meadow Browns and Marbled Whites. [Posted by Ashley Whitlock]
Female Silver-Washed Fritillary
Photo © Ashley Whitlock
Male Silver-Washed Fritillary
Photo © Ashley Whitlock
White Admiral on Bramble
Photo © Ashley Whitlock
Alice Holt. Spent a very blustery morning at Alice Holt with not much to show except good numbers of Silver Washed Fritillary and White Admiral. Just before we got back to the car a chap was in the ditch at the edge of the ride and he called out "Emperor" - sure enough there amongst the grass, on the most enormous pile of poo, was a box fresh Purple Emperor. He hung around for fifteen minutes or so consuming his disgusting breakfast, constantly flicking his wings to rid himself of annoying flies before heading up into the breezy canopy. A fortuitous encounter. [Posted by Mark Tutton]
Hiding in the grass
Photo © Mark Tutton
Disgusting!
Photo © Mark Tutton
Browndown/Alver Valley. With Browndown (South) being closed so frequently lately 'beggars can't be choosers' when it's open so I set off for a circular walk from home today in less than ideal conditions. Cloudy and showery to start but worse still, what the Met Office called a 'moderate breeze' but at force 6 to 7 - what feels more like 'gale force'! Not good for small insects, especially on the exposed beach at Browndown South. I was hoping for Purple Hairstreaks especially and just maybe, a Grayling. I was successful with the former, finding 7/8 in the stunted oaks but no luck with the latter either at Browndown South or North. Perhaps just a bit too early even in this warm and dry year. Finding the Hairstreaks was one thing, trying to photograph them another! With the wind blowing I was beginning to feel queasy trying to focus though the viewfinder and after numerous attempts gave up. I don't think I got a single photo completely in focus - but more than enough to show the butterfly ok. Other than the Hairstreaks the only butterflies of note I could find in the south were Small Copper (4). On the north side there were numerous skippers and Marbled Whites in the fields and two surprises on the way home. First a Gatekeeper - I hadn't even contemplated one of these when I set off and then a pristine Small Tortoiseshell in the Alver Valley just as I was leaving. [Posted by Mark Wagstaff]
Small Copper - Browndown South
Photo © Mark Wagstaff
Purple Hairstreak - Browndown South
Photo © Mark Wagstaff
Gatekeeper - Alver Valley
Photo © Mark Wagstaff
---
25 Jun 2022
A walk taking in Yew Hill Reserve.. Despite the very blustery and cloudy conditions I decided to it was time for my first visit to the Yew Hill Reserve of the year. As per usual I parked up at Shawford Down and walked up through Compton and the long approach up Hurdle Way, a quick circuit of the triangle by the reservoir and down the bridle way to the meadows to the north of the site before heading into the site to find a sheltered spot for lunch.
The most prolific species was undoubtedly the Marbled White with the most illusive being the 3 or 4 White-letter Hairstreaks (kindly pointed out to me by a local enthusiast). I was really pleased to spot my first Gatekeeper of the year and surprised to come across a Green-veined White. Others seen were Commas, a Large Skipper, numerous Meadow Browns, a Painted Lady, Red Admirals, Ringlets, Small Heaths, many Small Skippers, a couple of Small Tortoiseshells and a Speckled Wood. [Posted by Nic Burns]
Marbled Whites in the meadows
Photo © Nic Burns
Gatekeeper
Photo © Nic Burns
Green-veined White
Photo © Nic Burns
---
24 Jun 2022
Moths at West Wood. Although the weather this morning was too cloudy for much in the way of butterflies, it's always worth going for a walk to see what you can find. The highlight of my visit to West Wood was a Beautiful Golden-Y moth, which flew a short distance before posing nicely for a photo. It's the first time I've seen this moth, and although widely distributed it seems to be a species that is in decline, and not often recorded. My second moth photo is of Narrow-bordered 5-spot Burnet. It's a common enough species, and although the image isn't perfectly sharp, I was struck by the beautiful blue of the antennae, which I can't say I've really noticed before. [Posted by Andy Barker]
Beautiful Golden-Y
Photo © Andy Barker
Narrow-bordered 5-Spot Burnet
Photo © Andy Barker
---
23 Jun 2022
New WLH location. At least three White-letter Hairstreaks seen above LUTECE elms planted at the How Lakes fishery north of Kings Somborne. Meanwhile at Great Fontley, a pristine Comma seen amidst the numerous browns and skippers, and several dozen Small Tortoiseshell larvae newly hatched on the nettle patch. [Posted by Andrew Brookes]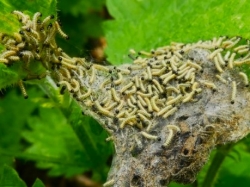 Emergent Small Tortoiseshell larvae
Photo © Andrew Brookes
---
22 Jun 2022
Return to Botley Wood. Another trip to Botley Wood today in much the same conditions as a few days previously (hot + sunny) and much the same butterflies! The main track in Whiteley was quiet as before but once into the woods the White Admirals and Silver Washed Fritillaries were out in good numbers. More Ringlet than previously - perhaps 5-6 in a 2 hour walk. Also Painted Lady, Peacock, Red Admiral, Speckled Wood and Meadow Brown. Not so many skippers - the main path where I've seen good numbers before is getting more overgrown each year so perhaps that is having an effect? Very pleasing to see lots of Dragonflies on the wing with Golden Ringed, Emperor and Broad Bodied Chaser seen. Also lots of Beautiful Demoiselle in the glades. [Posted by Mark Wagstaff]
Ringlet - Botley Wood
Photo © Mark Wagstaff
White Admiral - Botley Wood
Photo © Mark Wagstaff
Silver Washed Fritillary - Botley Wood
Photo © Mark Wagstaff
---
21 Jun 2022
Winchester Hill. We had a very enjoyable walk around Winchester Hill today from 1015-1300. We saw at least 32 Dark Green Fritillary, 3 Silver-washed Fritillary,12 Small Tortoiseshell, 2 Painted Lady, 6 Red Admiral, 2M Brimstone, 7 Ringlet, plus numerous Meadow Brown, Marbled White and Small Heath, also one Humming-bird Hawk-moth. [Posted by Barry and Margaret Collins]
White-letter Hairstreak at Yew Hill. A couple of White-letter Hairstreak were flying around the top of the elms at the back of Yew Hill this morning. After a few minutes, one descended onto a bramble flower allowing me to confirm the identification. Good to know the small colony is persisting (shame they couldn't have turned up for the reserve walk four days previously!). [Posted by Rupert Broadway]
---
20 Jun 2022
Havant Thicket. We did a circular walk around Havant Thicket starting at Bell's Copse at 0915 to 1315. It was a slow start but as the morning progressed It warmed up and we had a very interesting day.
One male Purple Emperor, 13 White Admiral, 31 Silver-washed Fritillary, 2 Comma, 1 Holly Blue, 2M 6F Brimstone, 4 Speckled Wood, 8 Red Admiral, 12 Marbled White, 10 Ringlet, 6 Small Skipper and numerous Meadow Browns.
I also had my moth-trap on overnight in my garden at Leigh Park on the 16th June and caught 30 species, some of the goodies included a superb Scarce Merveille du Jour a new species for the garden, Privet Hawk-moth, Elephant Hawk-moth, 8 L-album Wainscot and Burnished Brass etc. [Posted by Barry and Margaret Collins]
---
19 Jun 2022
Three Skippers at Peartree Green LNR. Visited Peartree Green LNR yesterday morning and was lucky enough to see a Large Skipper, Small Skippers and an Essex Skipper, along with some fresh Comma, many Marbled White and Meadow Brown, a Speckled Wood, a Small Tortoiseshell and a Red Admiral. It was overcast and very breezy so was quite surprised at the turn out.
As a bonus also saw three types of orchids (Pyramid, Bee and Common Spotted) [Posted by Nic Burns]
Small Skipper
Photo © Nic Burns
Essex Skipper
Photo © Nic Burns
Female Marbled White in process of egg laying
Photo © Nic Burns
---
17 Jun 2022
Yew Hill Reserve Walk. Good turnout of 15 or so on a scorching afternoon for the first of this season's Yew Hill reserve walks (for which the invitation had been extended to members of the Wild Winchester Facebook group).
12 species of butterfly recorded comprising a few stragglers from spring plus the early summer emergers including Grizzled Skipper, Dingy Skipper, Large Skipper, Small Skipper, Brimstone, Common Blue, Small Tortoiseshell, Marbled White, Meadow Brown, Ringlet, Small Heath and Speckled Wood. Lots of stunning flowers for the participants to enjoy as well.
We didn't manage to find White-letter Hairstreak or Dark Green Fritillary on this occasion, but still plenty of time for these to show.
Thanks to Fiona for her support and particularly for sharing her botanical expertise. Next Yew Hill walk is scheduled for 3rd August, when the Chalk Hill Blues will (hopefully) be at their peak. [Posted by Rupert Broadway]
north baddesley. seen today on my reserve at north baddesley first of the year marbled white,ringlet and essex skipper.also a strange looking painted lady,release maybe? the strange shape was mirrored on both sides. [Posted by Kevin Ross]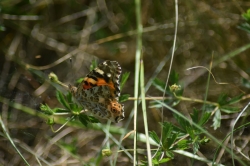 Photo © Kevin Ross
White Admiral. Well, bit of a surprise this morning over at Southwick Estate, Hampshire, just the one WA that i reported on the 13th June, Today....there where 11 spotted, 7 along the Portland and Malins Coppice,s ride and two lots of two at other locations. The WA,s have steadily been increasing in on this part of the Estate year on year. Mike [Posted by Mike Smith]
Whiteley Pastures/Botley Wood. It seems very early to be looking for woodland species but based on reports from elsewhere I decided to give Whiteley Pastures/Botley Wood a visit this morning. The initial walk up the main path was uneventful and doubts crept in but as soon as I reached the top of the rise and turned left the first Silver Washed Fritillaries appeared. They set the scene for what was to follow - plenty of butterflies but very mobile in the heat and nothing much settling. This is reflected in the photos which were snatched shots and often side on - but who cares on a day like this! As soon as I got into Botley Wood and the sunny glades the White Admirals appeared. I got into double figures easily enough during a two hour walk and Silver Washed Fritillaries were not far behind. Others of note were lots of Meadow Browns, Large Skippers, Speckled Woods and (fresh) Red Admirals. If I missed something it was Marbled Whites - but I didn't spend much time in any of the grassy meadow areas to be found in the wood (often under the pylons). Aside from butterflies there were Golden Ringed Dragonflies, Emperor Dragonflies and a startled Muntjac Deer! A wonderful day to be out. Purple Emperor surely cant be long now if this weather persists. [Posted by Mark Wagstaff]
Silver Washed Fritillary - Botley Wood
Photo © Mark Wagstaff
White Admiral - Botley Wood
Photo © Mark Wagstaff
White Admiral - Botley Wood
Photo © Mark Wagstaff
---
16 Jun 2022
Master of camouflage. I have been experimenting with using a UV light to find larvae and pupa with some success. I have to say I feel pretty self conscious wandering around local woods in the dead of night but the best result so far has been a number of Purple Emperor pupa. Most have been about 5-10m high in Sallow and have been a devil to relocate in daylight but I have managed to relocate two using binoculars and photograph them, albeit at high magnification. Won't be long now before they are on the wing. [Posted by Mark Tutton]
Can you see it?
Photo © Mark Tutton
Purple Emperor pupa I
Photo © Mark Tutton
Purple Emperor pupa II
Photo © Mark Tutton
Ringlet debut at Huntbourn. Several Ringlets were seen at Huntbourn Wood, Soberton, this morning, but otherwise nothing else of note, just several dozen Meadow Brown and a few skippers. Not a glimpse of a White Admiral at this former south-east Hants stronghold. [Posted by Andrew Brookes]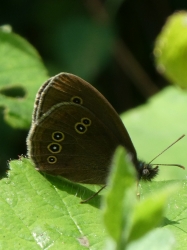 Ringlet at Huntbourn
Photo © Andrew Brookes
---
15 Jun 2022
Butser Hill. A great variety of butterflies at a very warm Butser Hill today but star of the show was the Dark Green Fritillary with a three figure count. Grizzled Skippers and Dingy Skippers are still about in good numbers with some fairly fresh specimens apparent some nine weeks after I saw my first. Small Blue and Brown Argus were spotted along with an egg laying Painted Lady and also my first Hummingbird Hawk-moth of the year. [Posted by Mark Tutton]
---
14 Jun 2022
Dark Green Fritillary. Freshly hatched DGF in compartment 3, also one more sighted in compartment 7 on Portsdown Hill, Hampshire. Plenty of Marbled Whites out there now as well...... [Posted by Mike Smith]
New for 2022. A fairly early walk out with the dog brought four new species for 2022 for me. First along Portsdown Hill revealed good numbers of Marbled White flitting between the longer grass stems, next was a newly minted, and still pretty wobbly Dark Green Fritillary and finally a couple of Large Skippers. Next I checked several White-letter Hairstreak sites in Portsmouth finally spotting a couple around the top of an Elm in Alexandra Park. A productive morning. [Posted by Mark Tutton]
Dark Green Fritillary
Photo © Mark Tutton
Dark Green Fritillary
Photo © Mark Tutton
Large Skipper
Photo © Mark Tutton
Summer Butterflies Out on the Isle of Wight.. A male Silver-washed Fritillary today in Bouldnor Forest near Yarmouth. Three sightings made of presumably of the same individual. Also four White Admiral and one Marbled White. [Posted by Peter Hunt]
---
13 Jun 2022
Summer's lease begins. Marbled White seen in the meadow at Great Fontley, along with numerous Meadow Browns; two White-letter Hairstreaks on the favoured elm, and Small Tortoiseshell ova and larvae on the regenerating nettles scythed a week ago. [Posted by Andrew Brookes]
Small Tortoiseshell ova
Photo © Andrew Brookes
White Admiral. My first White Admiral this year seen and photographed. Location was on the path at the Eastern side of Wards Coppice Southwick Estate, Purbrook, Hampshire. Bit of a surprise, do not usually see then till third week in June.... [Posted by Mike Smith]
---
12 Jun 2022
white admiral in N Baddesley. seen today on path adjoining my reserve first White Admiral of the year, then a second one. Now seen total of 20 species here so far this season. [Posted by Kevin Ross]
---
11 Jun 2022
Marbled White debut at DSDA Gosport. A pristine Marbled White marked the end of our survey of Defence Munitions Gosport this morning. Other species included White-letter Hairstreak (3 sparring males), Small Tortoiseshell (1), Common Blue (1), Small Heath (3), Speckled Wood (5), and Meadow Brown (20). [Posted by Andrew Brookes]
---
10 Jun 2022
Martin Down. A bit of sunshine at last! However this was offset by a very strong wind for my visit today between 1030-1330. I put this down as a reason that things were rather quiet? Anyway the following species were seen. Meadow Brown 10, Small Copper 2, Adonis Blue 16, Common Blue 12, Small Blue 12, Brown Argus 2, Small Heath 22, Painted Lady 5, Small Tortoiseshell 4, Dark Green Fritillary 1, Speckled Wood 4, Grizzled Skipper 1, Large Skipper 1, Red Admiral 1, also the following moths, Mother Shipton 5, Wood Tiger 1, Cinnabar 5, Five Spot Burnet 9 and also the most stunningly golden coloured Forester I have ever seen, it actually glistened in the sun! [Posted by Mark Pike]
Forester
Photo © Mark Pike
Wood Tiger
Photo © Mark Pike
Adonis Blue ab krodeli
Photo © Mark Pike
Marbled Whites on Portsdown Hill. 8 Marbled Whites seen on Portsdown Hill on the 10th June, on the border of compartments 4 and 5. Seemed a bit earlier this year.... [Posted by Mike Smith]
---
09 Jun 2022
Early Silver-studded Blue in the New Forest. Despite rather cloudy conditions, our visit to Dibden Bottom in the New Forest was rewarded with three beautifully fresh male Silver-studded Blues. These were our first sightings of this species in 2022, and we'll look forward to seeing plenty more on Hampshire's heathlands over the coming weeks. [Posted by Andy Barker]
Silver-studded Blue (male)
Photo © Andy Barker
Silver-studded Blue (male)
Photo © Andy Barker
White-letter Hairstreak debut at Fontley. A sole White-letter Hairstreak was seen flitting about the top of the favoured elm at Great Fontley at 1pm. Elsewhere at the farm, six Small Tortoiseshells were seen feasting on Bowles Mauve wallflower, as was one Brown Argus, while about one dozen Meadow Browns and several Small Heath were disturbed in a haylage field. [Posted by Andrew Brookes]
Day-flying heathland moths. I'm sure many of you will be out looking for Silver-studded Blues on Hampshire's heathland over the coming weeks, but whilst doing so, also keep an eye out for day-flying moths and caterpillars. Whilst visiting Dibden Bottom (New Forest), today, we saw several Common Heath moths, a couple of Grass Waves, and rounded off with a fully grown Drinker moth caterpillar sitting on a bramble leaf. [Posted by Andy Barker]
Common Heath (female)
Photo © Andy Barker
Grass Wave (male)
Photo © Andy Barker
Drinker Moth caterpillar
Photo © Andy Barker
---
08 Jun 2022
Isle of Wight. My latest pilgrimage to the Island was plagued by bad weather over three days only one was suitable for butterfly and moth counting, and even this day on Monday 6th June the species count was quite woeful and Glanville Fritillary numbers were well down on last year. However there were some fresh males to be seen at Compton Chine, and the 6 spot Burnet Moth was on the wing. At Afton Down the site is not what I call suitable for the Adonis Blue as the grasses seem to be very long, but there were a few Adonis Blues to be seen including a fresh female and other species included Brown Argus and many Large Skippers. I never visited my favourite site Brook Down due to time and woeful weather, but it was good to see the Island again. [Posted by Ashley Whitlock]
Glanville Fritillary
Photo © Ashley Whitlock
Six Spotted Burnet Moth
Photo © Ashley Whitlock
Small Copper
Photo © Ashley Whitlock
---
04 Jun 2022
Mating Glanville Fritillaries, Compton Down IoW. During my second visit this year to the area of Compton Down, IOW, I was delighted to find a goodly number of Glanvilles in excellent condition. Another enthusiast alerted me to this mating pair. Despite a slight breeze from off-shore, there was plenty of activity and many Glanvilles were on view throughout the afternoon. I should add that this visit Tok place on 28th May, and so my apologies for the delay in posting. [Posted by Michael Jameson]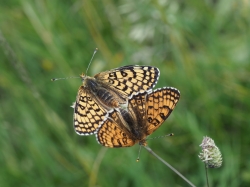 Glanville Fritillary - mating pair
Photo © Michael Jameson
---
03 Jun 2022
Butser Hill NNR. Butser Hill NNR. Probably my last venture out looking for my species the Duke of Burgundy as it's almost over especially on the chalk. I found none on Oxenbourne Down today and a quick trip to Butser Hill produced (13) ragged individuals, the worse for wear were the females. It was nice to see them still flying into June but they have had to endure some pretty cool nights which kills all but the most robust of the species. Other species seen were Brown Argus, Common Blue, Small Blue, I failed to find the Adonis Blue, however I shall not give up on it as the site certainly looks able to support a colony. Small Heaths were everywhere, and so to were Grizzled Skipper and Dingy Skipper, Large Skippers are building in numbers, Brimstone, and what looked like a couple of fresh male Orange Tips! I never espied the Dark Green Fritillary but they must be out soon here. I also saw just one Small Tortoiseshell despite the site a few weeks ago was covered in the caterpillars! [Posted by Ashley Whitlock] [Posted by Ashley Whitlock]
Last of the Dukes
Photo © Ashley Whitlock
Small Heaths were very common
Photo © Ashley Whitlock
Six spotted Burnet Moth on Orchid
Photo © Ashley Whitlock
Large Skipper - Peartree Green LNR, Southampton. Another visit to Peartree Green LNR this morning.
I was wondering if I might see an early Marbled Whites but no joy there. There were quite a few Common Blue about, a Brown Argus, 2 Green Hairstreak, a Painted Lady, 2 Meadow Brown, 2 Speckled Wood and 2 Burnet Companion.
Star of the show was my first Large Skipper of the year which I came across as I was leaving up the bracken path. [Posted by Nic Burns]
Large Skipper
Photo © Nic Burns
Green Hairstreak
Photo © Nic Burns
Brown Argus
Photo © Nic Burns
---
01 Jun 2022
Garden butterfly caterpillars. On 30 April I posted images of the eggs of three different butterfly species found in our garden. A little over a month later, I thought I should provide an update, with images of the developing caterpillars. I couldn't find the Green-veined White caterpillar, but when having a look this afternoon I was able to find the larvae of both Brimstone and Orange-tip. When searching for Brimstone larvae, the trick is to look for chewed leaves of Buckthorn and a scattering of fine frass (droppings). If you then inspect leaves in the vicinity you will often find a single Brimstone caterpillar lined up along the mid-rib of the leaf, with the body and head slightly elevated, presumably to aid camouflage. The images below show top and side views to illustrate this; also note the very good colour match between caterpillar and leaf. The Orange-tip larvae are found by looking for half-chewed seed-pods of Garlic Mustard (Jack-by-the-hedge) on which the caterpillar has been feeding. These will be shorter that the uneaten pods. The caterpillar will be nearby, either feeding on a seed-pod, or lined up along the length of the pod, as in my photo. [Posted by Andy Barker]
Brimstone larva (side view)
Photo © Andy Barker
Brimstone larva (top view)
Photo © Andy Barker
Orange-tip larva
Photo © Andy Barker
Bentley Wood NNR Field Trip. Reasonable weather today was really only one decent highlight on this field trip as I failed in finding both of my Target species today. There was very little in Eastern Clearing with very few butterflies and even less wildflowers. What butterflies and moths we did see were nothing special, there were two very rustic looking Pearl-Bordered Fritillaries, the best count came from Speckled Woods, which were in reasonable numbers as we walked around the site and along the tracks to get to another meadow, which again was another disappointment. Other species seen were Grizzled Skipper, Small Heath, Meadow Browns, and an Adonis Blue which was the only real butterfly highlight. This must have alighted from over from Dean Hill, and was in very good condition. Moths were 5 Spotted Burnets, Brown Silver Lines, lots of Burnet companions and Mother Shipton Moths. We looked in on a pond and saw lots of Dragonflies, and Damselflies, and the bird life was quite good with a Cuckoo singing in the distance a lot of the time on site. I would like to thank all who came on this field trip,hope to see you again soon. [Posted by Ashley Whitlock]
Adonis Blue isnt something really associated with Bentley Wood.
Photo © Ashley Whitlock
Mother Shipton Moth
Photo © Ashley Whitlock
Bird struck Burnet Companion Moth
Photo © Ashley Whitlock