Butterfly Conservation
Saving butterflies, moths and our environment
Hampshire and Isle of Wight Branch
Celebrating our 40th Anniversary!
1982 - 2022
---
News Archive for Jan 2022
---
30 Jan 2022
Holly Blue reported on Isle of Wight. Andy Butler reported a Holly Blue at Wheeler's Bay just after lunchtime (30/01/2022). After landing briefly on a bank at the front of his house, it flew west.
This is the second January sighting of this species for the island; the previous report was also at Wheeler's Bay on 17th January 2011. [Posted by Jim Baldwin]
---
17 Jan 2022
Double Striped Pug Moth. I had a double striped pug moth resting on my car today and it managed to stay there throughout a journey of several miles until we got back home where I photographed it. No early butterflies as yet, despite the warmish weather! [Posted by Ashley Whitlock]
Double Striped Pug Moth
Photo © Ashley Whitlock
Double Striped Pug Moth
Photo © Ashley Whitlock
early Red Admiral. A cold but sunny winter's day brought the first Red Admiral of the year to our Chandlers Ford garden. Although the temperature was only 10oC, it was a pleasant surprise to see a Red Admiral nectaring on the flowers of the beautifully fragrant Daphne bholua 'Jacqueline Postill' in a south-facing position in our front garden. Unfortunately the Red Admiral decided to move from the flowers before I had my camera, but I did manage to get a photo as it basked high up on the house wall. As well as the Red Admiral, there were also several Buff-tailed Bumblebee (Bombus terrestris) workers around the flowers of Lonicera x purpusii 'Winter Beauty'. [Posted by Andy Barker]
Red Admiral basking
Photo © Andy Barker
Daphne bholua 'Jacqueline Postill'
Photo © Andy Barker
---
05 Jan 2022
Painted Lady reported on the Isle of Wight. RSPB Assistant Warden Luke Gaskin reported and photographed a Painted Lady on ivy in Centurions Copse at Brading Marshes RSPB reserve on Wednesday (5/1/22).
This is believed to be the third January record for the Island for this species with previous reports on 6 January 2016 and 1 January 2013, both at Wheeler's Bsy. [Posted by Jim Baldwin]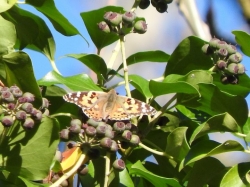 Photo © Jim Baldwin