News Archive for Jan 2021
---
30 Jan 2021
25-year transect trends now available. The latest 25-year transect trend graphs for Hampshire and Isle of Wight butterfly species, including 2020 data, are now available. To see these, including comparison with the England trend, just click on the "Transect" tab of this website, then the "25 year trends" sub-tab. An example graph for Adonis Blue is shown below. [Posted by Andy Barker]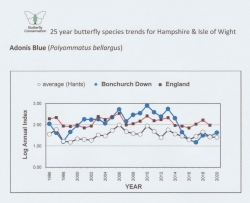 Adonis blue - 25 year trend
Photo © Andy Barker
---
29 Jan 2021
Cows return to Magdalen Hill Down. There has been something missing from Magdalen Hill Down these past few months. A certain absence which has been felt by everyone who knows and walks this hill.
People have missed seeing the animals and the place has felt a bit empty without them.
But thankfully hawse have now brought the cattle back so they can resume their role in managing the grassland.
The cows are British Whites, truly magnificent animals with their striking markings and big presence. They are quite enchanting!
Their primary purpose is to graze, maintaining the abundance and diversity of plants and butterflies this nature reserve is renowned for. They help keep the landscape open, so vital for birds such as skylarks. Its richness in wildlife is dependant on light grazing. This ensures healthy populations of butterflies and moths can thrive in the coming summer months.
The cows belong to the Hampshire and Isle of Wight Wildlife Trust and there is a team of Livestock Lookers who check on them daily. The sheep are due to follow and will graze on the steep hillside, a relic of rare unspoiled chalk grassland, part of an old way of farming.
It brought a feeling of elation to see these impressive animals return to Magdalen. They look so at home in this landscape, it's a place they truly belong.
If you are interested in Livestock Lookering and checking the animals at Magdalen Hill Down, please email fscully@butterfly-conservation or phone 07918073651 [Posted by Fiona Scully]
British Whites on MHD
Photo © Fiona Scully
British Whites on MHD
Photo © Fiona Scully
British Whites on MHD
Photo © Fiona Scully