News Archive for Feb 2019
---
27 Feb 2019
Monks Walk, Frater Fields & Woods, Gosport. Probably the last day of warm and bright weather for a while so a two-hour bimble around the fields, woods, shoreline and hedgerows that make up this area. From 1140-1340 with the temperature around 16 deg C the butterflies waited until afternoon before showing up! Comma (6); Brimstone (M) 2; Peacock (2). [Posted by Francis Plowman]
Peacock
Photo © Francis Plowman
Comma
Photo © Francis Plowman
Proud Peacock!
Photo © Francis Plowman
---
26 Feb 2019
Painted Lady at Pennington. A very early Painted Lady seen today in the lane behind the Lymington-Keyhaven Nature Reserve close to Pennington.
A couple of Red Admirals around the reserve and two or three Peacocks close to the south end of Iley Lane, Keyhaven. [Posted by Rupert & Sharron Broadway]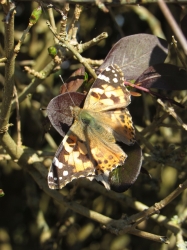 Painted Lady
Photo © Rupert & Sharron Broadway
Monks Walk, Frater Fields & Woods, Gosport. Four species today! The numbers seemingly rise with the ambient temperature which from 1240-1400 was 16-17 deg C and very pleasant under clear skies and full sun but with a fresh SE breeze coming off the harbour. Comma (4); Peacock (3); Brimstone (M)(1); Red Admiral (1). It was good to see a Red Admiral on the wing again. Fewer male Brimstone butterflies than previously - probably no females to be found in what is a reasonably small area. I have yet to see a female Brimstone here this year. [Posted by Francis Plowman]
Comma
Photo © Francis Plowman
Peacock
Photo © Francis Plowman
Comma
Photo © Francis Plowman
---
25 Feb 2019
Portsdown Hill. Today I visited the Eastern end of Portsdown Hill (SU657063) where along the main path above Queen Alexandra Hospital 5 male Brimstones were recorded.
At Fort Widley (SU657066) a single male Brimstone and a Red Admiral, while at Fort Southwick (SU680063) in passing, I observed 3 male Brimstones in flight. [Posted by Roy Symonds]
Havant Thicket. We had a 3 hour walk around Havant Thicket this afternoon from 1230-1530 and recorded the following species, Brimstone 17M 3F,Peacock,Comma 1. [Posted by Barry and Margaret Collins]
3-Up! Monks Walk, Gosport. Maintaining my regular search of Monks Walk today between 1130-1300 it was a delight to record 3 species. Under clear blue skies with temperature rising from the initial 15 deg C to nearer 17 by 1 pm I recorded: Brimstone (males) 4; Peacock (2) and the first emergence of Comma (1). The latter butterfly was flitting around the grasses flying away but always returning quickly to the same place. My first Comma sighting for 2019 comes no less than 29 days earlier than my first sighting here in 2018. [Posted by Francis Plowman]
Comma
Photo © Francis Plowman
Comma
Photo © Francis Plowman
Peacock
Photo © Francis Plowman
East and West Meon. On possibly the warmest day in the winter so far I visited some areas near to East and West Meon mainly for other wildlife like the Red Kite for instance. However in the Hedgerows I saw at least a dozen Brimstones, and at East Meon Church in the Graveyard I saw a Small Tortoiseshell, Comma and a Peacock. on the roadside more Brimstones, other Commas and Peacock.I was happy as I photographed a Red Kite on the wing where there were at least 15-20 flying around on the thermals behind the church. [Posted by Ashley Whitlock]
Peacock
Photo © Ashley Whitlock
Brimstone
Photo © Ashley Whitlock
---
24 Feb 2019
Havant Thicket. Today in the warm sunshine I walked the main outer perimeter track in Havant Thicket (SU7110) where the temperature was 14 degrees. Many male Brimstones were seen - 10 on the long straight path heading North known as The Avenue; 5 on the most Northerly path and 2 on the path which runs parallel with the B2149. Totals: Brimstone 17M, Comma 1 and Red Admiral 1.
Walking back where my car was parked in Castle Road, Rowlands Castle (SU722106) I recorded a further 2 male Brimstones flying along the hedgerow. [Posted by Roy Symonds]
Butterflies in a Clanfield garden. In my Clanfield garden today were a Red Admiral, a Brimstone and a Comma. [Posted by Michael Berry]
Monks Walk, Frater Fields & Woods, Gosport. Peacock and Brimstone (male) were active this morning on my walk from 1140-1300 under blue skies and warm sunshine circa 13.5 deg C. At least 4 possibly 5 Brimstone and 2 Peacock were recorded. The latter emerged today in a popular and reliable patch of dried bracken with nearby bushes of thick ivy. Both seemed in remarkably sound condition and it was a pleasure to record their emergence here 26 days earlier than my first sighting in 2017. There was no sign of the previously noted Red Admirals. Possibly their chasing Blue-Tits was ill-advised? [Posted by Francis Plowman]
Brimstone hiding in brambles
Photo © Francis Plowman
Peacock feeding on a daisy
Photo © Francis Plowman
Peacock sunbathing!
Photo © Francis Plowman
---
23 Feb 2019
Winchester St Catherine's Hill & River Path. On a walk around the lower meadows and riverside path towards the Hockley viaduct, 4 Brimstone males were seen between 1140-1300 with the temperature around 15-16 deg C. None stopped for the camera! [Posted by Francis Plowman]
Brimstone in Winchester. A male Brimstone seen at lunchtime today in our garden in Weeke, Winchester when temperature was around 12deg. [Posted by Bob Whitmarsh]
Very lucky escape in North Baddesley!!. First lizard of the year seen on my butterfly reserve in North Baddesley today very close to a Brimstone. I have seen lizards try to catch butterflies so very lucky escape. Brimstone seen here 14 times today. First slow worm of the year seen here today also. [Posted by Kevin Ross]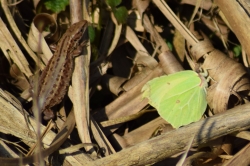 Photo © Kevin Ross
---
21 Feb 2019
Peacock at Hayling Island. just seen a Peacock in my garden Hayling Island Feb 21 got camera out but too late to capture it. Saw bumble bees last week. [Posted by tony lock]
---
20 Feb 2019
Monks Walk, Frater Fields & Woods, Gosport. I was able to find and photograph this morning probably the second of yesterday's two Red Admiral's. Compared to No 1 this one has suffered some serious wing damage but it was very alert and agile. [Posted by Francis Plowman]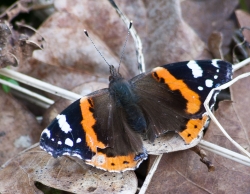 Photo © Francis Plowman
---
19 Feb 2019
Monks Walk, Frater Fields & Woods, Gosport. Two Red Admiral butterflies seen tumbling and cavorting together around 1145 during sunny periods circa 10.5 deg C with the southerly breeze off The Solent being fresh. Eventually one butterfly landed on the grass in front of me before electing to chase after a Blue Tit! It then descended from its fun and games and settled on a nearby bush only to shoot-off a second time in pursuit of another Blue Tit. Quite alarming behaviour given the number of birds in the vicinity of the two Red Admirals. However, at last a chance to take a photograph. (Butterfly shown is only one of the two recorded this morning). [Posted by Francis Plowman]
| | |
| --- | --- |
| | |
| Photo © Francis Plowman | Photo © Francis Plowman |
---
17 Feb 2019
Gosport - 2 Up!. Red Admiral on the house window at 0900 in early morning sunshine then at Monks Walk at 1115 circa 14 deg C a male Brimstone on the wing. [Posted by Francis Plowman]
Brimstone at Bentley Station Meadow. No photo, I'm afraid, but there was a really bright male Brimstone flitting about in the sunshine today at Bentley Station Meadow. [Posted by Steve Easter]
---
15 Feb 2019
My First 2019 Sightings on Portsdown Hill and in Havant Thicket. Today with so much sunshine I visited Portsdown Hill (East)(SU657063), where in the early afternoon flying along the main path overlooking Queen Alexandra Hospital, was a single male Brimstone, my first sighting of 2019.
Later in the afternoon, I walked the outer main track of Havant Thicket (SU713112), where I recorded a single Red Admiral which landed on the path for me to obtain a photo. [Posted by Roy Symonds]
First sightings for the year in the Itchen Valley. I also saw my first Brimstone in Winchester this morning and a fresh Comma on Itchen Stoke Down this afternoon. [Posted by Dave Pearson]
Brimstone in Winchester. Saw my first Brimstone of the year in our garden in Winchester at lunchtime today when it was 10degC. [Posted by Bob Whitmarsh]
Buddleja bounty in Cosham. One male Brimstone, and 2 Red Admirals seen in Theo Roberts' Cosham, Portsmouth, garden this morning, the Admirals (and many bees) freely imbibing from the pale mauve honey-scented flowers of Buddleja officinalis, a rare and only semi-hardy species from western China. [Posted by Andrew Brookes]
Brimstone in Holybourne. A single Brimstone seen on south facing bushes in fields from Church Lane [Posted by Chris Rose]
---
14 Feb 2019
Male brimstone in Portsdown. One flew through Portsdown gardens in the sun this morning. [Posted by John Goodspeed]
first sightings in North Baddesley. At long last first butterfly of the year (male Brimstone) on my butterfly reserve at North Baddesley. [Posted by Kevin Ross]
Brimstone at North Baddesley. Driving along Castle Lane, North Baddesley had my first butterfly - a male Brimstone flying strongly along the verge. [Posted by Sue Lambert]
Brimstone activity in Axmansford. A male Brimstone seen flying through the Axmansford garden at lunchtime today, then another later on crossing the Baughurst road. [Posted by Andy Bolton]
---
13 Feb 2019
Monks Wood, Elson, Gosport. At long last my first sighting on my 'home' patch for 2019. Around 1130 at about 11 C in sunshine I disturbed a Red Admiral which flew off. It can only get better but a start nonetheless. [Posted by Francis Plowman]
---
10 Feb 2019
Transect 25-year trends. The latest 25-year transect trend graphs, including 2018 data for Hampshire and Isle of Wight butterflies, are now available. To see these just click on the "Transect" tab of this web site, then the "25 year trends" sub-tab. Also available is a tabulated 2018 summary comparing 2018 transect performance with 2017. This can be found by clicking on the "Annual Trend Tables" sub-tab. [Posted by Andy Barker]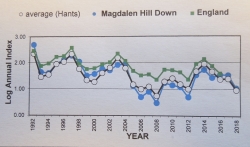 Small Tortoiseshell
Photo © Andy Barker
---
09 Feb 2019
First butterfly of the year for me today in East Meon. Male Brimstone in a sheltered spot at East Meon today. Took me by surprise. First butterfly I've spotted while out wearing thick gloves and fleece lined trousers!! [Posted by John Bogle]
---
03 Feb 2019
Success, north of Portsdown Hill. After yesterday's failure I turned my attention to a site on the north of Portsdown Hill where I had spotted some decent Blackthorn whilst walking the dog - I spent an hour searching and eventually located a single egg on some suckering shoots.
I will return to search some more likely areas in the vicinity [Posted by Mark Tutton]
Portsdown Hill. After Angus' fruitful search for Brown Hairstreak eggs at Southwick I thought I would take the challenge and have a look on Portsdown Hill where a female was seen last year. I spent 90mins searching the area above the hospital where there are some excellent stands of Blackthorn - but no joy this time. The area has just had some necessary scrub cutting but looks good if they are there. I have also earmarked some other areas in the vicinity which I will check before the buds burst. [Posted by Mark Tutton]
---
02 Feb 2019
Another Brown Hairstreak egg site - Creech Woods. Following up the sighting of a female Brown Hairstreak (reported by Caroline Bainbridge on these pages) in a garden in Denmead on 3 September 2018, I had a look around Creech Woods on Saturday morning (2.2.19) to see if I could find any eggs. I followed the lane and then footpath that runs roughly along the south western boundary of the woods. The hedges have been typically heavily flailed, but I found 6 Brown Hairstreak eggs (2 pairs and 2 singles) in a short stretch of hedgerow at the start of the footpath at the far southwestern corner of the wood, where there is some suckering blackthorn that has been spared the most severe cutting. I also found a single egg further south, where some suckering growth had been slightly protected from the flail by the ditch (SU635108). These egg finds, and the adult sighting from last year, suggest that there may be a Brown Hairstreak colony centred on Creech Woods - worth a look for adults next summer. The population could be hugely boosted by some more sympathetic hedgerow management. [Posted by Angus McCullough]