News Archive for Oct 2017
---
30 Oct 2017
Old Portsmouth. Today while waiting on the Round Tower at Old Portsmouth (SZ629993) for HMS Queen Elizabeth to leave the harbour, I saw a single Red Admiral fly past. The Temperature was 12 degrees. [Posted by Roy Symonds]
Another sunny morning: Lee on the Solent. An earlier excursion today on South Browndown part of my local patch at Lee on the Solent. Our walk revealed Red Admiral at least 8 on ivy, 5 more airborne; Comma 1; Small White 3; Clouded Yellow male 2 (possibly 3) [Posted by Geoff Jones]
Photo © Geoff Jones
Monks Walk, Frater Fields & Woods, Gosport. By the time I got to my local patch from Browndown the sun was low and already casting cool and foreboding shadows over the fields and woods here between 1350-1410. Red Admiral (4) were the only butterflies to be seen but what a beauty posed for the camera. If that becomes the last view of the season from Monks Walk then I should be very content indeed. [Posted by Francis Plowman]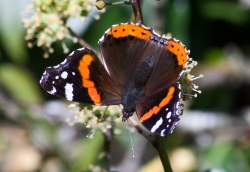 Red Admiral
Photo © Francis Plowman
Browndown (South) Gosport. With the weather forecast warning of icy blasts this week today's bright sunshine might be my 'last chance' for 2017. I particularly wanted to see if Clouded Yellow were still about and between 1150-1315 counted a total of five species still going - though not all 'strongly'. Red Admiral (4); Comma (1); Clouded Yellow (2) (one definitely a male); Speckled Wood (1); Small White (1)(M). [Posted by Francis Plowman]
Clouded Yellow (male)
Photo © Francis Plowman
Speckled Wood
Photo © Francis Plowman
---
28 Oct 2017
Monks Walk, Elson - Additional Pictures. These were also seen yesterday at Monks Walk, Elson. [Posted by Francis Plowman]
Comma
Photo © Francis Plowman
Butterfly bush
Photo © Francis Plowman
Speckled Wood
Photo © Francis Plowman
Monks (Red Admiral's) Walk - Gosport. If the season is coming to an end nobody's told the Red Admiral's at Monks Walk! Or perhaps they have since most were feeding avidly today. On one ivy-covered bush there were six Admirals and four Comma basking in the sunshine or just feeding. So, from 1150-1315 the count was: Red Admiral (21); Speckled Wood (6); Comma (7). [Posted by Francis Plowman]
On a wing.......
Photo © Francis Plowman
.... a wing and a prayer.......
Photo © Francis Plowman
.....just a prayer!
Photo © Francis Plowman
---
27 Oct 2017
Southern Shores in search of Clouded Yellow. Browndown (South). 1140-1240. Clouded Yellow (4); Red Admiral (2); Small White (M)(1)(F)(1). We saw four, possibly five Clouded Yellow with one definitely identified as male and all patrolling the main shingle pathway west to east. Only one butterfly appeared slightly shabby. Warm shingle seemed a favourite stopping place but never for very long!
Browndown Coastal Area. 1245-1250. Red Admiral (2)
Chilling woods, fields and cliff top. 1310-1415. Red Admiral (8); Clouded Yellow (4); Small White (1); Comma (1); Speckled Wood. Two Clouded Yellows seen at beach level with two above patrolling the cliff tops.
Haslar sea wall Car Park Scrub. 1445-1450. Red Admiral (1) [Posted by Francis Plowman]
No 1 Clouded Yellow (Male)
Photo © Francis Plowman
No 2 Clouded Yellow
Photo © Francis Plowman
No 3 Clouded Yellow
Photo © Francis Plowman
Enjoying the sunshine! Hook with Warsash. Hook with Warsash
Small White; Small Copper; Red Admiral 3; Speckled Wood 2 Comma 2 plus several Common Darters. [Posted by Geoff Jones]
Butterflies last stand: Milton Lock, Portsmouth. As we head rapidly towards the end of another butterfly season, the last bastions are just holding on with overwintering butterflies eagerly feeding up until its time to the final curtain call, and we shall see them very little until the early warm days of early spring. A quick walk around my local patch 'yes I have several!' Milton Lock and surrounding area the fore shore looks interesting now they have finished the flood defences, with new bushes and shrubs planted, and many wild flowers to look at next year and hopefully see more invertebrates on the wing. Today it was about the Comma and Red Admiral and the Speckled Wood. (4) Commas were seen feeding up on Ivy flowers and several Red Admirals(6) had the same idea. There was a solitary Speckled Wood sunning itself at the enterance of Milton Lock Reserve. [Posted by Ashley Whitlock]
Red Admiral feeding on Ivy flowers indelibly stamped 780!
Photo © Ashley Whitlock
Comma resting on grasses
Photo © Ashley Whitlock
Speckled Wood at rest
Photo © Ashley Whitlock
---
25 Oct 2017
Portsdown Hill. Today on Portsdown Hill the temperature was mild at 17.5 degrees, where at the Eastern end (SU657063) I saw a single Red Admiral followed by another singleton at Fort Widley (SU657066). [Posted by Roy Symonds]
Walk from Shawford to Winchester. While walking from Shawford to Winchester along the river Itchen this morning between 9.45-12.00 I saw three Red Admirals, all looking fresh, in three separate locations. One was nectaring on ivy in the sunshine. [Posted by Bob Whitmarsh]
Monks Walk, Frater Fields & Woods, Gosport. Today I did what the butterflies at Monks Walk did, made the most of some warm Autumnal sunshine! The fields are finally devoid of Common Blue and Small Copper but I was surprised at the overall numbers seen - and many photographed - between 1100-1300 today. Red Admiral (18); Comma (4); Small White (1); Speckled Wood (7); Brimstone (F)(1). The wear and tear on the Red Admirals is starting to show and some veritable wrecks were still on the wing. At one time 5 Speckled Wood were tumbling together in one sunny glade. I had to photograph the Brimstone in flight in order to identify it; the insect was flying high around the canopy of a tree smothered in ivy and just did not descend or settle. [Posted by Francis Plowman]
Comma
Photo © Francis Plowman
Speckled Wood
Photo © Francis Plowman
Worn Red Admiral missing antenna knob
Photo © Francis Plowman
---
23 Oct 2017
Clifden Nonpareil in Alton. A Clifden Nonpareil found on the window of W.H. Smith in the centre of Alton. [Posted by Steve Mansfield]
Clifden Nonpariel
Photo © Steve Mansfield
Clifden Nonpariel
Photo © Steve Mansfield
---
22 Oct 2017
Godsfield Copse. While strolling along the Three Castles path from Abbotstone Down to Upper Wield we counted six Red Admirals basking in warm sunshine. They were spaced out at 50 m intervals along the hedgebank of Godsfield Copse. [Posted by Robert Bryant]
Speckled Wood still on the wing, Havant. One Speckled Wood still on the wing in our back garden this afternoon in Leigh Park, nectaring on (Helianthus). [Posted by Barry and Margaret Collins]
---
14 Oct 2017
Stoke Common, Hayling Island. A walk around Stoke Common (SU716032) today in the sunshine, but despite the warm conditions I only observed 2 Red Admirals. As the season is almost at an end single figures will be the best we can expect now. [Posted by Roy Symonds]
---
13 Oct 2017
Seasonal sightings in Gosport. Yesterday 12th October, North Browndown MOD Gosport
Small White 1; Speckled Wood 7; Red Admiral 2
Today
South Browndown and Coastal Area, Lee on the Solent
Clouded Yellow 2 [Posted by Geoff Jones]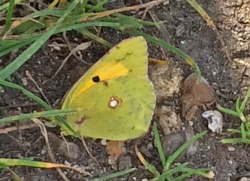 A poor effort- that'll teach me to take the camera on walks!
Photo © Geoff Jones
---
12 Oct 2017
Elizabeth Road, Waterlooville. Today with the temperature at 16 degrees I saw a Red Admiral in Elizabeth Road, Waterlooville (SU687087). [Posted by Roy Symonds]
High Level Admirals in Portsmouth. Whilst at a meeting five storeys up in an office block in central Portsmouth there was a steady stream of Red Admirals gliding up the outside of the building and over the roof in their efforts to head south.There was one every ten or fifteen minutes and in all I counted about eight, not that I was distracted at all! [Posted by Mark Tutton]
Resurgence Day @ Monks Walk, Gosport. Between 1215-1330 today there was a pleasing resurgence in butterflies around my local beat. Six species were counted today (3 at the last count on 6 Oct) with Red Admiral at the top of the census. Red Admiral (17); Peacock (1); Small White (4); Comma (3); Common Blue (M)(1); Speckled Wood (4). The plucky and worn male Common Blue seems to be the last survivor of his colony and was noted there (also alone) on 6 Oct. A good mix of Red Admirals but most in fresh, quite glorious condition. [Posted by Francis Plowman]
Elegant Red Admiral
Photo © Francis Plowman
Basking Common Blue (male)
Photo © Francis Plowman
Speckled Wood
Photo © Francis Plowman
Eastney Beach Part VII. Another day of sunny periods and again venturing out to my local patch Eastney Beach, I wasn't holding out much hope of seeing much as there was a cool breeze blowing over the beach today. However as I got to the 'bank' there was a female Small Copper feeding on Hawkbit, and she was patrolling up and down the area where I've seen other females laying eggs. She descended into some tall vegetation, and sought out some very small pieces of Sorrel leaves, the leaves no bigger than your average tiny fingernail, she was 'tasting' the leaves with her front feet, 'tap' 'tap' she went and then bent her abdomen round under the leaf. In the past I've seen them laying eggs actually on top of the leaves, but these have tended to be a lot larger in size. She went over several patches of Sorrel and then alighted on more Hawkbit and fed up. I saw two females in this area, and then I wandered over to another patch, opposite the Marine Barracks, and here I saw a rather worn male which had obviously been feeding on a plant as its face was covered in pollen. I then saw a female Small Copper feeding on a Pot Marigold which grow wild here on the beach. Also noted were (5) Clouded Yellows, which were coming in off the beach, and then the Red Admirals which I saw two of seemed to be heading in the opposite direction! [Posted by Ashley Whitlock]
Female Small Copper on Pot Marigold
Photo © Ashley Whitlock
Male Small Copper with pollen all over its face and forelegs
Photo © Ashley Whitlock
Clouded Yellow
Photo © Ashley Whitlock
---
06 Oct 2017
Monks Walk, Frater Fields & Woods, Gosport. I left it a bit late today to wander Monks Walk and the surrounding fields. The ground was still rather wet after the last rains. Only three species seen this afternoon between 1430-1530. Common Blue (male) (1); Small Copper (2); Red Admiral (5). One fox and a bright Kingfisher also noted. [Posted by Francis Plowman]
Common Blue male - very worn
Photo © Francis Plowman
Small Copper
Photo © Francis Plowman
Red Admiral feeding
Photo © Francis Plowman
Posbrook + Chilling. Lots of butterfly activity in lovely Autumn sunshine on a circular walk from the beach at Titchfield Haven, along the cliff tops, inland to Posbrook and back again to the beach. There were good numbers of whites and Speckled Woods throughout. Also a single Comma. Stars of the show though were undoubtedly the Red Admirals. I stopped counting after 20 - so probably twice that number in 1.5 hours walking. Most were on ivy and in one group of 5/6 was a single Painted Lady. Plenty of Migrant Hawkers still on the wing as well as good numbers of Common Darters. [Posted by Mark Wagstaff]
Red Admiral - Posbrook
Photo © Mark Wagstaff
Painted Lady - Posbrook
Photo © Mark Wagstaff
Speck;ed Wood - Chilling
Photo © Mark Wagstaff
Eastney Beach Part VI. Despite the sunny weather today I didn't hold out much hope of seeing much as it has been very cold at night almost down to frost temperatures, and with it being quite windy and cool even in the sunshine, I was pleasantly surprised to see what I did see. On the grassy bank where most of the Sorrels are, I found three female Small Coppers in different stages of age, one was relatively fresh, and a fresh male. One of the females was again laying her eggs on Sheeps Sorrel which I've just noted in a small corner of the bank, she seemed to like this area as it was very bare and was obviously quite warm as she liked resting on the bare earth. One was avidly feeding on Hawkbit, and another seemed to like the bare stones, again very warm in the sunshine. I also visited the area of flat ground opposite the Royal Marine Barracks, and here, after a lot of searching, found one female Small Copper which was content to to sit and rest for the best part of the time I was there as it was very cool here with very little shelter. The grassy bank at night must be a lot warmer hence the greater number of the Small Copper. I also saw two Clouded Yellows and several tatty Common Blues, and many Small Whites and Large Whites, and the odd Red Admiral. [Posted by Ashley Whitlock]
Small Copper feeding on Autumn Hawkbit
Photo © Ashley Whitlock
Leaves of Sheeps Sorrel
Photo © Ashley Whitlock
Clouded Yellow
Photo © Ashley Whitlock
---
05 Oct 2017
Stoke Common, Hayling Island. A walk beside Stoke Common on Hayling Island (SU716032) in the sunshine today where the temperature was 15.5 degrees. Very little was flying despite the weather, with just a pair of Speckled Woods and a single Red Admiral recorded. [Posted by Roy Symonds]
---
04 Oct 2017
Sunny spells at Carisbrook, IoW. Seen nectaring on the ivy around the garden walls. 15 Red Admirals,5 Peacocks,and two
Painted Lady. [Posted by Mick Sivell]
---
03 Oct 2017
Portsdown Hill. At the moment in Sussex there are good sightings of the Wall Brown at Mill Hill and I thought on a good weather day today I would visit one of my old haunts where I used to see the Wall Brown in reasonable numbers just under Fort Widley on Portsdown Hill. There is always that chance they could still be here in very small numbers, but they haven't been reported here for many seasons, and today unfortunately wasn't going to be any different. However the butterflies in the sunshine were still in evidence with numbers of Common Blue, and on the huge areas of Michaelmas daises, the Red Admiral, Peacock, Comma and Painted Lady we're avidly feeding away. I also saw a Clouded Yellow but unfortunately it was a bit skittish. I also saw two probably fresh Holly Blues chasing each other over the walls of Ivy which grow along in tall banks by the side of the main road. [Posted by Ashley Whitlock]
The Michaelmas daises are a great source of nectar before hibernation
Photo © Ashley Whitlock
Comma feeding on Michaelmas Daises
Photo © Ashley Whitlock
Red Admiral also tucks in
Photo © Ashley Whitlock