News Archive for Oct 2016
---
30 Oct 2016
Fresh Holly Blue. Mint condition Holly Blue around the hedgerow at the back of our garden in Badger Farm, Winchester this afternoon. [Posted by Rupert & Sharron Broadway]
---
25 Oct 2016
Autumn Sightings. Tempted by today's fine weather I took a recreational walk to enjoy the sunshine along Stokes Bay sighting 3 Small White and two Red Admiral all sharing the same idea! So it was that I returned home for my camera and made my first autumnal circuit of Monks Walk, Elson. Here I added 2 (distant) Speckled Wood and 2 Brimstone to an unexpected list. The female Brimstone posed for the camera and the other was a brightly coloured and sun-reflected male in strong flight. It could be that, for me, the Brimstone will be my alpha and omega of butterfly sightings in Hampshire this year; but I hope not! [Posted by Francis Plowman]
Brimstone (female)
Photo © Francis Plowman
Speckled Wood
Photo © Francis Plowman
---
23 Oct 2016
Late Red Admiral Activity at Knowle. Today among the dozen or so Red Admirals I observed at least 3 females busy laying eggs at Knowle near Fareham. Many of the Red Admirals were looking quite worn. Also on the wing several male Small White and Speckled Wood [Posted by Paul Harfield]
One of many Red Admiral eggs laid today
Photo © Paul Harfield
Photo © Paul Harfield
Photo © Paul Harfield
---
22 Oct 2016
Last Knockings. A walk in glorious autumn sunshine along Portsdown Hill revealed a handful of the last of this year's butterflies.
Five species in all included two female Brimstone, Peacock, Red Admiral and perhaps more surprising a female Common Blue and a Meadow Brown. Additionally I stumbled across a holly laden with yellow as opposed to the normal red berries. [Posted by Mark Tutton]
Late meadow brown
Photo © Mark Tutton
Yellow holly berries
Photo © Mark Tutton
---
09 Oct 2016
Eastney Beach. Today walking along the beach in lovely sunshine a Clouded Yellow was seen feeding on some of the last wildflowers to be found along the broadwalk edge, and other species seen flying across the main road were several Red Admirals, and a couple of fresh looking Small Whites. [Posted by Ashley Whitlock]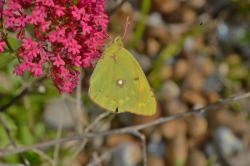 Clouded Yellow
Photo © Ashley Whitlock
---
05 Oct 2016
Branch Members' Day and AGM. Details of the Branch Members' Day and AGM can now be found on the home page. [Posted by Clive Wood]
---
03 Oct 2016
Painted Lady. Yet another Painted Lady feeding on the few remaining buddleia spikes in the garden, It has been an excellent year for sightings around the patch. Once again it afforded the opportunity to get in close and photograph this lovely butterfly. Don't forget the BBC 4 programme on the Butterfly Great Adventure featuring the Painted Lady on Monday 10th October at 9.00pm. http://fourmarksbirding.blogspot.co.uk/ [Posted by Chris Rose]
Painted Lady
Photo © Chris Rose
Painted Lady
Photo © Chris Rose
Painted Lady
Photo © Chris Rose
Lifes a Beach. Today in glorious sunshine I was going to go over to Hayling Island and investigate Marks discovery of the Small Copper colony at Gunner Point. But as I had just missed the Ferry and had an hour to wait, I decided to go to Eastney Beach just around the corner from where I live, and went to have a look to see if it may well be present there.It took about 30 minutes when I saw a female flying in and around a small grassy bank, which clearly had been subjected to some burning of some sort as the ground was quite bare, and obviously quite warm. But she was trawling with her abdomen along the bare earth and then sat on several sprigs of what could only have been fresh shoots of Sorrel. I saw her lay several eggs several underneath the leaves and several on top of the leaves as well which were very easy to see. Either side of this grassy bank were very tall grasses, and obviously these were not suitable for her egg laying. As I left I managed to espy another Copper which may well have been a male. Other species seen were just a couple of Small Whites and a Silver'Y' Moth. [Posted by Ashley Whitlock]
Female Small Copper perches on small leaves of Sorrel
Photo © Ashley Whitlock
Laying Eggs underneath and on top of the leaves
Photo © Ashley Whitlock
Egg on top of the Sorrel leaf
Photo © Ashley Whitlock
---
02 Oct 2016
A nice surprise. A Hummingbird Hawk Moth was nectaring on a Budleia bush in my back garden this morning,while I was putting bird seed into one of the feeders. [Posted by Barry Collins]
Magdalen Hill Down. Decided to pay a visit to MHD to try out my new camera and to take advantage of the good weather. Two weeks ago there were good numbers of Red Admirals and Commas and today was even better. There were 30+ Red Admirals, 5 Commas, a Peacock and a Small White plus, a lovely bonus of a Common Lizard sunning itself on some wood. The ivy was very popular with butterflies, bees ans wasps! There were swarms of them but they left us alone, most of the time, to take pictures in peace.
Met some friendly people who also post on here and had a good chat. We were there from 10.30 to 12.00 and stayed on the path at the top of the slope. [Posted by Tracy Piper]
Comma
Photo © Tracy Piper
Red admiral
Photo © Tracy Piper
Obliging Peacock
Photo © Tracy Piper
Magdalen Hill Down. ....some more photos [Posted by Tracy Piper]
Red Admiral underside
Photo © Tracy Piper
Nicely posed Peacock
Photo © Tracy Piper
Common Lizard enjoying the October sun
Photo © Tracy Piper