News Archive for Nov 2014
---
30 Nov 2014
Red Admiral at Stokes Bay,Gosport.. Red Admiral basking & flying at Stokes Bay(old moat),Gosport.Red Admirals have been seen basking & flying in every month of the year in Hampshire,including at Christmas & on New Year's Eve & New Year's Day. [Posted by David Tinling]
Alresford 29 November. One male and one female Brimstone along Drove Lane, Alresford. [Posted by Steve Mansfield]
---
29 Nov 2014
Red Admiral at Stubbington,Fareham.. Red Admiral basking on David Palmer's white window ledge at Gosport Road,Stubbington,Fare ham. [Posted by David Tinling]
Five Species. On a warm day around Four Marks it was lovely to see at least 5 Red Admirals, 2 Brimstones, 2 Small Tortoiseshells, a Peacock, and best of all a Clouded Yellow. Full details here: http://fourmarksbirding.blogspot.com/ [Posted by Chris Rose]
Red Admiral & Peacock at Gosport.. Red Admiral & Peacock basking & flying at Ann's Hill Cemetery,Gosport. [Posted by David Tinling]
Peacock and Red Admiral. One Peacock and one Red Admiral seen around midday today near the green at Otterbourne Hill. The former stopped long enough for a poor photo, the latter not at all. Sunshine and at least 13 degrees - the warmth must have disturbed the Peacock from hibernation. [Posted by Dave Miller]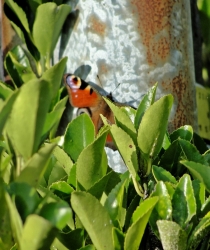 Peacock 29th November
Photo © Dave Miller
Red Admiral in my garden. Mild,bright and sunny today and the first butterfly seen for some time in my garden at Freshwater,IOW.This one enjoying the warmth of the sun on my garden shed.
Also Holly Blue sighted today(by AB) at Wheelers Bay,Bonchurch. [Posted by Peter Hunt]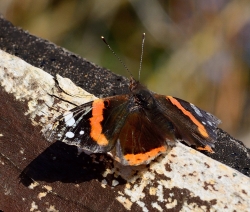 Photo © Peter Hunt
---
27 Nov 2014
RED ADMIRAL STILL FLYING AT GOSPORT. I wish I had the photograph to support the continued sighting of a solitary Red admiral. It has been flying around our front window throughout November and was last sighted within the last few minutes on a very grey and cool morning. It flies the same course and disappears probably behind a wooden soffit where there is a very nice gap. We have viburnum in full blossom so maybe it is still helping itself to energy food? Is this really late for Red admirals I wonder? [Posted by Francis Plowman]
---
25 Nov 2014
TV programme worth watching. Wild Gardens
Last evening I just happened to catch a super programme on TV - episode 6 of Mike Dilger's Wild Gardens from 2008. It featured Wiltshire downland - lots of butterflies and flowers. What was really special for me was the visit Mike made to meet Charles Flower. It was great too to see Great Bustards and Richard Tratt and his paintings of Martin Down. There were some useful tips and inspiration for those wishing to grow wild flowers. See it at http://www.communitychannel.org/video/SeE8e_0x3gE/
Just the thing for Butterfly enthusiasts to do in Winter! [Posted by Lynn Fomison]
---
24 Nov 2014
Butterflies indoors. my attention was drawn to the sound of flapping wings. Today's sunshine had lured a butterfly from its hibernation spot somewhere indoors to a sunny window. I quickly caught the Small Tortoiseshell and put it in a clean cool outbuilding which already has a Herald moth hibernating there.
It was a timely reminder that now is often the time butterflies wake up especially if unused rooms are heated up for Christmas guests. [Posted by Lynn Fomison]
---
18 Nov 2014
Red Admiral(5) on the Gosport coast.. Red Admiral(5) basking & flying on the Gosport coast at Haslar,the Golf Course & Stokes Bay. [Posted by David Tinling]
Red Admiral. First sunny day for a while brought a Red Admiral to our Chandler's Ford garden. It spent most of the day feeding, along with lots of bees, on Buddleia auriculata, a semi-tender variety which flowers well into autumn/early winter.This is in our new butterfly garden planted this year with various Buddleia and lavender. Also had a Small Tortoiseshell on the windowsill but didn't manage to get a photo. [Posted by Dave Grubb]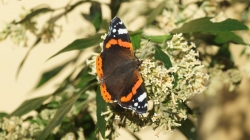 Red Admiral on B. auriculata
Photo © Dave Grubb
Red admirals. 3 on flowering bush of Fatsia japonica this morning [Posted by Richard Hallett]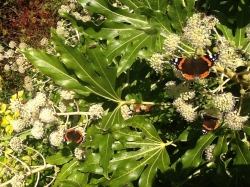 Red admirals
Photo © Richard Hallett
---
16 Nov 2014
2014 Photography Competition Results. The winning images from the 2014 Photography Competition can now be found here. Congratulations to all of the winners and many thanks to all who entered. The winning image by John Bogle is shown below. [Posted by Peter Eeles]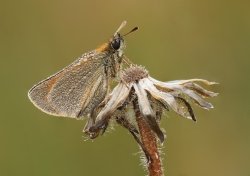 Small Skipper (c) John Bogle
Photo © Peter Eeles
---
15 Nov 2014
Red Admiral(2) at Alverstoke,Gosport.. Red Admiral(2) basking & flying along the Old Railway Line at Alverstoke,Gosport. [Posted by David Tinling]
---
14 Nov 2014
Red Admiral(2) on the Gosport coast.. Red Admiral(2) basking & flying at Haslar & Stokes Bay on the Gosport coast. [Posted by David Tinling]
Red admirals. 3 seen in different locations on the Isle of Wight in temperatures up to 16 degrees C in mid November! [Posted by Ian Pratt]
4 species seen today. Female Brimstone at Badger Farm, Winchester. 4 or 5 Red Admiral at Danebury Hillfort plus a Small Tortoiseshell and 1 or 2 Peacock. Unusual to see such variety at this time of year, but there weren't a lot of nectar sources around [Posted by Rupert Broadway]
---
10 Nov 2014
Who needs sun. Had a bizarre sighting of a Red Admiral today - three stories up in Central Portsmouth temperature of 13C and in torrential rain I spotted a Red Admiral valiantly battling against all that Mother Nature could throw against it as it desperately made a determined effort to fly over the office building on its way south. Never underestimate a butterfly
Mark [Posted by Mark Tutton]
---
09 Nov 2014
Clouded Yellow & Red Admiral on the Gosport coast.. Clouded Yellow & Red Admiral basking & flying just west of Fort Monckton on the Gosport coast. [Posted by Anne McCue]
Clouded Yellow & Red Admiral(2) at Gosport.. Clouded Yellow male basking & flying near the Haslar sea wall;Red Admiral(2) at Gilkicker & Ann's Hill Cemetery,Gosport. [Posted by David Tinling]
Portchester garden sightings. Seen in my Castle Street garden enjoying this morning's brilliant sunshine: 1 Small Tortoiseshell nectaring on Buddleja auriculata, and a Large White, en passant. [Posted by Andrew Brookes]
last of the few. a tattered painted lady still on the wing on the west side of Beacon Hill near Exton today [Posted by Pete Gammage]
---
04 Nov 2014
Clouded Yellow(5) on the Gosport coast.. Clouded Yellow(2 females taking nectar from prickly sow-thistle at Haslar & 3 males at Fort Gilkicker),Red Admiral(2 taking ivy nectar at Haslar) & Volucella zonaria(hornet hoverfly taking ivy nectar at Haselworth Drive,Alverstoke) along and near the Gosport coast. [Posted by David Tinling]
Itchen Wood. Comma butterfly basking with wings outstretched on hazel leaf at woodland edge in weak sunshine. [Posted by Robert Bryant]
---
03 Nov 2014
Clouded yellows. Freshly emerged Clouded Yellows seen by Colin Beyer on 31st October on Area 2 of the Original Reserve at Magdalen Hill Down, and another at Bentley Station Meadow on 28th October by Dan Hoare. [Posted by Jayne Chapman]
---
01 Nov 2014
Painted Lady(3) at Gosport.. Clouded Yellow(8,including helice female),Red Admiral(10),Painted Lady(3) & Speckled Wood were seen along and near the Gosport coast from Gilkicker to Stokes Bay,Alverstoke & Ann's Hill Cemetery by Anne McCue and/or Mick Langridge and/or David Tinling. [Posted by David Tinling]
Still Red Admirals. Despite the weather downturn, still saw 2 Red Admirals sunning at 09:00 in TVBC Beech Hurst gardens at Andover. [Posted by Mike Wildish]
More Clouded Yellows at Aytesbury Copse. I went back to check this location in better conditions today. I am glad I did as there were 4 Clouded Yellow including one which was a female actively laying eggs. There were also at least 3 Red Admirals 2 of which were females actively laying eggs in the same location. [Posted by Paul Harfield]
| | |
| --- | --- |
| | |
| Photo © Paul Harfield | Photo © Paul Harfield |