News
Please note that any sightings mentioned in news items do not automatically go into our records database. Sightings should be submitted using one of the mechanisms listed on the Recording page.
21 Feb 2017
Marsh Fritillary larvae. Many of you will be aware that BC Hants & IoW Branch has a joint project with the Hampshire & Isle of Wight Wildlife Trust involving captive breeding of Marsh Fritillary larvae (under licence) for eventual release to selected sites in N.E.Hampshire. I'm very pleased to announce that all three of our breeders have reported larval activity in recent mild weather following their winter dormancy. The attached photo taken today shows a large group of larvae basking on the remnants of their winter web, in between bouts of feeding on young leaves of Devil's-bit Scabious. [Posted by Andy Barker]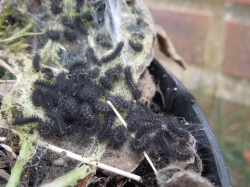 Photo © Andy Barker
20 Feb 2017
Havant Thicket. Following my walk in Havant Thicket on Saturday where I saw my first sighting of the year, I returned on Monday in sunshine once more where the temperature reached 15.5 degrees. At the far end of the perimeter path close to Bell's Copse (SU708103), a male Brimstone flew past me very actively. [Posted by Roy Symonds]
Brimstone butterfly. we too had a brimstone butterfly flying around the garden in bright sunshine. [Posted by Robert Bryant]
My first Brimstones of 2017. This morning while cycling round Winchester between 11.00 and 12.00 I saw 7 Brimstones in flight. The temperature was between 14 and 15 degC. [Posted by Bob Whitmarsh]
Brimstone. Brimstone flying in warm sunshine in Sway. [Posted by Tony Blakeley]
Early Peacock Butterfly. I really wasn't expecting to make any reports so early in the year but couldn't resist sharing this lovely Peacock I found whilst fishing in the Test valley today. [Posted by Mark Wagstaff]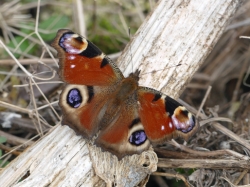 Peacock - Test Valley (nr Romsey)
Photo © Mark Wagstaff
18 Feb 2017
Havant Thicket. Today (18th February), with the weather warm and sunny, the temperature reached 11 degrees. I walked one of the main paths in Havant Thicket (SU713103) hoping to see my first butterfly of the year. I was very pleased when a Peacock flew out of the hedgerow past me. In the afternoon I went over the border in West Sussex to nearby Stansted Forest for a walk, almost the same length and saw nothing. [Posted by Roy Symonds]
Acres Down New Forest. With the temperatures much more acceptable this weekend a walk over Acres Down produced my first butterflies of the year, three Red Admirals and a single Small Tortoiseshell, provided some signs of spring early on in the year. [Posted by Chris Rose]
Red Admiral, Acres Down
Photo © Chris Rose
Red Admiral, Acres Down
Photo © Chris Rose
16 Feb 2017
White Admiral larvae. All monitored White Admiral larvae present & correct in Pamber Forest today, with one out in the open as it waits for the starting gun :) The maximum count of 19 is now down to 11. [Posted by Pete Eeles]
| | |
| --- | --- |
| | |
| Photo © Pete Eeles | Photo © Pete Eeles |
12 Feb 2017
Noar Hill Brown Hairstreak Egg -Hunt. Withstanding the cold weather I was pleasantly surprised by the amount of people turning up for the Egg-Hunt today with some new-faces as well which was good to see. In fact once we got down and got our eye-in it was really quite pleasant. Over 3 hours we counted up to 130 eggs, which was about the same tally as the 2016 egg-hunt. We found several Blackthorn twigs with up to eight eggs, one had two doubles, and four single eggs on a Blackthorn bush about two foot tall, quite a sight to so see so many eggs in one area. In fact it was in an area I had noted several females patrolling an Ash tree in September last. I would like to thank all who took part and look forward to seeing you all again in the future on a field trip. [Posted by Ashley Whitlock]
Double Egg on a Blackthorn twig
Photo © Ashley Whitlock
The route around Noar Hill (Kelvin Richards)
Photo © Ashley Whitlock
Female Brown Hairstreak how will it fare in 2017?
Photo © Ashley Whitlock
06 Feb 2017
Brown Hairstreak Egg-Hunt Noar Hill and surrounding area. This Sunday February 12th I intend to have a Brown Hairstreak Egg-Hunt at Noar Hill, park in the usual places. Meet at 10:30 it will be cold so wrap up accordingly, with plenty of mud around due to the amount of rain we have had it will be muddy as well.See you there. [Posted by Ashley Whitlock]
| | | |
| --- | --- | --- |
| | | |
| Photo © Ashley Whitlock | Photo © Ashley Whitlock | Photo © Ashley Whitlock |
04 Feb 2017
first Peacock. My first butterfly of the year - a Peacock flying briefly in the garden at Titchfield Haven Nature Reserve. [Posted by Jenny Mallett]
Red Admiral in garden. A Red Admiral was seen in the garden trying to get into my conservatory at 3.00pm, which just shows how much the weather has warmed up, since last week. [Posted by Ashley Whitlock]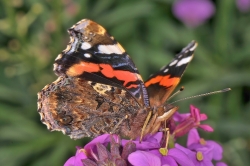 Roll on the good weather!
Photo © Ashley Whitlock
11 Jan 2017
First of the year. I was wandering by Portsmouth and Southsea railway station during my lunch break when a Red Admiral caught my eye. It was only about eight degrees but obviously a brief spell of sunshine had warmed its resting place sufficiently for it to become active. It was fluttering around the eaves trying to find a suitable location to sit out tomorrow's weather forecast! [Posted by Mark Tutton]
30 Dec 2016
Cold Moth. Ive just returned from getting my early morning paper and was surprised to see this moth parked next to the front door.It's not a December Moth but it looks like one of the Geometradae family, of which most seem to fly in the late summer.Any ID would be welcome. [Posted by Ashley Whitlock]
Cold, cold Moth.
Photo © Ashley Whitlock
17 Dec 2016
Red Admiral in garden. At about 2:00pm this afternoon I had a lovely Red Admiral flying around the back garden , I wouldn't mind but it wasn't that warm, it did a few circuits, and must have found another hibernation spot. [Posted by Ashley Whitlock]
14 Dec 2016
Red Admiral Northington Down. There was a Red Admiral sunbathing on my satellite dish this afternoon. 12C, bright sunshine. [Posted by Robert Bryant]
Brimstone in Harestock. A male Brimstone flew south past my living room window at 11:30 this morning. [Posted by Dave Pearson]
11 Dec 2016
Red Admiral still around.. One Red Admiral active in the garden during a sunny period. [Posted by Andy Bolton]
03 Dec 2016
Pete Eeles award. Pete Eeles: Marsh Christian Trust award
I am delighted to share the news that our very own Pete Eeles, former Chair of the Branch, received a Marsh Christian Trust award for the Promotion of Lepidoptera Conservation at Butterfly Conservation's recent AGM in Nottingham. This is well deserved recognition of someone who has made a wonderful contribution to the conservation of butterflies over many years. Pete was instrumental in the development of the UK Butterflies website. This site receives over 60,000 hits a month in the summer and is undoubtedly one of the most important resources for information on butterflies in the UK and beyond. He has also developed BC's online educational resources including the new Garden Butterfly Survey website. This initiative will make it much easier to monitor changes in the abundance and distribution of our garden butterfly species.
On behalf of everyone connected with the Hampshire & IoW branch, many many congratulations Pete! [Posted by Clive Wood]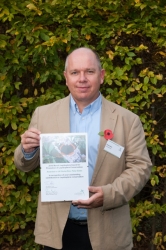 Photo © Clive Wood
30 Nov 2016
Speckled Wood seen on 30.11.2016. At Staunton Park, Havant, Hants.
At a temperature about 2-3 degrees, I saw a Red Admiral and a Speckled Wood sunning themselves on a Silver Birch Tree.
(I tried to send photo but sadly technology beat me!) [Posted by Mike Wells]
13 Nov 2016
Red Admiral enjoying late nectar. After a miserable and wet Saturday, Sunday shows another side to November. A beautiful and warm sunny day brings a Red Admiral out to feed on my late flowering 'Moonlight' buddleia. A welcome sight half way in to November. This buddleia is a cross between the early flowering Orange Ball and the summer flowering davidii hybrids. I have all of these and a late flowering Buddleia 'auriculata' which flowers well in to December. This gives a good range of flowering from late spring through to winter. A must for any late butterflies, bees and hoverflies. This Admiral appears on most days that are warm enough and is still in quite good condition. The hoverflies are still abundant and even a large Bumblebee has been feeding most of the day. [Posted by Tracy Piper]
Red Admiral still looking good!
Photo © Tracy Piper
Catching some rays high up in the Jasmine
Photo © Tracy Piper
One of many hoverflies enjoying the buddleia
Photo © Tracy Piper
06 Nov 2016
Red Admirals at Southwick. At least four Red Admirals flying at Southwick today [Posted by Paul Harfield]
| | |
| --- | --- |
| | |
| Photo © Paul Harfield | Photo © Paul Harfield |
Red Admiral. While walking in Crab Wood, Farley Mount this morning I saw a rather worn-looking Red Admiral. Unfortunately as it settled on the ground a frisky dog appeared and frightened it off so no photo. [Posted by Bob Whitmarsh]
03 Nov 2016
The Hibernaculum Habits of the White Admiral Butterfly. I've just published an article on White Admiral hibernacula which may be of interest to branch members, since the study was conducted in Pamber Forest. The article can be found here. [Posted by Pete Eeles]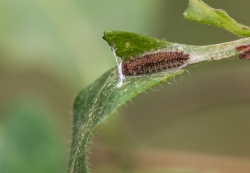 Photo © Pete Eeles
02 Nov 2016
Not bad for November. Can't match the common blues reported over the border in Sussex yesterday but managed 2 Red Admirals, a Peacock and a very fresh looking Speckled Wood around Brownwich this morning. Also a Common Darter. Sadly no camera with me - but nice to see in November! [Posted by Mark Wagstaff]
30 Oct 2016
Fresh Holly Blue. Mint condition Holly Blue around the hedgerow at the back of our garden in Badger Farm, Winchester this afternoon. [Posted by Rupert & Sharron Broadway]
25 Oct 2016
Autumn Sightings. Tempted by today's fine weather I took a recreational walk to enjoy the sunshine along Stokes Bay sighting 3 Small White and two Red Admiral all sharing the same idea! So it was that I returned home for my camera and made my first autumnal circuit of Monks Walk, Elson. Here I added 2 (distant) Speckled Wood and 2 Brimstone to an unexpected list. The female Brimstone posed for the camera and the other was a brightly coloured and sun-reflected male in strong flight. It could be that, for me, the Brimstone will be my alpha and omega of butterfly sightings in Hampshire this year; but I hope not! [Posted by Francis Plowman]
Brimstone (female)
Photo © Francis Plowman
Speckled Wood
Photo © Francis Plowman
23 Oct 2016
Late Red Admiral Activity at Knowle. Today among the dozen or so Red Admirals I observed at least 3 females busy laying eggs at Knowle near Fareham. Many of the Red Admirals were looking quite worn. Also on the wing several male Small White and Speckled Wood [Posted by Paul Harfield]
One of many Red Admiral eggs laid today
Photo © Paul Harfield
Photo © Paul Harfield
Photo © Paul Harfield
22 Oct 2016
Last Knockings. A walk in glorious autumn sunshine along Portsdown Hill revealed a handful of the last of this year's butterflies.
Five species in all included two female Brimstone, Peacock, Red Admiral and perhaps more surprising a female Common Blue and a Meadow Brown. Additionally I stumbled across a holly laden with yellow as opposed to the normal red berries. [Posted by Mark Tutton]
Late meadow brown
Photo © Mark Tutton
Yellow holly berries
Photo © Mark Tutton
09 Oct 2016
Eastney Beach. Today walking along the beach in lovely sunshine a Clouded Yellow was seen feeding on some of the last wildflowers to be found along the broadwalk edge, and other species seen flying across the main road were several Red Admirals, and a couple of fresh looking Small Whites. [Posted by Ashley Whitlock]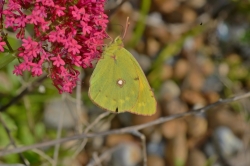 Clouded Yellow
Photo © Ashley Whitlock
05 Oct 2016
Branch Members' Day and AGM. Details of the Branch Members' Day and AGM can now be found on the home page. [Posted by Clive Wood]
03 Oct 2016
Painted Lady. Yet another Painted Lady feeding on the few remaining buddleia spikes in the garden, It has been an excellent year for sightings around the patch. Once again it afforded the opportunity to get in close and photograph this lovely butterfly. Don't forget the BBC 4 programme on the Butterfly Great Adventure featuring the Painted Lady on Monday 10th October at 9.00pm. http://fourmarksbirding.blogspot.co.uk/ [Posted by Chris Rose]
Painted Lady
Photo © Chris Rose
Painted Lady
Photo © Chris Rose
Painted Lady
Photo © Chris Rose
Lifes a Beach. Today in glorious sunshine I was going to go over to Hayling Island and investigate Marks discovery of the Small Copper colony at Gunner Point. But as I had just missed the Ferry and had an hour to wait, I decided to go to Eastney Beach just around the corner from where I live, and went to have a look to see if it may well be present there.It took about 30 minutes when I saw a female flying in and around a small grassy bank, which clearly had been subjected to some burning of some sort as the ground was quite bare, and obviously quite warm. But she was trawling with her abdomen along the bare earth and then sat on several sprigs of what could only have been fresh shoots of Sorrel. I saw her lay several eggs several underneath the leaves and several on top of the leaves as well which were very easy to see. Either side of this grassy bank were very tall grasses, and obviously these were not suitable for her egg laying. As I left I managed to espy another Copper which may well have been a male. Other species seen were just a couple of Small Whites and a Silver'Y' Moth. [Posted by Ashley Whitlock]
Female Small Copper perches on small leaves of Sorrel
Photo © Ashley Whitlock
Laying Eggs underneath and on top of the leaves
Photo © Ashley Whitlock
Egg on top of the Sorrel leaf
Photo © Ashley Whitlock
02 Oct 2016
A nice surprise. A Hummingbird Hawk Moth was nectaring on a Budleia bush in my back garden this morning,while I was putting bird seed into one of the feeders. [Posted by Barry Collins]
Magdalen Hill Down. Decided to pay a visit to MHD to try out my new camera and to take advantage of the good weather. Two weeks ago there were good numbers of Red Admirals and Commas and today was even better. There were 30+ Red Admirals, 5 Commas, a Peacock and a Small White plus, a lovely bonus of a Common Lizard sunning itself on some wood. The ivy was very popular with butterflies, bees ans wasps! There were swarms of them but they left us alone, most of the time, to take pictures in peace.
Met some friendly people who also post on here and had a good chat. We were there from 10.30 to 12.00 and stayed on the path at the top of the slope. [Posted by Tracy Piper]
Comma
Photo © Tracy Piper
Red admiral
Photo © Tracy Piper
Obliging Peacock
Photo © Tracy Piper
Magdalen Hill Down. ....some more photos [Posted by Tracy Piper]
Red Admiral underside
Photo © Tracy Piper
Nicely posed Peacock
Photo © Tracy Piper
Common Lizard enjoying the October sun
Photo © Tracy Piper
25 Sep 2016
Woodmancott Down SU5643. On a Sunday morning ramble around Woodmancott Down we were pleasantly surprised to find large numbers of Red Admiral butterflies(50+) feeding on ivy flowers. [Posted by Robert Bryant]
Admirals Ahoy. I took the dog for a lunchtime walk to the recreation ground behind Solent infants school on Portsdown Hill and was keeping my eyes open for Red Admirals which from various reports are making their exodus across the Channel at the moment. It was very breezy, but on one of the hedgerows that was sheltered from the wind, there was indeed and abundance of Admirals. In a short stretch of flowering ivy about 5m long there was in excess of 35 - probably more than I have ever seen in such a concentrated location - there are at least nine in the photo below. Large numbers of hover flies were also taking advantage of the late nectar source, including the impressive Hornet mimic Volucella zonaria, which is quite scary unless you know it is completely harmless!
On returning home I was pleasantly surprised to find a Hummingbird Hawk moth nectaring on my buddleia [Posted by Mark Tutton]
Photo © Mark Tutton
At least nine here!
Photo © Mark Tutton
23 Sep 2016
Bonchurch Esplande. 2 Clouded Yellows, 1 Small Copper, 2 Large Whites, 1 Common Blue and 1 Red Admiral. [Posted by Ian Pratt]
Chalton Down. In the early afternoon, I visited Chalton Down, where the butterfly season here seems to be almost at an end. The Common Blues have gone and just a few Meadow Browns remain.
Totals: Large White 2, Small White 2, Meadow Brown 3, Speckled Wood 1, Comma 1. [Posted by Roy Symonds]
Sinah Common. After returning from visiting my son and his wife in Cornwall, I made a local visit to Sinah Common, Hayling Island (SZ6999). On a sunny morning the temperature was 17.5 degrees. Several Red Admirals were flying and also a Comma. I only observed a single Small Copper.
Totals: Large White 1, Small White 3, Small Copper 1, Comma 1, Red Admiral 6. [Posted by Roy Symonds]
Brown Hairstreak. A female seen briefly feeding on blackberries in old hedgerow at Naturetrek offices in Chawton GU34 3HJ [Posted by Dave Shute]
16 Sep 2016
Monks Walk, Frater Fields & Woods, Gosport. A last circulation of Monks Walk and the woods and fields surrounding it realised a count of six species in varying stages of health. Between 1120-1350 under full sun and low twenties' temperature it was a pleasure to note the continuation of the butterfly's season in this relatively weather-protected, scrubby and natural habitat. Red Admiral's were out in force on a large Budleia tree tucked away at the end of the lane. There always seems something new to discover here. As to the count: Red Admiral (13); Speckled Wood (7); Comma (1); Common Blue (F)(2)(M)(2); Small Copper (1); Small White (1). One shabby female Common Blue sips nectar bravely in the face of a spider which reaches out towards its intended victim. (I never noticed the attack whilst taking the photograph!). However, there is a happy ending as the butterfly flew away. A cheery note to conclude my UK season. [Posted by Francis Plowman]
Look out old Common Blue lady!
Photo © Francis Plowman
Young Common Blue lady
Photo © Francis Plowman
Common Blue mister
Photo © Francis Plowman
15 Sep 2016
Old Winchester Hill. I then went to Old Winchester Hill and saw (5) Adonis Blues, (2) Silver-Spotted Skippers Small Heath (10) Meadow Brown (50) Small White (10) Brown Argus (2) Common Blue (10) Chalkhill Blue (1) Red Admiral (1) but no Small Coppers. The Silver-Spotted Skippers were still very active for very tatty specimens. Also the Adonis Blue count was quite disappointing. I never saw any Small Copper on this site despite years ago at the bottom of the car-park slope there used to be reasonable numbers in the past. They may well come out here later as this site seems to have later broods than other sites. [Posted by Ashley Whitlock]
Last of the Chalkhill Blues
Photo © Ashley Whitlock
Last of the Silver-Spotted Skippers
Photo © Ashley Whitlock
The car-park slope
Photo © Ashley Whitlock
A splattering of Lycaena phlaeas. Hot on the heels of Mark's excellent report of the Small Copper on Hayling Island the other day, I decided to venture up to one of my favourite sites for this species. I normally go at the end of September beginning of October but with the reason I have no records for this species in the summer I assume that the species is having a late summer brood, or very early third brood? However the species seems to be out in reasonable numbers, in the scrubby areas, and I counted about three fresh specimens three not so fresh and one really tatty one. Several were of the aberrant form 'caeruleopuntata'. I did not see any females of which I assume will be our shortly although the weather looks rather cooler after today. Several were keeping territories, and were easily found on a return walk over an hour later. I also witnessed two chasing Clouded Yellows, thinking they may be heading into a mating but they must have been two males as they soon gave up the chase. [Posted by Ashley Whitlock]
Small Copper and Autumnal leaves
Photo © Ashley Whitlock
Close up of the aberrant form
Photo © Ashley Whitlock
Keeping territory
Photo © Ashley Whitlock
13 Sep 2016
Old Winchester Hill. I covered the southern slope and bottom meadow at OWH today between 1155 - 1330. It was at times bright, sunny and very warm then later cloud-covered and washed with an easterly breeze. The butterflies preferred the lower meadow and that mainly to the south of the descending path. Butterflies seen as follows: Small Heath (15); Meadow Brown (25+); Common Blue (M)(2)(F)(2); Brimstone (M)(1); Small White (2); Adonis Blue (M)(5)(F)(2); Clouded Yellow (1); Speckled Wood (1); Painted Lady (1); Small Tortoiseshell (1). So ten butterflies very active. These were my first Adonis of the year so although they were all rather worn and thin-of-fringe it was their amazing iridescence that caught my eye in each case.
After lunch I walked the top meadow to the hill fort and lower circuitous route back to the car park. The clouds were gaining prominence and the breeze stronger. The count from 1350 - 1450 was relatively meagre. Small White (2); Speckled Wood (3); Meadow Brown (7) and, surprisingly, a solitary Peacock warming itself on the path. [Posted by Francis Plowman]
Adonis Blue male
Photo © Francis Plowman
Common Blue
Photo © Francis Plowman
Adonis Blue female
Photo © Francis Plowman
Noar Hill. This today was my last visit to Noar Hill, to look for any last remaining Brown Hairstreak and it looks to me as if they have just about finished as they were not seen flying in any of the Ash trees I've noted them in over the past fortnight. Today would have been a good day to see them but it wasn't to be.However there were still a few butterflies on the wing, being Small Tortoiseshell (1) Clouded Yellow (1) Comma (1) Red Admiral (2) Meadow Brown (5) Common Blue (5) Small White (10) Brimstone (1) Green-Veined White (1) Large White (1).
Footnote: I shall be arranging in the winter after Christmas, probably mid-January another Brown Hairstreak Egg Hunt which in early 2016 was very successful. [Posted by Ashley Whitlock]
Common Blues still in good condition
Photo © Ashley Whitlock
Hemp Agrimony now fading fast
Photo © Ashley Whitlock
12 Sep 2016
Pamber Forest. Since I promised to report back, given my earlier observations on White Admiral hibernacula, I can confirm that the "Half a Job" type of hibernaculum (housing a 3rd instar larva) is quite prevalent this year and does, indeed, represent another type of hibernaculum! In terms of other species, aside from the good numbers of Red Admiral and occasional Green-veined White, I came across several Speckled Wood, the females of which were laying profusely! [Posted by Pete Eeles]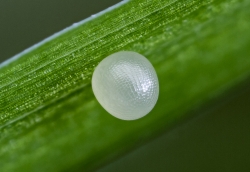 Speckled Wood ovum
Photo © Pete Eeles
Coppers by The Sea. In what was probably my last deliberate butterfly trip of the year I decided to revisit the colony of Small Coppers at Gunner Point. I had visited this area in late April to search for the first brood adults and the Coppers were defying the national trend in being quite numerous so I was interested to see how they had fared over the summer into what would now be their third brood and I wasn't disappointed. In all I counted at least twenty four in various condition from quite fresh to pretty tatty, a courting pair were testing my eyesight zooming around the dunes and I watched a female laying eggs on minute seedlings of Sorrel. Other butterflies were reasonable numbers of common blue and small heath and a single Red Admiral heading straight out to sea. [Posted by Mark Tutton]
Fairly fresh female
Photo © Mark Tutton
Spot the egg at the base of the seedling
Photo © Mark Tutton
Courting Couple
Photo © Mark Tutton
News by Month
Feb 2017, Jan 2017, Dec 2016, Nov 2016, Oct 2016, Sep 2016, Aug 2016, Jul 2016, Jun 2016, May 2016, Apr 2016, Mar 2016, Feb 2016, Jan 2016, Dec 2015, Nov 2015, Oct 2015, Sep 2015, Aug 2015, Jul 2015, Jun 2015, May 2015, Apr 2015, Mar 2015, Feb 2015, Jan 2015, Dec 2014, Nov 2014, Oct 2014, Sep 2014, Aug 2014, Jul 2014, Jun 2014, May 2014, Apr 2014
Previous News Archive (PDF format)
Apr to May 2014, Mar 2014, Feb 2014, Jan 2014, Jul to Dec 2013, Jan to Jun 2013, Jul to Dec 2012, Jan to Jun 2012, Jul to Dec 2011, Jan to Jun 2011, Jul to Dec 2010, Jan to Jun 2010
---
Copyright © Butterfly Conservation Hampshire and Isle of Wight Branch
Privacy and Copyright Statement
Butterfly Conservation: Company limited by guarantee, registered in England (2206468)
Registered Office: Manor Yard, East Lulworth, Wareham, Dorset, BH20 5QP, Tel: 01929 400 209
Charity registered in England & Wales (254937) and in Scotland (SCO39268)
Administrator Login