Important Message (14 May 2020)
The UK Government's latest message is that we must stay alert. This means that we must stay at home as much as possible, work from home if we can, limit contact with other people, keep our distance if we go out (2 metres apart where possible) and wash our hands regularly.
However we are now also permitted to exercise outdoors as often as we wish. Consequently, Butterfly Conservation and the UKBMS have decided that transect walking can start in 2020. More details can be found on the Transect News page.
News
Please note that any sightings mentioned in news items do not automatically go into our records database. Sightings should be submitted using one of the mechanisms listed on the Recording page.
28 Feb 2021
Hummingbird hawkmoth in Cosham. A Hummingbird Hawkmoth seen yesterday in Theo Roberts' garden, nectaring on Buddleja officinalis. [Posted by Andrew Brookes]
Red Admiral at Monks Walk, Gosport. Finally, my first Red Admiral sighting of 2021. This brings to four those species seen this year which is one more than February 2020. A little cooler on my walk from 1200-1400 today with an easterly breeze off the harbour but three days of sunshine and temperatures around 12 degrees finally convinced one Red Admiral that Spring had arrived! No Brimstone seen. Total: Red Admiral (1); Comma (4); Peacock (1). [Posted by Francis Plowman]
Red Admiral shy but in good condition
Photo © Francis Plowman
Peacock and shadow
Photo © Francis Plowman
Large Tortoiseshell (part 2) in Cosham. Saturday another warm day in Cosham and would you believe it the Large Tortoiseshell was back for another sunbathing session. This time Graham had his camera ready with a lens which highlights the beauty of this rare butterfly. It was in his next door neighbours garden so it had not travelled far. As you can see from the photographs it's in superb condition and I have highlighted the wing patterns for ID purposes.
Full story on www.purple-emperor.co.uk
Photo credit Graham Roberts [Posted by Ashley Whitlock]
Large Tortoiseshell
Photo © Ashley Whitlock
Large Tortoiseshell
Photo © Ashley Whitlock
Large Tortoiseshell
Photo © Ashley Whitlock
27 Feb 2021
Monks Walk, Frater Fields & Woods, Gosport. I have to go back to 16 Oct 20 to record three or more species here. Today (1145-1350)in full sun circa 14 degrees Celsius three early year species seen including my first Comma of the season. Totals: Comma (3); Brimstone (M)(2); Peacock (1). [Posted by Francis Plowman]
1st Comma of the year
Photo © Francis Plowman
2nd Comma
Photo © Francis Plowman
Peacock in silhouette
Photo © Francis Plowman
Peacock @ Horsea Lane Allotments, Portsmouth. A Peacock enjoying the daffs and a couple of Brimstone seen too. [Posted by Adam Fulton]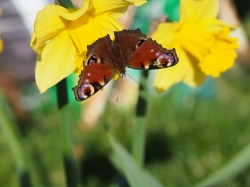 Peacock
Photo © Adam Fulton
Large Tortoiseshell in Cosham. I have been sent three pictures of a Large Tortoiseshell which was seen in a garden in East Cosham this was about three o'clock in the afternoon, and it was seen on a window sill first sunning itself for a few minutes, and then it flew up and rested again for a few minutes. Luckily Graham Roberts had his mobile phone where he took some pictures of it. It then flew away possibly going north. The house is quite close to Portsdown Hill, and another was possibly seen again in the garden in 2020. Does this lend itself to a migrant, it was in very good condition, or there may well be a small colony here in Portsmouth/Cosham, as there is a lot of Wych Elms dotted about. I'd be interested in people's opinions. [Posted by Ashley Whitlock]
Large Tortoiseshell
Photo © Ashley Whitlock
Photos Graham Roberts
Photo © Ashley Whitlock
26 Feb 2021
Northington Down. Brimstone butterfly - on the wing in bright sunshine, 1130am. My first sighting of the year. [Posted by Robert Bryant]
Butterflies in the upper Itchen Valley. On a walk today from Cheriton to Ovington and Hampage Wood via Tichborne we saw 14 butterflies of 4 species between 11.30 and 14.00 in the 'heat of the day', probably no more than 13degC. Most were seen along field and hedge boundaries. We saw one each of Small Tortoiseshell, Comma and Peacock with the rest being Brimstones. [Posted by Bob Whitmarsh]
A Comma in a hedgerow
Photo © Bob Whitmarsh
A Brimstone resting briefly
Photo © Bob Whitmarsh
Brimstone in Portsmouth. My first butterfly of the year was Brimstone in my garden in North End Portsmouth at 1230. Unfortunately I couldn't hang up from the meeting I was in quick enough to get a photo. [Posted by Adam Fulton]
First butterfly sightings of the year. Warm enough in the sun today in Winchester, to sit outside in the garden for the first time this year. A pleasure in itself but with the added bonus of two visitors. My first butterflies of the year. A Brimstone settled on our honeysuckle followed a short time later by this Peacock sunning itself on the wooden garden border. I hardly moved from my chair to get both pictures! [Posted by Billy]
Brimstone
Photo © Billy
Peacock
Photo © Billy
Milton Lock NNR. My first outing in February due to my Heart attack and so I went just around the corner to visit the Milton Lock NNR. Despite the warmth of the sunshine the only butterfly seen today was a Small Tortoiseshell, which was patrolling up and down the site, obviously looking for for a female and was guarding his territory. Buds are starting to come on the trees, and shrubs, and my Kestrel was again sitting on a fence next to the Allotments, looking for a tasty morsel. There was plenty of birdlife in the mudflats as the tide was ebbing but the invertebrates were rather disappointing. [Posted by Ashley Whitlock]
Small Tortoiseshell
Photo © Ashley Whitlock
Small Tortoiseshell
Photo © Ashley Whitlock
Kestrel
Photo © Ashley Whitlock
Monks Walk, Frater Fields & Woods, Gosport. Two hours from 11:00 in warm sunshine and only one Brimstone male seen. No sign of the two Peacock recorded three days ago; possibly caught out in last night's hard ground frost? Neither has Red Admiral put in an appearance which is unusual for this site at this time of the year. Lots of wild flowers and the willow blossom is developing nicely. [Posted by Francis Plowman]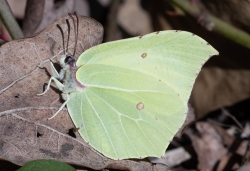 1st Brimstone at Monks Walk 2021
Photo © Francis Plowman
An early Peacock- Burridge. Good sunshine and little wind in our garden in Burridge. This Peacock, which flew in strongly and sunned itself on the drive is my first butterfly of the year. [Posted by Ashley Ailes]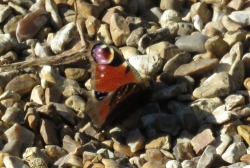 Photo © Ashley Ailes
First of the Year. Preoccupied with looking for Little Owls in a line of oaks near Beam Cottage at Warsash (and failing as I inevitably do there) I very nearly missed my first Brimstone settled right at my feet! A very striking bright yellow in the spring like sunshine. There's nothing like the first real sighting to brighten and lift a day. Having stumbled on this one I then spotted two more moving at speed in the hedgerows. Great start to the year - hopefully it will continue like this (for everyone) [Posted by Mark Wagstaff]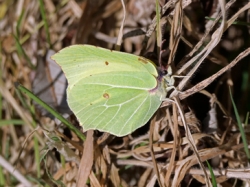 Brimstone - Warsash (Beam Cottage)
Photo © Mark Wagstaff
23 Feb 2021
Brimstones in the Itchen Valley. While cycling through Itchen Abbas this morning around 12.30 I spotted two Brimstones flying along roadside garden hedges in the short-lived sunshine. These were my first butterflies of 2021. Temperature was 12-13degC. [Posted by Bob Whitmarsh]
Monks Walk, Frater Fields & Woods, Gosport. At last! Three weeks later than 2020 my first butterfly sightings for 2021. It was a beautiful sunny morning with a temperature at 12 deg C but a very strong and cool S/SE wind. From 1115-1245 I exercised through the very soggy fields and paths to discover at 1136 a Peacock sunning itself on dry bracken. This was in the area of the badger setts soon to disappear under tall nettles and new bracken. At 1204 and some 150 metres towards the shore another Peacock was sunning itself on the muddy track. I thought it might had been the first butterfly but the markings/damage reveal it to be a second. No sign of Brimstone nor Red Admiral, yet! [Posted by FRANCIS PLOWMAN]
Peacock No 1
Photo © FRANCIS PLOWMAN
Probable Peacock hibernation habitat
Photo © FRANCIS PLOWMAN
Peacock No 2
Photo © FRANCIS PLOWMAN
01 Feb 2021
Brown Hairstreak eggs in Cosham. Having found a single egg last year I explored the amenity field alongside the Churchillian pub where there is lots of nice south facing suckering blackthorn. In about an hour's searching I found two Brown Hairstreak eggs and lots of Blue Bordered Carpet eggs. Now to find an adult BH. [Posted by Mark Tutton]
| | |
| --- | --- |
| | |
| Photo © Mark Tutton | Photo © Mark Tutton |
30 Jan 2021
25-year transect trends now available. The latest 25-year transect trend graphs for Hampshire and Isle of Wight butterfly species, including 2020 data, are now available. To see these, including comparison with the England trend, just click on the "Transect" tab of this website, then the "25 year trends" sub-tab. An example graph for Adonis Blue is shown below. [Posted by Andy Barker]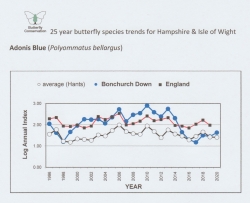 Adonis blue - 25 year trend
Photo © Andy Barker
29 Jan 2021
Cows return to Magdalen Hill Down. There has been something missing from Magdalen Hill Down these past few months. A certain absence which has been felt by everyone who knows and walks this hill.
People have missed seeing the animals and the place has felt a bit empty without them.
But thankfully hawse have now brought the cattle back so they can resume their role in managing the grassland.
The cows are British Whites, truly magnificent animals with their striking markings and big presence. They are quite enchanting!
Their primary purpose is to graze, maintaining the abundance and diversity of plants and butterflies this nature reserve is renowned for. They help keep the landscape open, so vital for birds such as skylarks. Its richness in wildlife is dependant on light grazing. This ensures healthy populations of butterflies and moths can thrive in the coming summer months.
The cows belong to the Hampshire and Isle of Wight Wildlife Trust and there is a team of Livestock Lookers who check on them daily. The sheep are due to follow and will graze on the steep hillside, a relic of rare unspoiled chalk grassland, part of an old way of farming.
It brought a feeling of elation to see these impressive animals return to Magdalen. They look so at home in this landscape, it's a place they truly belong.
If you are interested in Livestock Lookering and checking the animals at Magdalen Hill Down, please email fscully@butterfly-conservation or phone 07918073651 [Posted by Fiona Scully]
British Whites on MHD
Photo © Fiona Scully
British Whites on MHD
Photo © Fiona Scully
British Whites on MHD
Photo © Fiona Scully
28 Dec 2020
Brown Hairstreak Egg, Stockbridge Down. Popped back to Stockbridge Down on 20-Dec-20 to try for a better pic of a Brown Hairstreak egg, attached. I'm new to higher magnification macro photography and would really appreciate advice and guidance. This was taken with Pentax Auto Bellows & reversed Pentax-A 50mm f1.7 at f8, bellows at max extension, giving x 3.9 magnification. Lighting by remote flash off to the RHS. I really want to get better results, so any help or advice very much appreciated. [Posted by Iain McIntosh]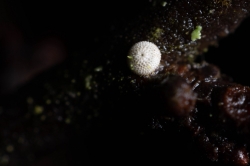 Photo © Iain McIntosh
24 Dec 2020
More eggs at Stockbridge Down. A short visit to Stockbridge Down on a beautiful sunny winter's day included a short spell of butterfly egg-searching. We started off unsuccessfully looking for Purple Hairstreak eggs amongst oak buds of some fallen branches from the crown of a small oak tree. After this we switched our attention to searching suckering blackthorn growth for Brown Hairstreak eggs. It was not long before we found our first pin-head sized white egg with classic Hairstreak detailed surface sculpture (see image). Soon after I also found the distinctive flattened elongate oval egg of the Blue-bordered Carpet moth (Plemyria rubiginata). These eggs are smooth and have a neatly depressed upper surface (see second image). The moth lays its eggs, typically singly or sometimes pairs, at the fork between blackthorn twigs, so much the same place as the Brown Hairstreak. If you go Brown Hairstreak egg searching you're quite likely to encounter these eggs as well, so I thought I'd show images of each for comparison. [Posted by Andy Barker]
Brown Hairstreak egg
Photo © Andy Barker
Blue-bordered Carpet egg
Photo © Andy Barker
20 Dec 2020
Red Admiral sighting in Kings Worthy. A saw a Red Admiral on 20th December, in Kings Worthy, near Winchester - my first ever (UK) December sighting of a butterfly. It was 11 degrees and sunny. Alas, no photo. [Posted by Lee Hurrell]
08 Dec 2020
Brown Hairstreak egg search. Despite the cold start to the day (-2 C), the sunny conditions gave good optimism for our Brown Hairstreak egg-search at Stockbridge Down. Meeting at 10.00am, two groups of four people, observing latest Covid-19 social distancing guidance, set out to look for Brown Hairstreak eggs in the blackthorn scrub. A little tricky at first as all the blackthorn stems were still frosted, but as time went by and the frost melted, all of the participants were able to find eggs. In approximately four hours of searching the overall tally was a respectable 26 Brown Hairstreak eggs, plus 2 Blue-bordered Carpet moth eggs. The latter, found at the fork of young growth blackthorn twigs, are off-white, smooth and more elongate than the Brown Hairstreak eggs. If you're within the range or close to known Brown Hairstreak sites it's well worth a search over the next few months. [Posted by Andy Barker]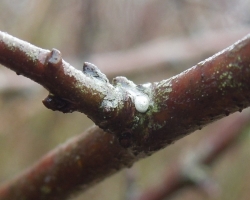 Brown Hairstreak egg
Photo © Andy Barker
22 Nov 2020
Garden sighting of Holly Blue. Back garden:Havant.
A female Holly Blue spent most of Sunday afternoon in my garden; it spent most of the time trying to extract the maximum warmth from the hazy sunshine. [Posted by Alan Wingrove]
07 Nov 2020
Monks Walk, Frater Fields & Woods, Gosport. It was 15 degrees Celsius in warm sunshine from 1155-1300 as I circled around Monks Walk. In the main (butterfly meadow) a Red Admiral landed on my left forearm which was rather decent of it then perched nearby for photographs. The insect had distinctive wing damage which allowed me to identify it again over 40 minutes later - and at some further distance over woods and hedges - as it once again alighted upon me. This time it favoured my lower leg and sunned itself happily for 4 minutes before flying away. (Must use that aftershave again!) By some act of contortion (which I fear put off a couple of folk walking their dog nearby) I managed to get a selfie of sorts! A rather fresh looking Speckled Wood (female) was my first November sighting of this species which was also sunning itself in an oak tree. Totals: Red Admiral (4); Speckled Wood (F)(1). [Posted by Francis Plowman]
Red Admiral not socially distanced on my leg!!
Photo © Francis Plowman
Speckled Wood female
Photo © Francis Plowman
Red Admiral in fine fettle
Photo © Francis Plowman
04 Nov 2020
Red Admiral at Hillier Gardens. Despite the overnight frost we were hopeful that the cool but sunny conditions would tempt a butterfly out for some nectar. Our visit to Hillier Gardens, Braishfield, only produced a single Red Admiral flying around the flowers and then resting on the leaves of a Mahonia. It was a pristine individual and although we didn't see it nectar it brightened what was already a beautiful day. [Posted by Andy Barker]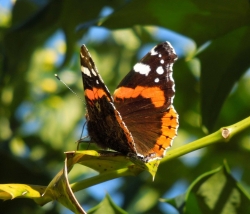 Red Admiral on Mahonia
Photo © Andy Barker
Meonshore to Brownwich Cliffs, Titchfield Haven. A glorious day of full sunshine, hardly a puff of breeze - only one place to go! Ostensibly to check-out Clouded Yellow the walk was the cliff path from the Meon Shore to Brownwich cliffs and back (1145-1315; 11-12 deg C). Three butterflies graced our walk; a male Brimstone in the bushes/grasses on the fringes of Meon Shore itself, then at the Brownwich cliffs area a pristine Peacock landed and started basking. In the same location along came the Small Copper and posed for the camera in the shore-line grasses. No Clouded Yellow nor, surprisingly, Red Admiral but three sightings in early November can't be all bad. [Posted by Francis Plowman]
Brimstone male
Photo © Francis Plowman
Peacock
Photo © Francis Plowman
Small Copper
Photo © Francis Plowman
Beacon Hill Exton. The last day before lock down and I decided to go for a walk on top of the downs at Exton, and the warmth of the weather brought out a Comma on some bramble, and a Brimstone, settled on some Beech stumps. They are at the moment cutting down a lot of the Ash die back trees, which will open up the woodland at the top of the main footpath on the site. There are plenty of Herdwick Sheep and Cows munching away on the grassland, keeping the sward short. It will be interesting to see how well the Silver-Spotted Skipper does at this site in the next few seasons. I've never seen so many Red Kites and Buzzards inter-acting with each other today the thermals were just right, and there were 6-8 Red Kites and at least 4 Buzzards all in a group, a wonderful sight. [Posted by Ashley Whitlock]
Brimstone
Photo © Ashley Whitlock
Comma
Photo © Ashley Whitlock
Red Kite
Photo © Ashley Whitlock
03 Nov 2020
Monks Walk, Frater Fields & Woods, Gosport. Finally! The sun came out this morning and for an hour from 1130 I checked-out the sheltered places and there found butterflies. It was 12 deg C but the considerable breeze made it feel much colder. Four Red Admiral were found in varying condition and two out of the four were feeding on ivy floret. Nice to record butterfly colour as we translate into the cools of Autumn and particularly the foreboding gloom of another national lockdown. Stay safe everyone! Totals: Red Admiral (4) [Posted by Francis Plowman]
Pristine Red Admiral
Photo © Francis Plowman
Nectar in the November sunshine!
Photo © Francis Plowman
Not so pristine Red Admiral
Photo © Francis Plowman
21 Oct 2020
Common Blue at Portchester. Contender for the last Common Blue sighting is the male seen at Castle Shore Park, Portchester, dodging the showers this afternoon; no other butterflies seen anywhere. [Posted by Andrew Brookes]
19 Oct 2020
Monks Walk, Frater Fields & Woods, Gosport. A record I omitted posting at the time. 1340-1430 with a temperature of 15.5 deg C under bright skies just two butterflies recorded. Total: Small Copper (1); Speckled Wood (F)(1). The curtain almost down on the year........ [Posted by Francis Plowman]
Small Copper
Photo © Francis Plowman
SC on Ragwort (?)
Photo © Francis Plowman
Speckled Wood female
Photo © Francis Plowman
15 Oct 2020
Havant Thicket. Walked today around Havant Thicket following the main circular path. The temperature was 13 degrees. A total of only 5 Speckled Woods recorded. [Posted by Roy Symonds]
Late Peacock at Great Fontley. A very late (or second brood?) immaculate Peacock at Great Fontley, seen imbibing from Buddleja 'Border Beauty' coming to the end of its month-long repeat flowering. Also seen were two Red Admiral. [Posted by Andrew Brookes]
Peacock on Buddleja 'Border Beauty'
Photo © Andrew Brookes
Meonshore Beach to Brownwich Cliffs, Titchfield Haven. Seven species seen here on 11th October topped today by eight! This area clearly provides a warm and weather-protected habitat which is patently prolonging butterfly lifespan. No Peacock today but a female Common Blue and a male Brimstone provided adequate compensation. Small White and Clouded Yellow are making the most of the flowers and Red Admiral are feeding hungrily on ivy floret particularly on the narrow cliff top footpath. So, from 1145-1315 with temperature ranging from 13-15 deg C with a cool NW breeze, numbers totalled: Small White (14); Clouded Yellow (9); Large White (2); Red Admiral (4); Small Copper (1); Common Blue (F)(1); Brimstone (M)(1); Speckled Wood (M)(1). [Posted by Francis Plowman]
Male Clouded Yellow
Photo © Francis Plowman
Female Common Blue
Photo © Francis Plowman
Red Admiral on ivy floret
Photo © Francis Plowman
12 Oct 2020
surprising sighting North Baddesley. today on my reserve at north baddesley a surprising sighting of humming bird hawk moth.it was dreary and drizzling so a pleasant surprise.apologies for photo! [Posted by Kevin Ross]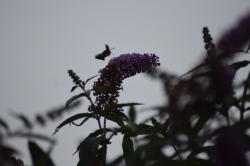 Photo © Kevin Ross
Humming-bird Hawk-moth in Hook in the rain. Just before 5pm today my wife spotted through the window a large insect flying around a Buddleia bush in our garden here in Hook, NE Hampshire (SU 72 54). The sky was dull and it was raining fairly heavily. I went out to have a closer look and had a clear view of a Humming-bird Hawk-moth. [Posted by Peter Vaughan]
11 Oct 2020
Late sightings at Magdalen Hill Down. I was pleasantly surprised to find a male Clouded Yellow, a Red Admiral, a Peacock, one female and three male Small Coppers, a female Meadow Brown, a male Brown Argus and a fresh female Common Blue at Magdalen on 11th October. [Posted by Lee Hurrell]
Common Blue, female, Magdalen Hill Down, Winchester, Hampshire, 11th October 2020
Photo © Lee Hurrell
Small Copper, male, Magdalen Hill Down, Winchester, Hampshire, 11th October 2020
Photo © Lee Hurrell
Small Copper, female, Magdalen Hill Down, Winchester, Hampshire, 11th October 2020
Photo © Lee Hurrell
Portsdown Hill. A walk today around the East end of Portsdown Hill following the path immediately above Queen Alexandra Hospital. A poor count with only a single Large White and Red Admiral recorded. [Posted by Roy Symonds]
Meonshore Beach to Brownwich Cliffs, Titchfield Haven. The effort expended walking the beach towards Brownwich was rewarded this afternoon with a sighting of seven species. From 1230-1425, in a westerly breeze with a temperature range from 14-16 degrees Celsius and good sunshine I found plenty of interest. The first of six Clouded Yellow was not seen until I had reached the end of the cliffs where Brownwich stream reaches the sea. The area around the stream was shielded from the breeze and very warm; it provided habitat for Small Copper, Peacock and Speckled Wood. More Clouded Yellow were counted here also. The cliff-top verges (left of the path towards the caravan park) were covered in dandelion and a male Clouded Yellow entertained my approach and photography. Then it zipped up and finding another Yellow tumbled for a second or two and crashed into the grass; before I could get to my knees and walk the three metres to my right the Clouded Yellows were coupled! And there they remained for over half an hour before I retraced my steps. Total: Small White (6)(5)(M)(1)(F); Large White (2); Clouded Yellow (6)(F)(1); Small Copper (3); Peacock (1); Speckled Wood (1)(F); Red Admiral (1). [Posted by Francis Plowman]
Pretty fresh Small Copper
Photo © Francis Plowman
Nice day for it!
Photo © Francis Plowman
Not quite as pretty as a Peacock!
Photo © Francis Plowman
Fritham Plain, New Forest. Small Copper basking in bright sunshine on heather; Speckled Wood on bracken fronds;
Red Admiral chasing through the holly pollards on a fine autumn morning. [Posted by Robert Bryant]
10 Oct 2020
The last moth trap...... It's getting very cold in these Autumnal nights now and consequently the totals of moths seen in my Moth trap are rapidly dwindling. The only moths present were Black Rustics about 6-9 of these and several Green Bridled Crescent's. [Posted by Ashley Whitlock]
Green Bridled Crescent
Photo © Ashley Whitlock
Black Rustic
Photo © Ashley Whitlock
09 Oct 2020
Monks Walk, Frater Fields & Woods, Gosport. A brief check on my local haunt (1252-1335) with the temperature now 15.5C in sunshine and as ever well sheltered from the breeze. Just four butterflies counted but my first sighting of an autumnal Comma was most welcome although it never settled. Total: Speckled Wood (4)(1F; 3M); Large White (2) (1M; 1F); Small White (3)(M); Comma (1). [Posted by Francis Plowman]
Large White Male
Photo © Francis Plowman
Speckled Wood male
Photo © Francis Plowman
Small White male on Mallow
Photo © Francis Plowman
Browndown (South) Gosport. Would it be three out of three for Clouded Yellow? Walking into Browndown South from the Elmore gate the SW wind was very strong and cool with a temperature in the sun around 15 deg C. I circulated the heathers, stony paths and top field before walking the main path back to the gate. Not a thing. Then, just before reaching the gate along comes a Clouded Yellow and briefly lands in a patch of cleared scrub. A distant photograph only but the yellows are definitely still on the coastal strip of Hampshire. [Posted by Francis Plowman]
Gilkicker Point, Gosport. From 1115-1145 I ventured towards the fort and scrub surrounding it and once again was rewarded by a sighting of two Clouded Yellow butterflies. Very little flora left and they were moving rapidly. The SW breeze was cool off the sea so doubtless they were not crossing the channel today! Total: Red Admiral (3); Small White (M)(3); Clouded Yellow (2). [Posted by Francis Plowman]
Clouded Yellow male
Photo © Francis Plowman
Red Admiral
Photo © Francis Plowman
Kestrel with lunch!
Photo © Francis Plowman
Haslar Sea Wall Car Park Scrub - Gosport. In search of Clouded Yellow I quartered the small scrubby field beyond Haslar Sea Wall Car Park from 1048-1105. It was 14.5C, sunny but breezy yet the target butterfly was soon spotted. A male Clouded Yellow was feeding hungrily on dandelion-type flowers and clover. The sun shining from behind it showed-up its wing-edged spots and a lucky mid-air shot provided confirmation. Total: Clouded Yellow (M)(1); Small White (1). [Posted by Francis Plowman]
Clouded Yellow male
Photo © Francis Plowman
Flukey mid-air shot
Photo © Francis Plowman
07 Oct 2020
Hillier Gardens, Braishfield. Linda and I made a brief visit to Hillier Gardens, Braishfield, this afternoon, and in lovely warm sunshine were pleased to find several butterflies still on the wing. Red Admiral (4) were strongly attracted to the nectar of Colletia hystrix 'rosea', plus a singleton on Michaelmas Daisies. Speckled Wood (2) were seen basking and making short flights, whilst a single Vapourer moth completed the Lepidoptera list. [Posted by Andy Barker]
Red Admiral on Colletia
Photo © Andy Barker
Speckled Wood basking
Photo © Andy Barker
Clouded Yellow Butterfly near Rotherwick. I saw a Clouded Yellow in the afternoon of 7th October in the fields near Rotherwick, just north of North Runten's Copse/ College Copse Farm (SU 718 552). It was flying rapidly north-westwards, around a metre or so above the ground - too fast for a photograph. This species rarely makes an appearance around this part of NE Hampshire and this is the a first time I've seen it in the area. The only other butterlies I saw were a couple of Red Admirals. [Posted by Peter Vaughan]
Monks Walk, Frater Fields & Woods, Gosport. Six butterfly species identified this afternoon (1310-1430) when the temperature had reached a pleasant 17 deg C, virtually nil breeze and mostly sunshine. Both male and female Speckled Wood noted and all in good condition. The Peacock, warming on a tarmac path, was almost stood upon and flew off in disgust! Plenty of Ivy bedecked trees all covered in sticky florets so hopefully we will be seeing more Red Admirals feeding on it. Totals: Red Admiral (1); Common Blue (M)(1); Small Copper (1); Small White (8); Speckled Wood (6); Peacock (1). [Posted by Francis Plowman]
Speckled Wood male
Photo © Francis Plowman
Red Admiral on Ivy
Photo © Francis Plowman
Small Copper
Photo © Francis Plowman
Fort Widley, Portsdown Hill. A 45 minutes circulation of the fields to the north of the fort from noon accounted for four species. This was more than anticipated given the significant SW breeze and temperature of 16 deg C. However, the sun shone and there was much flora still available. Totals: Small White (F)(1); Small Copper (1); Common Blue (M)(2); Large White (1). [Posted by Francis Plowman]
Small White female on Scabiosa
Photo © Francis Plowman
Common Blue male on Dandelion
Photo © Francis Plowman
Fort Widley, Portsdown Hill. A 45 minutes circulation of the fields to the north of the fort from noon accounted for four species. This was more than anticipated given the significant SW breeze and temperature of 16 deg C. However, the sun shone and there was much flora still available. Totals: Small White (F)(1); Small Copper (1); Common Blue (M)(2); Large White (1). [Posted by Francis Plowman]
Small White female on Scabiosa
Photo © Francis Plowman
Common Blue male on Dandelion
Photo © Francis Plowman
News by Month
Feb 2021, Jan 2021, Dec 2020, Nov 2020, Oct 2020, Sep 2020, Aug 2020, Jul 2020, Jun 2020, May 2020, Apr 2020, Mar 2020, Feb 2020, Jan 2020, Dec 2019, Nov 2019, Oct 2019, Sep 2019, Aug 2019, Jul 2019, Jun 2019, May 2019, Apr 2019, Mar 2019, Feb 2019, Jan 2019, Dec 2018, Nov 2018, Oct 2018, Sep 2018, Aug 2018, Jul 2018, Jun 2018, May 2018, Apr 2018, Mar 2018, Feb 2018, Jan 2018, Dec 2017, Nov 2017, Oct 2017, Sep 2017, Aug 2017, Jul 2017, Jun 2017, May 2017, Apr 2017, Mar 2017, Feb 2017, Jan 2017, Dec 2016, Nov 2016, Oct 2016, Sep 2016, Aug 2016, Jul 2016, Jun 2016, May 2016, Apr 2016, Mar 2016, Feb 2016, Jan 2016, Dec 2015, Nov 2015, Oct 2015, Sep 2015, Aug 2015, Jul 2015, Jun 2015, May 2015, Apr 2015, Mar 2015, Feb 2015, Jan 2015, Dec 2014, Nov 2014, Oct 2014, Sep 2014, Aug 2014, Jul 2014, Jun 2014, May 2014, Apr 2014
Previous News Archive (PDF format)
Apr to May 2014, Mar 2014, Feb 2014, Jan 2014, Jul to Dec 2013, Jan to Jun 2013, Jul to Dec 2012, Jan to Jun 2012, Jul to Dec 2011, Jan to Jun 2011, Jul to Dec 2010, Jan to Jun 2010
---
Copyright © Butterfly Conservation Hampshire and Isle of Wight Branch
Privacy and Copyright Statement
Butterfly Conservation: Company limited by guarantee, registered in England (2206468)
Registered Office: Manor Yard, East Lulworth, Wareham, Dorset, BH20 5QP, Tel: 01929 400 209
Charity registered in England & Wales (254937) and in Scotland (SCO39268)
Administrator Login