News Archive for Jul 2017
18 Jul 2017
Moth trap Leigh Park, Havant. I had my moth trap on in my garden last night and caught 44 species. The highlights included Elephant Hawk 6, Poplar Hawk 2, Garden Tiger 2, Spectacle 3, Drinker 2, Dingy Footman 2, Scarce Footman 3, Black Arches 2, Least Yellow Underwing 1, Dusky Sallow 1, Scalloped Hook-tip 1, Double Kidney 1. [Posted by Barry Collins]
Hillier Gardens Romsey. A visit to Hillier resulted with a nice sighting of a Monarch butterfly(this may be a release but still nice to see) also seen were a Ringlet, Green-veined Whites, Small Whites, many Gatekeepers, Meadow Browns, Peacocks, Red Admirals, Brimstones (mainly females), Silver-washed Fritillary, Common Blue and a brief glimpse of a Clouded Yellow [Posted by Sue Lambert]
Monarch
Photo © Sue Lambert
Open-winged Monarch
Photo © Sue Lambert
Comma
Photo © Sue Lambert
Oxenbourne Down. A change from woodland today and to visit a local Chalk Hill Blue patch and it didn't disappoint with hundreds flying in the warm breezy conditions, also there were many Gatekeepers with several seen pairing up. Other species seen were Meadow Brown (10) Ringlet (2) Silver-washed Fritillary (2) Small Skipper (10) Small White (1) Small Copper (1) Six Spotted Burnet Moth (5) Common Blue (4) Clouded Yellow (1) Marbled White (2) Brimstone (5) and Dark Green Fritillary (1). [Posted by Ashley Whitlock]
Male Chalkhill Blue
Photo © Ashley Whitlock
Small Skipper on Oxford Ragwort
Photo © Ashley Whitlock
Oxenbourne Down
Photo © Ashley Whitlock
17 Jul 2017
Portsdown Hill - Chalk Hill Blues. Looks like a good year. I saw 300+ Chalk Hill Blues on the slopes above the main chalkpit and also the slopes immediately to the east .Probably more as this count was on a broad transect over a couple of hours. All were males in pristine condition so I assume a recent emergence. [Posted by Keith Turner]
16 Jul 2017
Oxleys Coppice and Ranvilles Lane area. Despite the cloudy conditions there was a surprising amount of butterfly activity on a walk around my patch this morning. Gatekeepers were particularly numerous and there were quite a few Common Blue on the patches of birdsfoot trefoil. It was also nice to see a couple of smart Small Coppers.
Totals: Essex Skipper 6, Small Skipper 6, Brimstone 1, Small White 30, Small Copper 2, Common Blue 18, Red Admiral 3, Peacock 2, Speckled Wood 2, Gatekeeper c150, Meadow Brown c50. Also 1 Southern Hawker and 1 Banded Demoiselle. [Posted by Mark Rolfe]
Common Blue
Photo © Mark Rolfe
Essex Skipper
Photo © Mark Rolfe
Small Copper
Photo © Mark Rolfe
West Wood/Crab Wood Pitt Down Field Trip. Today was again a day of two halves, the morning being reasonably warm but overcast, and the afternoon the sun came out and so did most of the butterflies. We did rather well with (20) species being observed. In the rides there were plenty of Red Admiral, and Commas were extremely common, some of the best numbers I've seen for many years. The Silver-washed Fritillary was still in the rides where their nectar sources were, the Bramble being a magnet for many females and males. Some of them were still pairing up. We had pretty much walked the route in the 'book' and were certainly all looking forward to a spot of lunch when the sun came out, about 13:00. We were passing some young broad leafed sallow, when my wife shouted 'Purple Emperor'! Some of us ahead looked a bit bewildered including me, because I had almost given up on 'him'.But this turned out to be a 'her', and it was two! One was over one side of the ride and the other was in good view in a sallow looking rather magnificent. She was in almost pristine condition, and she shuffled about on the sallow, and flying around us and then back on the sallow again. She stopped in view for about 10 minutes, before taking off and alighting out the back of the ride on a small Ash tree. She flew off again, but I'm not sure where she went. We took lunch being very happy again. In the afternoon we had a look around Pitt Down and saw up to (10) Dark-green Fritillaries most of which were females. When we had passed the area where we had seen the Purple Emperor, it happened again, a female was seen flying low over the Ash and Hazel, and small Oak trees, and then dispersed! This was at 14:50 which was getting quite late for a female to be active.
Id like to thank every one for coming, as the field trip program is now well over half-way, I'm getting more and more recorders and observers, which is excellent long may it continue! [Posted by Ashley Whitlock]
Female Purple Emperor in West Wood today, many thanks to Bryn Jones
Photo © Ashley Whitlock
Female Dark-Green Fritillary on Pitt Down
Photo © Ashley Whitlock
West Wood and Pitt Down Class of July 2017
Photo © Ashley Whitlock
Noar Hill. I managed to get a record shot of a Clouded Yellow this afternoon at Noar Hill, I had previously seen one at 6.45 pm on Friday but I didn't have my camera. [Posted by Nick lawrence]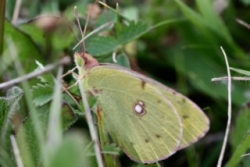 Clouded yellow
Photo © Nick lawrence
New Forest - Hampton Ridge. On a circular walk from Fritham to Hampton Ridge and back again today I could manage only 2 Silver-studded Blues where normally I can expect literally hundreds. Not sure if this was because of the heavy cloud cover or coming to the end of an early season for them (or a combination of both probably) - but at least one was obliging for the camera. Lots of Meadow Browns, Ringlets and Gatekeepers (as many as I have ever seen). An unexpected pleasure was my first Grayling of the year - two in different areas on the ridge. These are the first I've seen there but probably only because I've overlooked them in the past. [Posted by Mark Wagstaff]
Grayling - New Forest
Photo © Mark Wagstaff
Silver-studded Blue - New Forest
Photo © Mark Wagstaff
Silver-studded Blue - New Forest
Photo © Mark Wagstaff
15 Jul 2017
Bentley Road Station NR. not expecting to much we visited Bentley Road Station butterfly reserve in overcast and breezy conditions. Pleasantly surprised at the shear number of butterflies in the lower meadow, which holds a fantastic array of wild flowers and just shows what the countryside would be like without intensive farming. Gatekeepers, Silver-washed Fritillaries, Meadow Browns and Ringlets were everywhere, with a very impressive sideshow of Large and Small/Essex Skippers. Unfortunately no Purple Hairstreaks, which are becoming somewhat of a boggy butterfly this year for us. Apologies no species numbers as there were just too many and all moving about too much for any sort of accurate count! [Posted by Paul Bamford]
Silver-washed Fritillary
Photo © Paul Bamford
Essex Skipper?
Photo © Paul Bamford
Essex Skipper?
Photo © Paul Bamford
Six-belted Clearwing moths at Magdalen Hill Down. The weather was not on our side for the Big Butterfly Count event at Magdalen Hill Down today. It was overcast and windy for most of the day with a couple of bands of heavy drizzle passing through. However, at about 3pm, I took a walk and came across this pair of Six-belted Clearwing moths, in copula on the larval food plant, Bird's-foot trefoil, just on the edge of the path around the Jubilee plantation. [Posted by Steve Easter]
Six-belted Clearwing moths in copula
Photo © Steve Easter
Six-belted Clearwing moths in copula
Photo © Steve Easter
Abbotstone Down Field Trip. Today was all about what species we could possible see by a bit of disturbance, in the lovely meadows that are a feature of this site. Warm but cloudy weather, we saw a good amount of species despite the weather. The Marbled White was still in evidence, and some of the females were in perfect shape, so were a lot of the Ringlets seen at rest amoungst the Bramble.The highlight of the walk was to find several Brown Argus, and a lovely Small Copper. The Brown Argus is probably quite common here as there is countless ant hills with a good amount of Rock-Rose on each. The Silver-washed Fritillary did make an appearance when the sun threatened to come out, and in these conditions its always easier to check out the Essex and the Small Skipper. The Small Skipper won by a mile but the Essex put in a fair performance along with (14) other species! [Posted by Ashley Whitlock]
Brown Argus
Photo © Ashley Whitlock
Small Copper
Photo © Ashley Whitlock
Marbled White
Photo © Ashley Whitlock
14 Jul 2017
Abbots Wood Inclosure, Alice Holt Forest. After a visit to Straits Inclosure, my father and I visited Abbots Wood Inclosure (SU8139) to look for any Purple Emperor activity. We had made a tentative visit to Goose Green Inclosure, to check the old master tree - a sweet chestnut but nothing. Numbers flying at Abbots Wood are always lower than at Straits, but species seen which were absent from there included Holly Blue and Brimstone. We walked the main track as far as the cleared area at SU815404, carefully checking the Sallows and Oaks for Purple Emperors. During the course of this we were able to closely observe the Purple Hairstreaks where at least one individual was found on 1 in every 3 Oaks. On one tree two Purple Hairstreaks seemed to disturb each other and as one landed so no fewer than 5 took to the air briefly at once.
We had almost given up hope of seeing a Purple Emperor, when one, possibly a female appeared flying above a Sallow then briefly chased a Purple Hairstreak around the top edge of an Oak at SU81414002 at 14:37 before disappearing from sight into the wood. I was grateful for one, having travelled from Cornwall to see the Emperor and then knowing that his appearance this year was so early, I thought I may not have seen him, having had at least one sighting each year since 2006.
Totals: Brimstone 2M, Large White 4, Small White 3, Holly Blue 3, Purple Hairstreak 23, Gatekeeper 17, Meadow Brown 31, Ringlet 23, Comma 2, Peacock 1, Purple Emperor 1, Red Admiral 3, Silver-washed Fritillary 12M 4F. [Posted by Richard Symonds]
Straits Inclosure, Alice Holt Forest. Today in company with my father, I visited Straits Inclosure, Alice Holt Forest (SU8014) where the weather was cloudy with brief sunny spells, temperature 19 degrees. During the course of the two and half hour visit, there were longer periods of sunshine. The paths here were full of Gatekeeper, Meadow Brown and Ringlet. Thistles, especially towards the far end of the main track, were a favourite nectar source for the Silver-washed Fritillary. Just three White Admirals were seen, still in reasonable condition. Large and Small Skippers were recorded as well as two fresh Essex Skippers, by which a closer inspection and a photo to further help identification. Despite looking along the sallows and high in the oaks no Purple Emperors were seen, although a few Purple Hairstreaks were seen flying around both sallows and oaks.
Totals: Large White 3, Small White 3, Green-veined White 1, Common Blue 3M, Purple Hairstreak 10, Gatekeeper 70, Meadow Brown 70, Ringlet 83, Comma 3, Peacock 1, Red Admiral 1, Silver-washed Fritillary 19M 19F, White Admiral 3, Essex Skipper 2, Large Skipper 6, Small Skipper 17. [Posted by Richard Symonds]
Good year for garden butterflies. A brief visit to our garden in Badger Farm, Winchester this afternoon by a Chalk Hill Blue, following Silver-washed Fritillary and Essex Skipper last weekend made it 19 species so far this year. [Posted by Rupert & Sharron Broadway]
13 Jul 2017
Castle Bottom NR, near Yateley. mid afternoon visit once the cloud had started to break up providing reasonable periods of sunshine. There was pretty much constant butterfly action from leaving the car at 15:00hrs right through to 18:00 when we finished. Initially Gatekeepers, Meadow Browns and Fritillaries kept us company, upon reaching the drier and stonier areas of heath the Graylings started to appear, finally once we reached the stream and grassy area Small Coppers and Skippers were found. Also seen were Golden-ringed, Southern Hawker and Black-tailed Skimmer dragonflies, Beautiful Demoiselle damselflies, and a group of fledgling Dartford Warbers.
Totals: Grayling at least 6, Small Copper 3, Meadow Brown lots, Ringlet 10 plus, Gatekeeper lots, Silver-washed Fritillary 3, Large White 4, Large Skipper 8. [Posted by Paul Bamford]
Grayling
Photo © Paul Bamford
Small Copper
Photo © Paul Bamford
Gatekeeper
Photo © Paul Bamford
Chalton Down. Today with my father, I visited Chalton Down (SU736156) where the temperature was 21 degrees. The slopes were alive with butterflies, with hundreds of Meadow Browns and Gatekeepers. With long grass on the lower slopes attracting Marbled Whites the upper slopes suited the Chalkhill Blues more, which are significantly lower in numbers here than even 4 years ago, when easily 300 or more could be counted, today's count being just above 50. All Chalkhill Blues were fresh males except for one female which was mating with a male. Around a dozen fresh male Common Blues were seen along with a few females. A female Green-veined White was observed, settled and fought off the unwanted advances of two males. A single fresh Small Copper was recorded along with a few Comma, Peacock and Red Admiral. A very faded Large Skipper almost devoid of all scales was seen and a very faded and wing torn Dark Green Fritillary, which could still fly quite strongly and which kept landing briefly in the long grasses.
Totals: Large White 12, Small White 12, Green-veined White 4, Chalk Hill Blue 55M 1F, Common Blue 10M 3F, Small Copper 1, Gatekeeper 117, Marbled White 13, Meadow Brown 109, Ringlet 4, Comma 2, Dark Green Fritillary 1, Peacock 2, Small Tortoiseshell 1, Large Skipper 2, Small Skipper 17. [Posted by Richard Symonds]
Blackbush Hanger, Southleigh Forest. Today accompanied by my father, I paid my first visit to Blackbush Hanger, Southleigh Forest (SU742087), while visiting from Cornwall to search for female Purple Emperors. A long look at a few Oaks resulted in no sightings, only the odd Bumble Bees and flies being disturbed. Every so often a Silver Washed Fritillary would glide through the trees and alight briefly on Bramble blossom. Several Browns were flying in the long grass with a few Small Skippers. A White Admiral did fly through a tree and across some Sallows, sadly not its cousin.
Totals: Large White 1, Gatekeeper 10, Meadow Brown 13, Ringlet 7, Speckled Wood 1, Silver-washed Fritillary 7M 2F, White Admiral 1, Large Skipper 1, Small Skipper 3. [Posted by Richard Symonds]
Havant Thicket and Bell's Copse. I had another cycle ride around Havant Thicket and Bell's Copse visiting various locations in these woods from 1000-1400. Butterflies recorded were as follows, Comma 5, Peacock 4, Purple Emperor 1F, Silver-washed Fritillary 38, White Admiral 7; Red Admiral 10, Speckled Wood 6, Marbled White 3, Brimstone 11M 1F, Gatekeeper 150, Large White 2, Small Skipper 12, Green-veined White 3, Small White 2,plus numerous Meadow Browns and Ringlets but in lower numbers than on my last visit. There were also 3M Beautiful Demoiselle and several Southern Hawkers. [Posted by Barry Collins]
Abbotts Wood Inclosure. This was my last visit to Abbotts Wood Inclosure in 2017, and it was clear to me today that the Purple Emperor has finished, I was in the main flight zone for well over three hours today in very good weather warm, cloudy, with breaks of sunshine, 'him' did not show himself. He never turned up at the territories in the afternoon, which is a sure sign things are empty in the vista's. But in the three weeks it has been flying here was probably one of the best seasons it's ever had, certainly since I've been Co-ordinator anyway. Hopefully the females have laid a good batch of eggs, as there was a lot of female activity, and with a following wind into late summer and a reasonable winter and not too wet a spring the Emperor could be in for a bumper 2018! Other species today the Silver-Washed Fritillaries were were buzzing about in good numbers, with just one White Admiral, now probably finished as well. I espied a couple of Common Blues in excellent condition, and a lovely Small Copper which I've never encountered in this wood before, which was a lovely surprise. [Posted by Ashley Whitlock]
Common Blue seen in one of the rides
Photo © Ashley Whitlock
Small Copper which ive never encountered in the wood before
Photo © Ashley Whitlock
Silver-Washed Fritillary in good numbers
Photo © Ashley Whitlock
12 Jul 2017
Alice Holt. Spent a pleasant afternoon walking the rides of Abbots Wood and saw a multitude of butterflies with huge numbers of Ringlet, Meadow Brown and Gatekeeper. Good numbers of female Silver Washed Fritillary were searching the forest floor for violets then finding adjacent trees to lay their eggs. A multitude of Purple Hairstreak were flitting about in the evening light and as I opened the back door of the car which was parked under an oak, I found a pristine forewing of of an unfortunate female.
fresh Red Admiral and Peacocks were also seen.
Nine Purple Emperors were seen - eight males - the last, a very pale worn example, was spotted doing a long slow flight around an oak at 5.15pm just before going to bed. I also watched a female for about five minutes at 2pm [no wheelie bin unfortunately!] laying two eggs 15m up in an ageing sallow before taking a breather in the warm sunshine. [Posted by Mark Tutton]
Resting Empress
Photo © Mark Tutton
Female SWF
Photo © Mark Tutton
Sad remnant
Photo © Mark Tutton
Purple Emperor at BSM. During a management meeting this afternoon at Butterfly Conservation's Bentley Station Meadow nature reserve,led by Jayne Chapman, we were treated to excellent views of a female Purple Emperor. Dave Pearson spotted the Purple Emperor high in a sallow, and she put on a great show for all of us for about 5 minutes. She was gliding and periodically landing high (4-5m above ground) in a sallow tree at around 3.00pm. She looked as though she was investigating the leaves with a view to egg-laying, but I can't claim this was positively observed. I only had a compact camera, and given the height above ground my photos are fairly basic, but thought they might be of interest. We also saw about 6 Silver-washed Fritillaries, so if you haven't visited this wonderful nature reserve already I'd encourage you to go. [Posted by Andy Barker]
Purple Emperor high in sallow
Photo © Andy Barker
Purple Emperor (female)
Photo © Andy Barker
Purple Emperor (female)
Photo © Andy Barker
10 Jul 2017
The End at Havant Thicket. Today was probably the last shout for the Male Purple Emperor in Havant Thicket, females will probably still be around but I saw no evidence of any males up and down the rides and at the Assembly Point in the afternoon. The Silver-washed Fritillary is still in good numbers, but I had noticed the White Admiral numbers falling off. The total counts were:Silver-washed Fritillary (35) White Admiral (4) Comma (10) Gatekeeper (100+) Green-veined White (7) Meadow Brown (100+) Ringlet (100+) Small Skipper (25) a very conservative estimate as I saw many flying in the meadows but I didn't count them. Brimstone (8) Large Skipper (5) Small White (2) Essex Skipper (4) Marbled White (1) now finished Purple Hairstreak (1) Red Admiral (3) Peacock (1) Speckled Wood (2). I visited the Assembly Point in the afternoon but it was a bit breezy but there were no takers for the vista. [Posted by Ashley Whitlock]
What you looking at....Comma head on
Photo © Ashley Whitlock
The only way is Essex.....
Photo © Ashley Whitlock
09 Jul 2017
Southleigh Forest. Arriving just after midday I checked out the Purple Emperor assembly point without success so decided to explore the wood further. I happened upon a valezina Silver-washed Fritillary just a little further up the path and continued to count. After 2 hours I had reached 106 Silver-washed Fritillary, including a second valezina. More than half of these were in the west end of the wood. Many Meadow Brown, Gatekeeper and Ringlet and the odd Green-veined White, Large White, Comma and Red Admiral. I returned to the assembly point around 2.30pm and a male Purple Emperor was patrolling the assembly oak. [Posted by Peter Gammage]
PE spotted Paulsgrove. Empress Touches Down On Paulsgrove Wheelie Bin. Very privileged and excited to see this beautiful Purple Emperor in our garden today. Shame the background is not as beautiful. Have been told there could be some envious people out there!! [Posted by Dawn Riddle]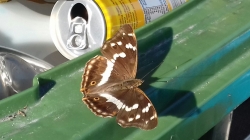 Photo © Dawn Riddle
Havant Thicket Field Trip. Blistering heat, nil wind, great numbers come and join me for this field trip, and the Purple Emperor didn't disappoint. OK it wasn't on the ground, it wasn't a male, but a female for me has just as much fascination, as this time in the Purple Emperor season they are elusive but when you do find one they do spectacular things, and are always a subject of intrigue. We had looked down the main ride for about an hour and turned the corner into the Bells Copse sallow run, and were on our way back when this very large magnificent object came flying over my head, from Bells Copse flying over lots of the other observers, and settled deep inside a large sallow bush at 12:10. We had found our prize! She was in very good condition, I dont think she was egg laying, but she could be seen by binoculars about 12 feet above our heads. She shuffled about a bit and then came out several times giving a twirl of her lovely wingspan, and then shot deep inside the sallows again a bit further on. She went deeper and could be seen flying from the other side of the sallow, and then she flew through the sallow again, and gave us another glimpse of her magnificent beauty. Moving further up the ride we lost her, and we departed company as time was getting on. I took everybody to the main Territory area, and after a short wait two males were seen flying at breakneck speed through the vista, they seemed to be on a mission, and we never saw any chasing or other action, but seeing two males here was a boon. Roger Marriot who had come on the walk had left us for his lunch just after 12:30 and when we got back to the car-park he reported to me that he had seen two more females in the main ride deep in the sallow. So the count was (3) Purple Emperors for the main group and an extra (2) as well. I have to thank all who came which was a record, over 30 individuals. From far and wide I hope everybody went home happy. [Posted by Ashley Whitlock]
Female Purple Emperor
Photo © Ashley Whitlock
Gatekeeper in good numbers
Photo © Ashley Whitlock
Purple Emperor school July 2017
Photo © Ashley Whitlock
08 Jul 2017
Havant Thicket. Our first visit here started early with Meadow Browns and Small Skippers on the wing at 08:30. By 09:00 we had seen the first White Admirals, and throughout the morning they were about in good numbers, including one mating pair. Silver-washed Fritillarys were later in getting up, with only three individuals seen. Gatekeepers were everywhere, along with the Meadow Browns whose numbers increased through the morning. The main reason though was to find Purple Emperor, but despite an extensive search we did not get even a tree top glimpse, very frustrating, especially so when you read the news from the next day! http://awayfromfourmarks.blogspot.co.uk/ [Posted by Chris Rose]
White Admiral
Photo © Chris Rose
Meadow Brown
Photo © Chris Rose
Silver-washed Fritillary
Photo © Chris Rose
The Last Emperor's Hurrah. This weekend will probably be the last weekend the Purple Emperor will be flying around in any great numbers so all you fans out there I suggest you get your skates on.......But do not expect to see any on the ground. The ones you will see will be very tatty and flying high in the oaks and sallow they will look very 'rusty' coloured, which gives them a great contrast in colouration against the backdrop of the blue sky and green of the leaves. Today I was in Abbots Wood Inclosure which has proved beyond any doubt that this is probably the best spot in Hampshire for this elusive species. I was in there for about 3 hours and counted well over (20) in the woodland and up at one of the many territory spots. They are still searching in the oaks, and sallow but it doesn't seem to be be with much urgency. Up at the territories they are up there now for 'fun' and the chasing game has diminished somewhat. Still plenty of Silver-washed Fritillarys around and still the odd White Admiral. [Posted by Ashley Whitlock]
| | |
| --- | --- |
| | |
| Photo © Ashley Whitlock | Photo © Ashley Whitlock |
07 Jul 2017
Havant Thicket. In hot conditions, 25 degrees, I visited Havant Thicket. The outer track I walked was filled with Meadow Browns, I stopped counting once I had reached 100 with several Silver-washed Fritillarys too and fresh Brimstones. The only disappointment was not seeing any Purple Emperors and just two White Admirals.
Totals: Brimstone 5M 3F, Large White 1, Small White 3, Gatekeeper 9, Marbled White 7, Meadow Brown 100+, Ringlet 13, Speckled Wood 1, Comma 2, Silver-washed Fritillary 18, White Admiral, Small Skipper 1. [Posted by Roy Symonds]
Chalk Hill Blues on Portsdown. There were at least a dozen Chalk Hill Blues on the wing at around 7 p.m. above and east of the Paulsgrove chalk pit. Speckled Woods, Gatekeepers, Small skippers, Meadow Browns and Marbled Whites also seen. [Posted by John Goodspeed]
Emperor at Crab Wood. Best sighting I've ever had of a Purple Emperor at Crab Wood today, which isn't saying much as I've only had 3 glimpses in over 25 years!
Also, lots of Silver-washed Fritillary and a Muntjac. Disappointingly, not a single White Admiral. [Posted by Rupert & Sharron Broadway]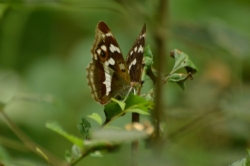 Photo © Rupert & Sharron Broadway
Southleigh forest. another lunchtime visit looked like drawing a blank until 13:20 when a male appeared around the assembly oak. He soared around a few times before I had to leave. As I headed back to the car a spotted a female at head height in the sallows. I didn't witness her egg laying but she landed several times before melting away into the wood. [Posted by peter Gammage]
Moth trap Leigh Park. I had my moth trap on in my garden last night and caught over 40+ species. Some of the goodies were Elephant Hawk-moth 11, Buff-tip, Scarce Footman 3, Dingy Footman 3, Festoon 2 males, L-album Wainscot 1, European Corn-borer 5, Rush Veneer 1, Buff Arches 3, Large Emerald 1, Kent Black Arches 2, Scallop Shell 1. During the afternoon my cat Charlie caught a Roesel's Bush-cricket in our back garden and was quickly released (bless him). [Posted by Barry Collins]
Small Blues Flying Again On Portsdown. The summer brood of Small Blues are flying on Portsdown Hill. An early afternoon visit to the downland below the Paulsgrove Quarry produced 3 Small Blue (very early!), 12 Chalk Hill Blue, 5 Common Blue, 8 Marbled White and 3 Gatekeeper, as well numerous Meadow Browns and Small Skippers. All the 'blues' seen were males. [Posted by Alan Thornbury]
Small Blue
Photo © Alan Thornbury
Small Blue
Photo © Alan Thornbury
Common Blue
Photo © Alan Thornbury
06 Jul 2017
Blackbush Hanger, Southleigh Forest. In hot conditions, with 24 degrees recorded, I ventured into Blackbush Hanger, Southleigh Forest to search for the Purple Emperor. At 11.45 a male flew across the path in front of me just above my head, then later further along the path, at 12.15 I saw a further male suddenly take flight from the top of an Oak, flying briefly before landing again. On another Oak I spotted a Purple Hairstreak whizzing around. At total of 12 different species were seen.
Totals: Brimstone 1M, Large White 1, Purple Hairstreak 1, Gatekeeper 4, Marbled White 1, Meadow Brown 8, Ringlet 4, Speckled Wood 4, Peacock 1, Purple Emperor 2, Silver-washed Fritillary 4, Small Skipper 1. [Posted by Roy Symonds]
Creech Wood. Another visit to a wood I'm very familiar with, but haven't visited for a couple of seasons; however I've had good times with 'HIM' in this wood. Today there is heavy Forestry Commission Timber extraction, and so walking into the wood and visiting various areas is extremely limited. However I saw one male Purple Emperor at a vista at 10:40 which has always produced results for me. The male was looking very 'tawny' underneath, and on the wing they look very distinctive. He did a quick look around a very young oak tree, and then decided to sit in a fir tree for about a minute. He then took off again down the ride looking around other young oaks. He then shot off over the ride and disappeared. As I returned having only been in the wood for less than an hour the timber extraction areas were heavy going, I saw a male very low down at 10:45 fly over the ride into a large area which had had lots of conifers cut down, doing a quick flight left and then right he must have settled down and imbibed on some fresh smelling wood. I must admit it does smell and this would be a huge attraction, especially the sap which must be coming out of the timber at the moment. The other species of note in the wayleaves were excellent numbers of Small Skippers and Marbled Whites. Not many Silver-washed Fritillarys, and only two White Admirals. [Posted by Ashley Whitlock]
Marbled White
Photo © Ashley Whitlock
Small Skippers mating
Photo © Ashley Whitlock
05 Jul 2017
Pear-tree Green /St Catherines Hill. On a very hot day managed to see 2 White-letter Hairstreaks and Comma egg laying on elms; then on to St Catherines Hill, up to 10 Chalk Hill Blues seen along with 1 Dark Green Fritillary [Posted by chris piatkiewicz]
Wednesday Wander at MHD. On a very hot day the Wednesday Wander was well attended and we were rewarded with 19 species of butterfly.
The meadow was alive with Meadow Browns, closely followed by Marbled White,there were also Gatekeepers(10), Ringlets, Large Skippers, Small Skippers and Essex Skippers, only one of the latter being identified as the butterflies were reluctant to settle. We saw 2 Small Blues, 2 Common Blues, 1 Brown Argus and 3 Chalk Hill Blues, Large White, Small White and Green-veined White together with 8 Brimstone, 1 Red Admiral, three Small Tortoiseshell, one Peacock and 5 Commas. We also saw a red kite and a young kestrel on the wires and heard a yellowhammer and a whitethroat. [Posted by Sue Lambert]
Chalkhill Blue
Photo © Sue Lambert
Gatekeeper
Photo © Sue Lambert
Ringlet
Photo © Sue Lambert
Hayling Island Billy Cycle Trail. Today I took a walk almost on my doorstep, walking the Hayling Island length of the Billy Cycle Trail from the old railway bridge through to the Station Theatre in West Town. Taking three and a half hours in temperatures reaching 24 degrees, a good variety of butterflies were seen, a total of 11 species. Marbled Whites were seen in the extreme Northern section on chalk.
Totals: Large White 7, Small White 27, Green-veined White 1, Gatekeeper 15, Marbled White 19, Meadow Brown 36, Speckled Wood 5, Comma 3, Red Admiral 1, Large Skipper 1, Small Skipper 5 [Posted by Roy Symonds]
West Wood/Crab Wood. Today in very warm conditions I went to one of my favourite spots for His Majesty and he didn't disappoint, although he is becoming rather elusive now after being on the wing now nearly 3 weeks plus. I saw my first male Purple Emperor in the main ride flying from north to south, and he wasn't really looking at any oak or sallow, he seemed more on a mission. At 10:30 a lovely male was seen sallow searching in my ride, flitting through the sallow and diving from left to right, and going around the back of the bush and disappearing. 10:35 one male was seen again sallow searching at the crossroads, where there is a large bench and all the rides converge in a star shape. 10:45 one male was seen on the ground imbibing in my ride, but unfortunately he didn't hang round long. I lost him as I searched inside my camera bag for a lens, he probably shot up over to the hazel thickets at the edge of ride, and mocked me as I looked rather flummoxed. I then went back into the main ride and another male was espied looking in the high ash trees at 11:07. Then the sighting's dried up, probably due to the excessive heat of the day. I went into Crab Wood next door and managed to espy another male in a very tight vista at 12:07. Today belonged to the Silver-washed Fritillary, many pairing up doing their rituals down the main ride and mating. [Posted by Ashley Whitlock]
Silver-Washed Fritillary mating
Photo © Ashley Whitlock
Purple Emperor now becoming less likely to come to the ground
Photo © Ashley Whitlock
The main ride in West Wood
Photo © Ashley Whitlock
Havant Thicket. A lunchtime walk up the east side revealed fewer butterflies than recent visits perhaps in part due to the heat. A brief appearance of a Purple Emperor at the top of Horse Foot Hill at 13:20 was I suspect a female but it flew through without stopping. I counted no more than 4 White Admiral and 9 Silver-washed Fritillary. [Posted by Peter Gammage]
04 Jul 2017
Abbotts Wood Inclosure. Today I found the perfect conditions for Purple Emperor watching, overcast conditions, no wind and very warm. I been Emperor watching for at least 25 years, and I dont think I've seen so much action in the ride I look at as I have today. Every two or three minutes from 10:30 this morning there was at least one male Emperor oak edging or sallow searching. Many times there were two males coming towards each other and they never really engaged in pleasantries, one either swooped left or right or just engaged in a little tussle and chase.Some males were so desperate to find a female they were going very deep into the thick sallows. Some flew over the ride to where I was watching and they were just above my head going this way and that.I left the ride at 12:20 and I estimated I must have seen at least (10), most looking in reasonable condition. I then proceeded up to one of the Assembly points at 12:50, and immediately a male was seen flying around his vista, and then he settled into a pine tree. After a time I thought there must have been at least three males up here as I saw two in seperate trees. At 13:05 a female was engaged by one male and there was a typical Purple Emperor ball, and they plummeted to the ground disengaging close to me in a small beech tree, she buzzed off over the road, and then the other one went back to his perch. I witnessed three males chasing each other in the vista, and the sun was just out and the temperature went up, and the action abruptly stopped. The total was about (15) in all, which was higher than Silver-washed Fritillary, and only one White Admiral was seen, which would suggest they like sunnier conditions. [Posted by Ashley Whitlock]
Male guarding his territory in Abbotts Wood Inclosure
Photo © Ashley Whitlock
A bit moth eaten but still flying...
Photo © Ashley Whitlock
White Admiral
Photo © Ashley Whitlock
03 Jul 2017
Chalton Down, Old Idsworth. After my recent pursuits of the Purple Emperor, today with the temperature at 18.5 degrees, I visited the downland turf of Chalton Down (SU736156) where I was pleased to see my first Chalk Hill Blues of the season. This is my earliest sighting since my personal records started in 2008, the closest being 5th July at this site in the hot summer of 2010.
Totals: Small White 1, Chalk Hill Blue 4M, Gatekeeper 3, Marbled White 17, Meadow Brown 24, Ringlet 5, Small Heath 3, Small Skipper 2. [Posted by Roy Symonds]
02 Jul 2017
More Photographs from Martin Down. More photographs from Martin Down [Posted by Chris Rose]
Dark-green Fritillary
Photo © Chris Rose
One or two Dark-green Fritillaries?
Photo © Chris Rose
Marbled White
Photo © Chris Rose
Summer's Day on Martin Down. A lovely afternoon walking around Martin Down. Many Dark Green Fritillarys on the wing, and eventually some really good views. In addition to the DGF, many Marbled Whites, Small Skippers, Small Heaths, and of course Meadow Browns. Of note as well my first Gatekeeper, and a pristine Small Copper. In total we had sixteen species. https://awayfromfourmarks.blogspot.co.uk/ [Posted by Chris Rose]
Marbled White
Photo © Chris Rose
Dark-green Fritillary
Photo © Chris Rose
Small Copper
Photo © Chris Rose
Havant Thicket Today. Went to Havant Thicket today - bumped into Ashley and some others briefly - lots of Silver-washed Fritillary everywhere, more White Admiral than last year too, Brimstone, Red Admiral, Meadow Brown, Marbled White, Green-veined White and Small White, Skippers, I think a Gatekeeper, Purple Hairstreak and finally a Purple Emperor, which circled and briefly landed on my shirt at one point before landing on some dung ( this was at 13:00 ) - photos not fab as amongst thick grass - this was at the first crossroads to the east along the main ride in the direction of Bell Copse from the T junction up from the car park - also later saw 2 more chasing in the treetops back toward the car park - keen to go back next week! :-) [Posted by Francis Kinsella]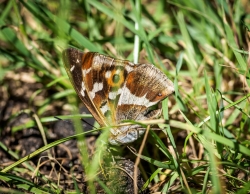 Photo © Francis Kinsella
In my garden at Gurnard IW.. 3 Large White 2 Comma, 1 Red Admiral, 1 Small Skipper, 5 Meadow Browns,
3 Gatekeepers,4 Marbled Whites. Also 1 Hummingbird Hawk-moth and 4 Six-spot Burnet. [Posted by Mick]
Chalkhill Blue at St Caths. First Chalk Hill Blue of the St Caths year was seen today in Plague Pits Valley. [Posted by Mike Allen]
Abbotts Wood Inclosure. We decided to have a change of scenery today and went to Abbotts Wood Inclosure and we were not disappointed. Our highlights there included Purple Emperor 3, Red Admiral 4, Purple Hairstreak 8, Silver-washed Fritillary 31, White Admiral 10, Comma 6, Brown Hawker 5, Beautiful Demoiselle 4 males. (Barry and Margaret Collins) [Posted by Barry Collins]
Purple Patch. I though it was time I saw a Purple Emperor this year so I set off for West Wood this morning. This was probably not a great idea given the number of walkers, joggers and loose dogs present but I managed to see one oak-edging at 11:49 along the main track. I then went to Abbotstone Down, which was a lot quieter, and saw two more. The first was half-way between the second and third wooden gates at 12:50 and the third was above the third wooden gate at 13:01 (all flying at some height). Good numbers of Marbled Whites were also seen along with many Small/Essex Skippers and one Small Copper. [Posted by Dave Pearson]
Havant Thicket. In what I thought was perfect weather conditions, which over the course of three to four hours turned out not to be the case. I went to Havant Thicket to see if I could improve on my scorecard from last weeks (five). I know the Purple Emperor is unpredictable, but today I thought I had it in the bag, just shows 'him' can be most annoying!The highlight of the day were the incredible numbers of Silver-Washed Fritillaries well past (50+), several were seen performing their lovely mating ritual in the many rides. There were also good numbers of White Admiral's as well, certainly well up on 2016. Many were seen on the footpaths imbibing on the mineral salts. I arrived at 10:00, and turned into an excellent Oak and Sallow strip, and 'him' turned up oak edging,about 20 feet above my head, doing quick turns around the many oak sprigs hanging over the ride. He shot off down the ride heading south, this is when I thought, well here goes.....I spent the best part of 4 hours on the hunt, no more Emperors Sallow Searching or Oak edging, and they hadn't turned up at the Assembly point either, by 14:30. This tells me that the weather conditions weren't ideal, too hot, better on cloudier cooler days, being in the right place at the right time when looking up. And probably the mood they are in. I met several other recorders in the site as well and they had drawn a blank. But at least I had seen one, still there always next Sunday. [Posted by Ashley Whitlock]
White Admirals are in good numbers in 2017
Photo © Ashley Whitlock
Male Comma imbibing on Bramble.
Photo © Ashley Whitlock
Excellent numbers of Silver-Washed Fritillaries
Photo © Ashley Whitlock
01 Jul 2017
Surprise at Stockbridge. On Saturday afternoon I headed to Stockbridge Down in search of the White-letter Hairstreak colony I had read about. To my great disappointment, on a very hot afternoon, I saw no Hairsteaks at all, although I did see plenty of other butterflies including my first Gatekeeper of the year; a Red Admiral, several Small Skippers, numerous Meadow Browns and Marbled Whites. Walking back to the car park parallel to the road I wandered around a large bramble bush which was alive with bees and butterflies. There to my surprise and delight was a Silver-washed Fritillary valezina. A beautiful butterfly which certainly lessened my earlier disappointment! [Posted by Isobel Taylor]
Valezina
Photo © Isobel Taylor
Valezina
Photo © Isobel Taylor
Gatekeeper
Photo © Isobel Taylor
Havant Thicket. Today I visited Havant Thicket where the temperature reached 21 degrees. I followed my usual route walking the main outer track, completing a full circuit. The rides were teaming with Meadow Browns as well as Ringlets and more Small Skippers noted. I could see no sign of the Purple Emperor, however while looking up at a few Oaks, I did spot my first Purple Hairstreak of the year. Elsewhere Silver Washed Fritillarys and White Admirals were gliding.
Totals: Brimstone 3M 1F, Small White 4, Purple Hairstreak 1, Gatekeeper 9, Marbled White 7, Meadow Brown 161, Ringlet 22, Comma 1, Red Admiral 2, Silver Washed Fritillary 21, White Admiral 7, Large Skipper 1, Small Skipper 10. [Posted by Roy Symonds]
New Forest Field Trip Hawkhill Inclosure and Heathland. Today for once began with reasonable weather, and it wasn't long from the car-park when we had picked up our first sightings of the Silver-Studded Blue. I noticed today that many males were very fresh, and there were many females to be seen as well. In side the woodland there is a stream called 'Worts Gutter' and here there were good counts of Large Skipper and Meadow Brown, with a splattering of another target specie the Dark-Green Fritillary which in the end of the walk totalled a respectable (13), these I suspect were late comers, which the New Forest is renown for, and all the males seen were in excellent condition feeding off of Marsh Thistles. We also saw Silver-Washed Fritillaries flying around the islands of bramble blossom, and only one White Admiral. On the heathland in the afternoon we were after the Grayling and the Clouded Buff Moth. We were extremely lucky to strike two newly hatched Graylings, but the Clouded Buff eluded us.The Silver-Studded Blue count went through the roof, hundreds being seen on the Bell Heather, and other interesting flora and fauna seen were Emperor Dragonflies, Dartford Warblers, with Stonechats, and Linnets flying around the heathland. Id like to thank all who came and made this a most enjoyable walk around the New Forest today. [Posted by Ashley Whitlock]
Male Silver-Studded Blues were still in excellent condition
Photo © Ashley Whitlock
Grayling now appearing on the heathland
Photo © Ashley Whitlock
Dark Green Fritillary
Photo © Ashley Whitlock
---
Copyright © Butterfly Conservation Hampshire and Isle of Wight Branch
Privacy and Copyright Statement
Butterfly Conservation: Company limited by guarantee, registered in England (2206468)
Registered Office: Manor Yard, East Lulworth, Wareham, Dorset, BH20 5QP, Tel: 01929 400 209
Charity registered in England & Wales (254937) and in Scotland (SCO39268)
Administrator Login