News Archive for Aug 2019
21 Aug 2019
Female Brown Hairstreak At Noar Hill. Finding Brown Hairstreaks in Hampshire this season seems to be significantly more challenging than usual (and I'm confident others will agree!). My early afternoon visit to Noar Hill, initially focussing on the south side of the reserve had produced no sightings. However, I was soon asking myself, "Why are a group of people standing close to a bank of Hemp Agrimony with cameras poised?" as I made my way across the reserve.
Any thoughts that a rare migrant species had stopped off at Noar Hill for nourishment, were soon dismissed, when the real reason became apparent. A female Brown Hairstreak, in very good condition, was feeding contentedly, and had been there for a considerable time. Indeed it was the only one seen by one observer during several hours at the site. After sampling a number of flower heads, each taking a few minutes, it disappeared behind the bank. On this occasion, I knew that a huge slice of good fortune was with me today! [Posted by Alan Thornbury]
Brown Hairstreak (Female)
Photo © Alan Thornbury
Brown Hairstreak (Female)
Photo © Alan Thornbury
Brown Hairstreak (Female)
Photo © Alan Thornbury
Monks Walk, Frater Fields & Woods, Gosport. The more sheltered fields and edges of Monks Walk between 1430-1610 (21 degrees celsius in the sunshine) produced ten species. It was pleasing to see hitherto swamped fields full of summer flowers with a good accompaniment of butterflies and other insects. And on top of the sport, the blackberry count was about 5lbs plus feral Bramley 'cookers' and many sweet pears! Butterfly count was: Small White (20); Speckled Wood (2); Painted Lady (6); Red Admiral (4); Holly Blue (3); Meadow Brown (3); Comma (3); Large White (5); Common Blue (3)(M); Small Copper (1). Good to be home - for a while at least! [Posted by Francis Plowman]
Common Blue male
Photo © Francis Plowman
Holly Blue
Photo © Francis Plowman
Small Copper
Photo © Francis Plowman
Browndown (South) Gosport. Under an overcast sky and fairly breezy easterly airs I circulated Browndown South (1205-1415) primarily in search of Grayling. Having been out of the country for some weeks I was hoping not to have been too late. After 40 minutes with just Small White and Meadow Brown for company I thought I'd blown it! But at last, behind the rifle range amidst the stones and heather one Grayling duly obliged me but sadly that was the only one. So the total count of eleven species was: Small White (30); Painted Lady (5); Meadow Brown (12); Grayling (1); Small Copper (2); Common Blue (5)(M); Small Heath (2); Brown Argus (2); Gatekeeper (1); Holly Blue (1); Red Admiral (1). [Posted by Francis Plowman]
Grayling
Photo © Francis Plowman
Common Blue male
Photo © Francis Plowman
Painted Lady
Photo © Francis Plowman
Clouded Yellow at Portchester. A manic Clouded Yellow seen at Castle Shore Park, Portchester, this afternoon, presumably female as it alighted briefly on numerous plants. Several Painted Lady at the same site, fellow travellers perhaps. [Posted by Andrew Brookes]
20 Aug 2019
Beacon Hill (Warnford). A second visit to Beacon Hill NNR was rewarded with four Silver-spotted Skippers, suitably elusive in the brisk wind; they seemed to favour the southern slope where the grass was shorter. Also in attendance, was several fresh but slightly battered Painted Lady's, Large White and Small White, copious Meadow Brown, Common Blue, a few Chalk Hill Blue, and some Brown Argus. A couple of Hornet Robberflies were also seen together with evidence of breeding in the local cow pats! [Posted by Dave Pearson]
Common Blue on Marjoram
Photo © Dave Pearson
Painted Lady on Marjoram
Photo © Dave Pearson
Chalkhill Blue on Chalk Eyebright
Photo © Dave Pearson
Brownies on show at Shipton. Today's round trip of nearly 100 miles from the Isle of Wight was rewarded with several Brown Hairstreak sightings at Shipton Bellinger.Along the county boundary hedge a rather worn male on blackberry fruits plus two females, both egg laying a few inches from the ground and taking time to enjoy the sun. [Posted by Peter Hunt]
Egg laying female
Photo © Peter Hunt
female
Photo © Peter Hunt
male
Photo © Peter Hunt
Old Winchester Hill Fort South slope. A typical August day today very sunny but breezy on occasions, but this didn't dampen most of the counts where I went today. I stayed on the slope opposite the Fort on the south side, and here for 3 hours I counted 17 species, these included Silver-Spotted Skipper (19) very difficult to ascertain how many, but they look as if they have done quite well this year. Good counts of Adonis Blues today with one patch of wildflowers having four males on it at the same time (28). A Small Blue was seen in the mix must be one of the last, Small Copper, and good numbers of Brown Argus. The Painted Lady was all around the Fort area and I counted at least (10) also included were some Small Tortoiseshell which have had an awful year, but I did see at least (4). There is still excellent counts of Chalk Hill Blues and Common Blues, and lots of Whites, but no Clouded Yellows yet. [Posted by Ashley Whitlock]
Male Adonis Blue out in good numbers now
Photo © Ashley Whitlock
Silver-Spotted Skipper on Scabious
Photo © Ashley Whitlock
Small Tortoiseshell
Photo © Ashley Whitlock
19 Aug 2019
Fort Cumberland. A look around a site that is probably not on most recorders radar, but it was a surprise to see several species today that I haven't seen here before. These were the Small Heath, and the Brown Argus. There were some tatty looking Small Coppers, and several Common Blues, and the Gatekeeper was on the wane. Plenty of Small White and Large Whites to be seen dotted all over the site. [Posted by Ashley Whitlock]
Fort Cumberland
Photo © Ashley Whitlock
Small Heath
Photo © Ashley Whitlock
Small Copper
Photo © Ashley Whitlock
18 Aug 2019
Chalton Down. Today I visited Chalton Down where the temperature was 19 degrees, but with a strong breeze overall numbers appeared to be low. Noticeable was the decrease in the number of Meadow Browns and Chalk Hill Blues, along the wind may have prevented many from taking flight. The grass in some areas especially at the entrance to the site is particularly long, a long term issue of lack of grazing by the much reduced rabbit population here. Totals: Brimstone 1M, Large White 3, Small White 9, Green-veined White 1, Chalk Hill Blue 22M, Common Blue 2M, Gatekeeper 19, Meadow Brown 3, Small Heath 8, Comma 1, Peacock 1. [Posted by Roy Symonds]
Shipton Bellinger's Brownies. Despite the spectacularly poor August weather, I'm delighted to report that Shipton Bellinger's Brown Hairstreaks are alive and well and egg laying. After a quick dash up the 303 under gloomy skies, the sun broke out for around 10 minutes, during which we had great sightings of both Wall Brown and Brown Hairstreaks. I still can't get my head around the fact that, these days, I have to travel 30 miles to a very specific location to see Wall Brown's that, as a teenager, commonly occurred in my garden. [Posted by Mark Vincent]
| | |
| --- | --- |
| | |
| Photo © Mark Vincent | Photo © Mark Vincent |
Oxenbourne Down. It wasn't a Field Trip day today as the rain cascaded down from early morning until about 10:00, and as I was out in the area I decided to stop off at Oxenbourne Down as the weather became quite bright and warm from mid-morning. The species out were many Chalk Hill Blues several mating pairs and several in very good condition, the Silver-spotted Skipper seems to have taken a hammering in the cool wet weather, as I only saw about a dozen. Small Heath , one Small Copper, many Small Whites, and the demise of the Gatekeeper, was all that was worth noting. [Posted by Ashley Whitlock]
Pair of Chalkhill Blues mating
Photo © Ashley Whitlock
Small Copper
Photo © Ashley Whitlock
Silver-Spotted Skipper
Photo © Ashley Whitlock
13 Aug 2019
wasp spider at north baddesley. seen today on my butterfly reserve in north baddesley a wasp spider.also seen in 30 minute walk last Essex Skipper? of the season,2 Small Tortoiseshell,1 Small Copper,1 Common Blue,1 Silver-washed Fritillary,5 Painted Lady,2 Red Admiral,6 Comma,8 Gatekeeper,15 Meadow Brown,1 Speckled Wood,1 Brimstone,2 Large White,12 Small White,1 Ringlet,1 silver y moth,2 mint moth. [Posted by Kevin Ross]
| | |
| --- | --- |
| | |
| Photo © Kevin Ross | Photo © Kevin Ross |
11 Aug 2019
Broughton Down Field Trip. With the heavens opening up as we set off today from Portsmouth, Broughton Down seemed a long long way to go, and the sky was just black with rain clouds until we got onto the M3 and approaching Winchester things were looking up. At Broughton I needn't have worried as the sky was blue and they hadn't had any rain, so the ground wouldn't be wet, and this helped with the butterfly counts I think as there were some good species counts to be had on all of the slopes. We counted good numbers of Silver-spotted Skipper, Adonis Blues were just emerging and the Chalk Hill Blue could be seen patrolling up and down the Iron Age Fort, and burial mound. Other good numbers were Dark Green Fritillary although they were well past their best, Painted Lady were feasting on the Hemp Agrimony, and so were Red Admirals and Peacocks. Brown Argus is always a treat and a few Small Heaths were seen, we saw 18 species today, along with 6 spotted Burnet Moths and Silver-'Y's. I d like to thank all those who came and made this a very enjoyable field trip. [Posted by Ashley Whitlock]
Male Dark Green Fritillary
Photo © Ashley Whitlock
Silver-Spotted Skipper
Photo © Ashley Whitlock
Hampshire countryside from Broughton Down
Photo © Ashley Whitlock
08 Aug 2019
St. Catherine's Hill. A visit on Thursday in mainly overcast conditions with a few brighter spells and eventually managed to find Silver-spotted Skippers, 7 in all. They flushed from the sward at top speed and were very hard to follow. Also 150 plus Chalk Hill Blues, about 35% of which were female and a charm of about 75 goldfinches, which was a delight to see and hear. [Posted by Andy Bolton]
Brown Hairstreak And Wall Are Top Sightings At Shipton Bellinger. It is not often that one sees two of Hampshire's scarcest butterflies at the same location, but Shipton Bellinger is able to do that at the moment. A late morning visit in mainly cloudy conditions delivered a surprising 4 Wall (all males). 3 were on the parallel track close to where it joins the main track from the village, the other making its way along the boundary hedge (and outdoing the Brown Hairstreak count here which was zero!). Thankfully two male Brown Hairstreaks were encountered at the top end of the parallel track, feeding on the few remaining bramble flowers. So whilst Brown Hairstreak so far this season seem to be scarce or even very scarce, it's nice to see an old friend (the Wall) continuing to show signs of a revival in this area. Around midday, the sky had become completely overcast with a few spots of rain, curtailing my visit. [Posted by Alan Thornbury]
Brown Hairstreak (Male)
Photo © Alan Thornbury
Brown Hairstreak (Male)
Photo © Alan Thornbury
Wall (Male)
Photo © Alan Thornbury
Charlton Down. A heavy leaden sky but at least it was warm on a visit to this site today, where the Chalk Hill Blue was flying everywhere, interspersed with a few Common Blue and the odd Brown Argus. Also seen today was a very impressive female Dark Green Fritillary which was in remarkable condition. She seemed reluctant to fly and just wanted sanctuary in the long grasses and wild flowers, whether she had been egg-laying or was just waiting for the sun to warm her up a bit. The Brown Argus were on the wing amongst some Small Heath butterflies as well.The Marbled White and Ringlet are now over. In the distance I could hear the chirring of the Turtle Dove which was a very pleasant sound after hearing the clatter of trains going past taking commuters to their destination. [Posted by Ashley Whitlock]
Female Dark Green Fritillary
Photo © Ashley Whitlock
Small Heath
Photo © Ashley Whitlock
Brown Argus
Photo © Ashley Whitlock
06 Aug 2019
Gatcombe church yard I.of W.. Working here and saw 4 Painted Lady, 1 Wall Brown, 6 Meadow Browns, 1 Red Admiral,1 Large White ,1 Small White and a very tattered White Admiral. [Posted by Mick Sivell]
04 Aug 2019
Broughton Down. I visited the site for about a couple of hours during the afternoon and was pleased to find lots of butterfly activity in the sunshine. This included at least 20 Silver-spotted Skipper, around 10 Dark Green Fritillary and at least 3 Painted Lady. Also, fairly good numbers of Chalk Hill Blue, Brown Argus and Common Blue. However, the best sighting was of a fresh male Adonis Blue - seen in the southern part of the 'spur' of land at the far western end of the reserve. In the past I've usually only seen Silver-spotted Skipper on the slope just to the east of the 'Plum Pudding' barrow, but today it was relatively easy to also find them in other suitable areas (especially in the western part). As I didn't have time to visit the whole site, the actual number present could have been about 30 to 40. [Posted by Philip Hack]
Magdalen Hill Down. A full day at this site which was full of flowers. Good to see some large examples of Knapweed (?) Broomrape in the north extension. Among the usual suspects were Small Blue, Small Copper, Brown Argus, plenty of Chalk Hill Blues, and two Clouded Yellows.
Birds included a single Spotted Flycatcher.
Two Common Lizard were on a stile.
The highlight though was Hornet Robberfly with a total of 4 seen. A spectacular insect - about an inch long - associated with cow pats. According to Buglife there are about 40 sites left in the country. It was not clear whether the pair on the fence post where mating or was one dining on the other ! [Posted by Steve Mansfield]
Hornet Robberfly - Magdalen Hill Down
Photo © Steve Mansfield
Hornet Robberfly pair (or dinner ?) - Magdalen Hill Down
Photo © Steve Mansfield
Common Lizard - Magdalen Hill Down
Photo © Steve Mansfield
Painted Lady invasion underway, Longstock Park. An estimated count of around 100 Painted Lady butterflies at the Longstock Park buddleja collection late this afternoon, although the dimming sun found most of them basking on the black peat mulch. No other butterflies evident, just a solitary Hummingbird Hawk moth. [Posted by Andrew Brookes]
Beacon Hill NNR, Warnford. I was very pleased to find a Silver-spotted Skipper at Beacon Hill today in overcast conditions. This species used to be common here but has declined in recent years. I also saw at least ten Painted Lady's and a few Kite-tailed Robberflies. The reserve is carpeted with wild flowers at the moment. [Posted by Dave Pearson]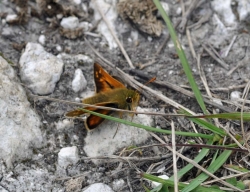 Photo © Dave Pearson
02 Aug 2019
Shipton Bellinger. A visit here from 12.00-14.00 didn't produce any Brown Hairstreaks but was told by someone on site that a couple had been seen earlier in the day. However I was more surprised by the sight of two Wall Browns (one fresh and one slightly worn) on the gravel track leading up from the car park in the village, just before it splits into two, unfortunately neither of them hung around for any pics. I am not that familiar with this site but would say that is quite an unusual place to find such species? Also seen were Holly Blue 12, Common Blue 5, Brimstone 4, Large White 4, Red Admiral 1, Peacock 3, Gatekeeper 10, Meadow Brown 12, Speckled Wood 8 and a Yellow Spot Tortrix moth. [Posted by Mark Pike]
Holly Blue
Photo © Mark Pike
Peacock
Photo © Mark Pike
Yellow Spot Tortrix
Photo © Mark Pike
Broughton Down. A first ever visit to this location for me with the target being Silver Spotted Skippers. From 10.00-12.00 I saw the following, Silver-spotted Skipper 12, Common Blue 2, Gatekeeper, 8, Dark Green Fritillary 4 (very worn), Meadow Brown 6, Ringlet 4 and taking salts etc from the car windscreeen upon my return was a huge Dark Horse Fly! Apart from the Skippers it was pretty sparse, although I did not venture across the whole area. [Posted by Mark Pike]
Silver Spotted Skipper
Photo © Mark Pike
Silver Spotted Skipper
Photo © Mark Pike
Dark Horse Fly On Windscreen
Photo © Mark Pike
Ladies day on Portsdown. A short walk on the south facing slopes below Fort Widley produced at least five Painted Lady this evening. Perhaps the much forecasted invasion is finally reaching Hampshire. [Posted by Peter Gammage]
Oxenbourne Down. After such a poor Purple Emperor season it was nice to get on the Chalkdown Hill Horse again, and see what was flying about and on my favourite site, I found (15) or more lovely Silver-spotted Skippers, hundreds of Chalk Hill Blues several males and females I saw were just emerging, many mating pairs, several fresh Small Coppers, One female Dark Green Fritillary, and a Female Silver-washed Fritillary, the Gatekeepers are just finishing with some fresh Meadow Browns on the wing. It looks as if the Small and Large and Essex Skipper and Marbled White have all but finished here. [Posted by Ashley Whitlock]
Small Copper several of these were basking on large stones
Photo © Ashley Whitlock
Fresh Female just emerged and already being mated.
Photo © Ashley Whitlock
Silver-Spotted Skipper
Photo © Ashley Whitlock
01 Aug 2019
Oxenbourne Down. Today I visited Oxexbourne down in mid morning where the temperature reached 21.5 degrees. My target species was of course the Silver-spotted Skipper of which I recorded a total of 4. The main species found were Chalk Hill Blues, with over a hundred in flight. A few Common Blues were flying, while a single Small Blue was found, while a Dark Green Fritillary briefly alighted on a thistle before taking a strong, fast flight out of sight. Totals: Brimstone 1M 3F, Large White 3, Small White 6, Green-veined White 1, Chalk Hill Blue >100M 3F, Common Blue 2M, Small Blue 1, Gatekeeper 19, Meadow Brown 10, Ringlet 1, Small Heath 1, Dark Green Fritillary 1, Small Skipper 1, Silver-spotted Skipper 4. [Posted by Roy Symonds]
Dark Crimson Underwing at Leigh Park. I had my moth trap on overnight in my garden at Leigh Park. The best of the catch was a Dark Crimson Underwing a new species for the garden. Other records of note were Garden Tiger 6, White Point 2, Elephant Hawkmoth 2, Dusk Sallow 1 etc. [Posted by Barry Collins]
---
Copyright © Butterfly Conservation Hampshire and Isle of Wight Branch
Privacy and Copyright Statement
Butterfly Conservation: Company limited by guarantee, registered in England (2206468)
Registered Office: Manor Yard, East Lulworth, Wareham, Dorset, BH20 5QP, Tel: 01929 400 209
Charity registered in England & Wales (254937) and in Scotland (SCO39268)
Administrator Login