News Archive for Feb 2019
17 Feb 2019
Gosport - 2 Up!. Red Admiral on the house window at 0900 in early morning sunshine then at Monks Walk at 1115 circa 14 deg C a male Brimstone on the wing. [Posted by Francis Plowman]
Brimstone at Bentley Station Meadow. No photo, I'm afraid, but there was a really bright male Brimstone flitting about in the sunshine today at Bentley Station Meadow. [Posted by Steve Easter]
15 Feb 2019
My First 2019 Sightings on Portsdown Hill and in Havant Thicket. Today with so much sunshine I visited Portsdown Hill (East)(SU657063), where in the early afternoon flying along the main path overlooking Queen Alexandra Hospital, was a single male Brimstone, my first sighting of 2019.
Later in the afternoon, I walked the outer main track of Havant Thicket (SU713112), where I recorded a single Red Admiral which landed on the path for me to obtain a photo. [Posted by Roy Symonds]
First sightings for the year in the Itchen Valley. I also saw my first Brimstone in Winchester this morning and a fresh Comma on Itchen Stoke Down this afternoon. [Posted by Dave Pearson]
Brimstone in Winchester. Saw my first Brimstone of the year in our garden in Winchester at lunchtime today when it was 10degC. [Posted by Bob Whitmarsh]
Buddleja bounty in Cosham. One male Brimstone, and 2 Red Admirals seen in Theo Roberts' Cosham, Portsmouth, garden this morning, the Admirals (and many bees) freely imbibing from the pale mauve honey-scented flowers of Buddleja officinalis, a rare and only semi-hardy species from western China. [Posted by Andrew Brookes]
Brimstone in Holybourne. A single Brimstone seen on south facing bushes in fields from Church Lane [Posted by Chris Rose]
14 Feb 2019
Male brimstone in Portsdown. One flew through Portsdown gardens in the sun this morning. [Posted by John Goodspeed]
first sightings in North Baddesley. At long last first butterfly of the year (male Brimstone) on my butterfly reserve at North Baddesley. [Posted by Kevin Ross]
Brimstone at North Baddesley. Driving along Castle Lane, North Baddesley had my first butterfly - a male Brimstone flying strongly along the verge. [Posted by Sue Lambert]
Brimstone activity in Axmansford. A male Brimstone seen flying through the Axmansford garden at lunchtime today, then another later on crossing the Baughurst road. [Posted by Andy Bolton]
13 Feb 2019
Monks Wood, Elson, Gosport. At long last my first sighting on my 'home' patch for 2019. Around 1130 at about 11 C in sunshine I disturbed a Red Admiral which flew off. It can only get better but a start nonetheless. [Posted by Francis Plowman]
10 Feb 2019
Transect 25-year trends. The latest 25-year transect trend graphs, including 2018 data for Hampshire and Isle of Wight butterflies, are now available. To see these just click on the "Transect" tab of this web site, then the "25 year trends" sub-tab. Also available is a tabulated 2018 summary comparing 2018 transect performance with 2017. This can be found by clicking on the "Annual Trend Tables" sub-tab. [Posted by Andy Barker]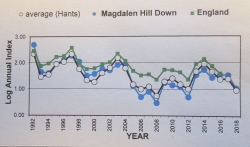 Small Tortoiseshell
Photo © Andy Barker
09 Feb 2019
First butterfly of the year for me today in East Meon. Male Brimstone in a sheltered spot at East Meon today. Took me by surprise. First butterfly I've spotted while out wearing thick gloves and fleece lined trousers!! [Posted by John Bogle]
03 Feb 2019
Success, north of Portsdown Hill. After yesterday's failure I turned my attention to a site on the north of Portsdown Hill where I had spotted some decent Blackthorn whilst walking the dog - I spent an hour searching and eventually located a single egg on some suckering shoots.
I will return to search some more likely areas in the vicinity [Posted by Mark Tutton]
Portsdown Hill. After Angus' fruitful search for Brown Hairstreak eggs at Southwick I thought I would take the challenge and have a look on Portsdown Hill where a female was seen last year. I spent 90mins searching the area above the hospital where there are some excellent stands of Blackthorn - but no joy this time. The area has just had some necessary scrub cutting but looks good if they are there. I have also earmarked some other areas in the vicinity which I will check before the buds burst. [Posted by Mark Tutton]
02 Feb 2019
Another Brown Hairstreak egg site - Creech Woods. Following up the sighting of a female Brown Hairstreak (reported by Caroline Bainbridge on these pages) in a garden in Denmead on 3 September 2018, I had a look around Creech Woods on Saturday morning (2.2.19) to see if I could find any eggs. I followed the lane and then footpath that runs roughly along the south western boundary of the woods. The hedges have been typically heavily flailed, but I found 6 Brown Hairstreak eggs (2 pairs and 2 singles) in a short stretch of hedgerow at the start of the footpath at the far southwestern corner of the wood, where there is some suckering blackthorn that has been spared the most severe cutting. I also found a single egg further south, where some suckering growth had been slightly protected from the flail by the ditch (SU635108). These egg finds, and the adult sighting from last year, suggest that there may be a Brown Hairstreak colony centred on Creech Woods - worth a look for adults next summer. The population could be hugely boosted by some more sympathetic hedgerow management. [Posted by Angus McCullough]
---
Copyright © Butterfly Conservation Hampshire and Isle of Wight Branch
Privacy and Copyright Statement
Butterfly Conservation: Company limited by guarantee, registered in England (2206468)
Registered Office: Manor Yard, East Lulworth, Wareham, Dorset, BH20 5QP, Tel: 01929 400 209
Charity registered in England & Wales (254937) and in Scotland (SCO39268)
Administrator Login