News Archive for Jun 2019
14 Jun 2019
mystery butterfly in North Baddesley. mystery small very nicely marked butterfly found today in my yard next to my butterfly reserve in North Baddesley. unfortunately it was dead.ANY IDEAS PLEASE?? also seen in 30 minute walk; first Small Skipper of the year,Large Skipper 24,Meadow Brown 7,Speckled Wood 1,Brimstone 1,burnet companion 3,mother shipton 1.cinnabar moth 4. [Posted by Kevin Ross]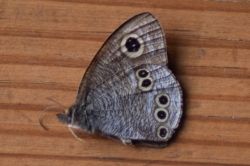 mystery butterfly.
Photo © Kevin Ross
First ringlets at Great Fontley. An unsuccessful hunt for white-letter hairstreaks at Great Fontley concluded with the discovery of Ringlets amid the throng of Meadow Browns. Also seen were two Marbled Whites, Small Heath, Common Blue, Red Admiral (nectaring on dogwood), and a remarkably well-preserved female Brimstone. [Posted by Andrew Brookes]
Monks Walk, Frater Fields & Woods, Gosport. After a few weeks absence and following a week of poor weather I was pleasantly surprised to record 11 butterfly types in two hours from 1330. The temperature ranged from 16 degrees at the start and was a welcome 19.5 Celsius at 1530. Meadow Brown (15); Common Blue (M)(2); Peacock (1); Small White (M)(2)(F)(1); Painted Lady (1); Red Admiral (3); Large White (2); Speckled Wood (1); Marbled White (1); Holly Blue (2); Large Skipper (1). [Posted by Francis Plowman]
Meadow Brown
Photo © Francis Plowman
Marbled White (male)
Photo © Francis Plowman
Large Skipper
Photo © Francis Plowman
12 Jun 2019
Paulsgrove Chalk Pits. Today I visited Paulsgrove Chalk Pits (SU6306) where the temperature was 16 degrees. Despite the low number of species, I did record many fresh Marbled Whites, my first sightings this year. Totals: Common Blue 2M, Small Blue 6, Marbled White 28. [Posted by Roy Symonds]
11 Jun 2019
Chalton Down, Old Idsworth. Visited Chalton Down today where I saw my first of many Meadow Browns of the year. A dozen were flying along the slope with Small Heaths and Common Blues. Totals: Brimstone 1M 1F, Small White 1, Common Blue 5M, Meadow Brown 12, Small Heath 7, Speckled Wood 1, Peacock 1. [Posted by Roy Symonds]
Urban Hairstreaks in central Portsmouth. Watched at least three White-letter Hairsteaks take advantage of the sun and enter into frequent battles at the top of this gorgeous elm in central Portsmouth. Pretty incongruous really, watching a delightful elusive little butterfly carry on its business from the roof of a concrete car park alongside a continuous stream of traffic! [Posted by Mark Tutton]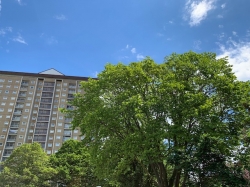 They are up there!
Photo © Mark Tutton
09 Jun 2019
White-Letter Hairstreak on the wing at IBM Lakeside. The sun had disappeared behind cloud by the time I arrived, but eventually it did re-appear this afternoon and with it at least one White-letter Hairstreak. I also saw my first Marbled Whites of the year, Common Blue, Large Skipper and several Meadow Browns. [Posted by Paul Harfield]
Distant shot of White-Letter Hairstreak today
Photo © Paul Harfield
First Marbled White of the year
Photo © Paul Harfield
Female Common Blue
Photo © Paul Harfield
06 Jun 2019
Portsdown Hill and Fort Widley. Today I visited the East end of Portsdown Hill and Fort Widley walking the main paths. Despite the conditions I did not record much activity. Along the track opposite Fort Widley three male Common Blues were flying and a single Large White.
At Fort Widley, a female Brimstone, along with a Green Hairstreak and Speckled Wood. [Posted by Roy Symonds]
Portsdown Hill Field Trip. Cloudy and very windy on top of the Hill today, and it was best to find some sheltered spots, and when the sun was out it was very warm. Considering the conditions we did rather well with Small Blues in many parts of the Fort Widley area.Common Blue was also present, Holly Blues were also seen many were seen in pairs possibly males and females. One brand new Comma, and several Marbled Whites.Other species seen Red Admiral, Meadow Brown, Brimstone one female was laying eggs, and several Burnet Companion Moths.
I apologise to anybody who parked in the Jim Callahan Car-Park and couldn't find the Fort Widley one, and missed the field trip because of my mistake. [Posted by Ashley Whitlock]
Small Blue
Photo © Ashley Whitlock
Small Blue
Photo © Ashley Whitlock
Single Red Poppy very apt at the moment on top of Portsdown Hill
Photo © Ashley Whitlock
03 Jun 2019
Skippers delight Nordic Walkers in Havant Thicket. The Nordic walkers were entertained today at Havant Thicket by numerous Small Heath, several Speckled Wood, a Small Skipper and a Grizzled Skipper. [Posted by Michael Berry]
02 Jun 2019
Bentley Wood, Eastern Clearing Field Trip. More Photos from the field trip.... [Posted by Ashley Whitlock]
Female Small Pearl Bordered Fritillary
Photo © Ashley Whitlock
Four Dotted Footman Moth
Photo © Ashley Whitlock
Small Pearl Bordered Fritillary feeding on Ragged Robin
Photo © Ashley Whitlock
Bentley Wood Eastern Clearing Field Trip. This was one of the best attended Field Trips I have had the pleasure to lead, and I was hoping the target species were going to respond. We went into the first large meadow which was cleared a few years ago and here the Argent and Sable Moth appeared a male at first, which was very flighty, but then we managed to see a female of this species and she was defiantly more photographic, and she even gave us a good look at her as she laid a few eggs on the many young Silver Birch trees dotted around. The Small-pearl Bordered Fritillary appeared in another of the meadows, but they were very hard to find.I never once saw two together, and the count of this species was about (7). The site is very dry, I remember years ago having to walk around this site in wellington boots it was so boggy. One of the SPBF was a female and she was at rest for a good while, maybe she had been laying eggs. We saw 10 species of Butterflies, but the counts weren't great, among these were (3) Duke of Burgundy, and one was really tatty but the other two were quite respectable in appearance. Other butterflies seen were Small Copper, Grizzled Skipper, Small Heath, Common Blue, Pearl-bordered Fritillary (8) Brimstone, Speckled Wood and Meadow Brown. The moth counts were quite impressive, these being: Argent and Sable (3/4) Brown Silver Line, Narrow Bordered 5 Spot Burnet Moth Burnet Companion, Broad Bordered Bee Hawk Moth, Silver-Ground Carpet, Straw Dot, Speckled Yellow, Wood Carpet, Four Spotted Footman.
Thank you everybody who attended, making this a quite memorable field trip. [Posted by Ashley Whitlock]
Female Argent and Sable Moth
Photo © Ashley Whitlock
Male Small Pearl -Bordered Fritillary
Photo © Ashley Whitlock
Female Duke of Burgundy
Photo © Ashley Whitlock
Small Blues at Pitt Down. Encouraged by a single small blue on the Pitt Down transect today, we decided to explore the area to the west of the site that used to host a strong colony, before the food plant was grazed out by highland cattle some years ago.
Very pleased to report that the kidney vetch is flowering in profusion; and the Small Blues are back in numbers. We saw 15-20 in a stroll around a small part of the site; rounded off by the first Meadow Brown of summer. Hopefully HCC will be a bit more circumspect with their grazing in future. [Posted by Rupert & Sharron Broadway]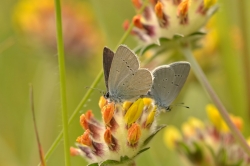 Small Blues at Pitt Down
Photo © Rupert & Sharron Broadway
01 Jun 2019
4 firsts of the year North Baddesley. 4 firsts of the year seen on my butterfly reserve in North Baddesley today= Large Skipper,Painted Lady,mother shipton and first big caterpillar group (Peacock).also Red Admiral 1.very late Small Tortoiseshell 1.Comma 2.Common Blue 2.Brimstone 8.Small White 2.Small Copper 1.mother shipton 5.burnet companion 14.brimstone moth 1.very pregnant adder 1.grass snake 3.lizard 2.slow worm 44.dragonflies 3.the very large area of meadow thistle is almost in full bloom.REMINDER if anyone would like to visit my reserve please email spark.ky@hotmail.co.uk or phone 02380 733995. all welcome if you have been here before or not.thanks,kevin [Posted by Kevin Ross]
| | | |
| --- | --- | --- |
| | | |
| Photo © Kevin Ross | Photo © Kevin Ross | Photo © Kevin Ross |
Chalton Down, Old Idsworth. Today I visited Chalton Down in hot sunshine with the temperature reaching 19.5 degrees. Numbers of Common Blues are starting to increase slowly, however the site is getting overgrown with long grasses. Totals: Brimstone 2M 2F, Large White 1, Common Blue 12M, Small Heath 6, Speckled Wood 1. [Posted by Roy Symonds]
Brook Down. More Pictures from the Isle of Wight [Posted by Ashley Whitlock]
Mating pair of Glanville Fritillaries
Photo © Ashley Whitlock
Mating Dingy Skippers
Photo © Ashley Whitlock
The scene from Compton Chine with Thrift in the foreground.
Photo © Ashley Whitlock
Compton Chine and Brook Down Isle of Wight. Today was my annual pilgrimage to the Isle of Wight and I couldn't have picked a better day with a few friends for company and great scenery. Compton Chine is probably one of the best butterfly sites in the UK and today the Glanville Fritillary was standing proud. How many there were I do not know but I had counted well past 100 within the first hour on site. I have never seen so many mating pairs, which hopefully bodes well for 2020. I've been coming to the Isle of Wight since the early 1980's for this species and I think today was the best...The site was alive with butterflies and a few moths.There were Meadow Browns, Common Blue, Small Blue, Small Heath, Dingy Skipper, Green Hairstreak, and of course the Glanville Fritillary.
Brook Down
In the afternoon the temperature had gone up somewhat.. and at the entrance of the down a lovely female Wall Brown greeted us as it fed on some dandelions. I never managed to get a photo as they were in a great hurry ...every butterfly was on overdrive. The down was alive with Small Blue never seen so many the what I call the two bomb pits they were every where, with good amounts of Adonis Blue, Dingy Skipper and I've never seen so many Glanvilles Fritillaries here either well over (50) and some, they look perfectly at home there. Brown Argus, mating Large Skippers, and the sound of many Skylarks filled the atmosphere here...truly magical, I wish I could bottle it! [Posted by Ashley Whitlock]
Male Glanville Fritillary
Photo © Ashley Whitlock
Mating pair of Large Skippers
Photo © Ashley Whitlock
Male Adonis Blue
Photo © Ashley Whitlock
Summer arrives at Great Fontley. Meadow Brown (3), a pristine Comma, and several second-brood Speckled Woods heralded the arrival of summer at Great Fontley. Making up the numbers were Small Heath (3), Small Copper (1), and Brimstone (2) inc. a female ovipositing. [Posted by Andrew Brookes]
---
Copyright © Butterfly Conservation Hampshire and Isle of Wight Branch
Privacy and Copyright Statement
Butterfly Conservation: Company limited by guarantee, registered in England (2206468)
Registered Office: Manor Yard, East Lulworth, Wareham, Dorset, BH20 5QP, Tel: 01929 400 209
Charity registered in England & Wales (254937) and in Scotland (SCO39268)
Administrator Login